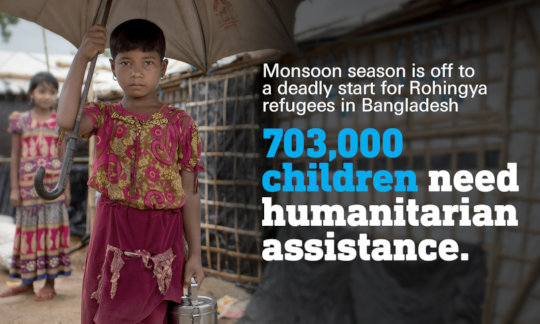 Dear Friend,
The plight of the Rohingya refugees remains dire. As 12-year old Umme recounts, "Houses were burning and there were rocket launchers. Killing people after arresting them. They were burning villages and we couldn't move. We couldn't go to the forest or fish, so we couldn't eat. That's why we fled."
Right now, the global community has come together to create the largest refugee camp in the world, housing more than 700,000 people. There are health centers, vaccinations, psychosocial support, child-friendly centers throughout, and an elementary educational system. It's a massive, coordinated effort by government and non-governmental organizations to provide relief at a time when it's needed most.
Umme's story is one no child should tell. Yet, it's an all-too-familiar one in the Bangladesh refugee settlements.
UNICEF is mobilizing to keep Rohingya children safe, healthy and dry during the monsoon season. Vital infrastructure is being reinforced and medical supplies prepositioned to handle the threat of illnesses like cholera — an acute diarrheal disease that can kill a child within hours if not treated. The water supply is being protected, and supplies families will need to keep their water safe and clean — hygiene kits, water purification tablets, chlorine, soap and buckets — stockpiled. Vaccination teams are administering the oral cholera vaccine to 1.1 million people, and community volunteers are fanning out to educate families on how to protect themselves.
Here are some actions you can take:
Share the story of a Rohingya refugee child, click here.
Donate to this project to provide life-saving support.
More financial resources are needed to support this mobilization. Please take action and engage your community for the Rohingya refugee children.
Thank you for putting children first.
Links: