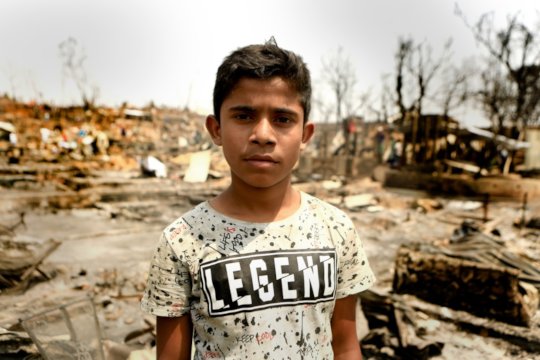 Dear Friend,
As you may be aware, on March 22, 2021, a massive fire in Cox's Bazar caused widespread devastation when it quickly spread across four Rohingya refugee camps, displacing around 50,000 refugees, half of whom are children and destroying 142 learning centers, which children rely on to continue their education. In addition, one primary health care center, two nutrition facilities, six water supply networks, 763 latrines and 280 bathing spaces were either severely damaged or destroyed.
During the first 24 hours following the fire, UNICEF's immediate concern was to ensure the safety and protection of children who were missing or separated from their families. UNICEF and partners sheltered over 70 lost children overnight. By midday the day after the fire, nearly half of these had been successfully reunited with their families.
Junaid's Story
Junaid and his siblings quickly became separated in the panic and chaos that followed the massive fire in the Rohingya refugee camps in Bangladesh in the afternoon of March 22. Flames quickly engulfed shelters, spreading across four refugee camps and forcing tens of thousands to flee their homes.
Those who had time grabbed their most important possessions. Others were lucky to escape with their lives. The day after the tragedy, the ground remained extremely hot, while the air was heavily polluted and difficult to breathe.
When twelve-year-old Junaid saw UNICEF's staff on the ground, he ran to meet them, overcome to see familiar faces and help arriving from outside the camp. "We lost everything in the fire. My father and I stayed with our uncle the night of the fire, but we didn't know what happened to my two siblings, we were so worried. The next day we were reunited, we were overjoyed," said Junaid.
As the immediate disaster is stabilized, UNICEF and partners are planning a complex rebuilding effort which will need outside support. Children like Junaid have seen their learning centers turned to ashes. "I loved coming to this learning center where I would play with my friends. But everything is gone," Junaid shared.
Following the fire, UNICEF and partners deployed mobile medical teams to affected areas and provided medical services to 545 patients, including 124 children. With your support, UNICEF has been able to reopen the primary health care center which was partially damaged, and continues to provide medical care for children and their families at the facility. According to the latest figures, 390 children have been successfully reunited with their parents or primary caregivers and 11 temporary Child Friendly Spaces and four Child Protection Help Desks have been established to maintain the continuity of essential services. While working to rehabilitate the learning centers, UNICEF and partners are strengthening care-giver-led home-based learning for children affected by the fire. In addition, UNICEF has provided emergency water and sanitation services to 18,700 people who lost their homes and water, sanitation and hygiene (WASH) facilities due to the fire.
With your generous support, UNICEF will continue to ensure that Rohingya refugee children and their families get back on their feet following this devastating fire.
In partnership,
Whitney