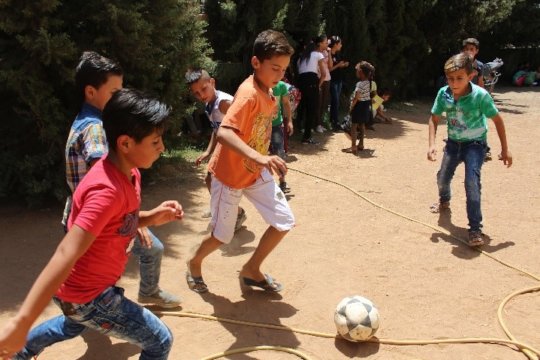 Dear Friend,
Each day, your supports impacts children in Syria with access to education, even in the hardest to reach places. Here is a short story to showcase what your support is doing for the next generation in Syria:
For brothers Mohammad, 10, and Sami, eight, life was normal. Like many children, they went to school, played with friends, and loathed their daily chores.
That was almost four years ago, until their home near Raqqa fell to conflict and the sway of belligerents, causing many people to endure immense suffering. To make matters worse for Mohammad and Sami, fighting and attacks near their home escalated, forcing them to abandon not only their home, but their education as well.
"We left everything behind, except for the clothes on our backs," says Mohammad, recalling the tiring journey. "We left our home in the middle of the night and walked to another farm where we stayed without food or water for one full day," he continues.
Mohammad and his family then drove to nearby Qamishly.
"The worst part was the fear," says Mohammad. "The fear of being trapped in the middle of the fighting and being killed," he adds.
Like so many of the children of Raqqa, the two brothers have been exposed to untold suffering since the conflict began. Insecurity and access restrictions have severely limited the delivery of humanitarian assistance. The last UN-aid convoy to reach Raqqa was years ago.
Restrictions have also been imposed on services, including health and education. This has left children and their families deprived of basic services, forcing them to pay soaring prices for commodities.
"We used to run to the house's corners whenever we heard fighting," says Sami. "We learned to stay away from windows; one day a shell hit our neighbor's home, and one of our windows shattered into pieces over my head while I was playing," recounting his experience with war.
When the brothers arrived in Qamishly, they had not seen a classroom in about four years. They enrolled in the Self-Learning Programme, a joint initiative by Educate A Child (EAC), a global programme of Education Above All and UNICEF USA. Its unique curriculum is designed for out of school children (OOSC), enabling them to study at home, in places of worship or at community learning centers with the help of an adult.
Together, EAC and UNICEF support community learning centers, provide necessary learning materials districts and aim to reach 95,000 OOSC with this innovative alternative learning programme.
Mohammad and Sami are excited to be back in school. Mohammad hopes to be a businessman someday, while Sami wants to become a carpenter.
Thank you for all that you do to put children first.
Happy Holidays!