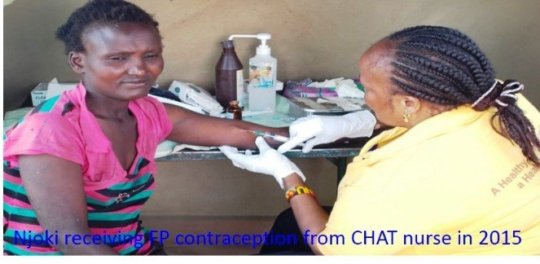 It had been a busy morning for Nurse Pauline and Driver Peter (who assists Pauline with registering the patients and clients). They were under a large gum tree near the small poor village of Karionga, about 12 kms from Nanyuki town.
Pauline had noticed some very smart cars drive past, then park about 300 yards away outside a humble "shelter" – one could hardly describe it as anything else.
At the time Pauline was providing Wangari* with FP services. Making casual conversation, Pauline asked her client, "What are those smart cars doing parking outside that dwelling?"
Wangari hung her head and said,"Those are politicians - they have come for Njoki's*– ow."
"Oh!," said Pauline, "she must be a fortunate woman having such wealthy 'friends'.
"No No she has 'passed' – she died this morning together with her babies…. her story is very sad," Wangari with angry tears starts to tell Nurse Pauline about Njoki's tragic story.
"Njoki was a 32 year old married mother of 4 children, the youngest being only months old and the eldest 14. Back in 2015 Njoki had visited CHAT motor mobile clinic seeking FP services - she opted for a 5 year implant method of contraception. 1 years later, her husband - who worked as a casual laborer at a nearby flower farm and was the sole breadwinner - pressured her to have more children, so trusting him; she went ahead and had another – after removing the implant. Njoki's husband, on hearing the news, immediately vanished into thin air and has never been traced to this day! But Njoki never lost hope that her husband would return and therefore decided to keep the pregnancy. Months passed, the child was born – but no husband - nowhere to be found," Wangari narrates.
"As her close friend, Njoki called me to her house (which is that over there with the now smart cars outside) and confided to me that she had tested to be HIV positive during her antenatal clinic; but she remained in denial, refusing to be put on treatment. She felt like she had no reason to live - the world had shown its cruelty to her and her children, she also felt a disgrace to her children, womanhood and community Oh why was she so naïve, to just be turned into "waste" by the man she had trusted with her life," Njoki further explains.
"I wish I could swallow back all these children - back into my stomach and die as a family, because it's easy to add, but difficult to maintain," Wangari recalls Njoki's last words.
"Look at me" says Wangari, "Despite having three children - all from different fathers - at-least, thanks to you (CHAT outreach team) I receive family planning services.
I received FP the same day as Njoki back then, but for her she decided to trust that 'useless husband of hers' without thinking critically and now look - ending her life and her own flesh and blood in such a painful way- drowning one in the tank of water, strangling another to death, before hanging herself from that tree.
And now these smart cars are using this tragedy by making a 'show' of caring – blah"
Nurse Pauline and Peter packed the vehicle and went home in shocked silence.
This quarter, December 2016 – February 2017, thanks to your donations (cost shared') CHAT reached 10,803 individuals with family planning/ ecological awareness information, of which a total of 1,015 patients were treated for different conditions & 6,345 women with different FP contraception methods of their choice in 10 counties in Kenya.