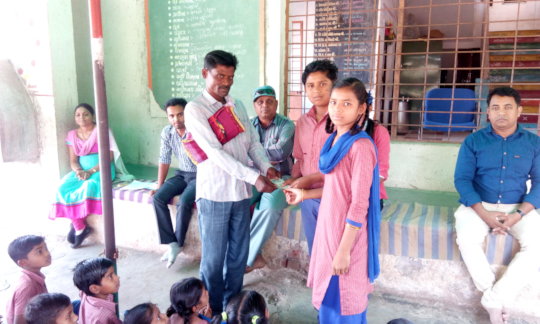 Dear Donors,
Greetings from Gram Vikas Trust,
In this report Gram Vikas Trust (GVT) will share the success story of a girl who was not attending the school due to less confidence in learning. She left going to school from almost six months. Before Diwali break she has left going to school. In the beginning her parents used to talk with her to send her school, but they have also lose hope and stopped talking about school.
"A single thread of hope is stronger than all the chains that bind you."
- Jeffrey Fry
Riya (Name Changed) studying in class 9, in a government school. She studied up to 8th standard in her village. The high school is around 6km from her village, and there are total nine children (girls and boys) are studying with her in high school from her village. GVT when noticed that Riya has left schooling started identifying the route cause. There are different challenges for Riya which make her less confident in attending the school. She finds difficult in her studies, few children were making fun of her as she is not good in studies, the long distance to visit school, household work after coming to school and before going to school.
Such issues were identified by interacting with different person, but somehow the issues were not that much strong which make some student left studies. So GVT's outreach worker tried to go dipper in the case. They interacted with the primary school teacher, and it was come to know that she was poor in studies, she has not attended 1st standard, and from standard 2nd to 8th she was not regular in school. The teacher also shared that she is bright in studies but due to irregularity in school it becomes difficult for her to manage the studies.
After understanding the issue, GVT started resolving the issue, it was quite a difficult task. GVT have worked on the single issue which were identified, make the parents and Riya aware about importance of education, importance of regular attendance in school, role of parents in the upbringing of the child and motivated the parents to provide such environment to Riya for her schooling. Identified a college going girl and asked her to sit daily with Riya and some of her friends for tuition, and other issues which were disturbing Riya in going to school.
Though it was difficult for us to make her learn the things which she had missed in her schooling, but the hope will always help in changing the lives. GVT is focusing on each children visit school regularly, which will make changes in children's learning. It is difficult but with the help of you GVT is doing that difficult tasks with happy faces.