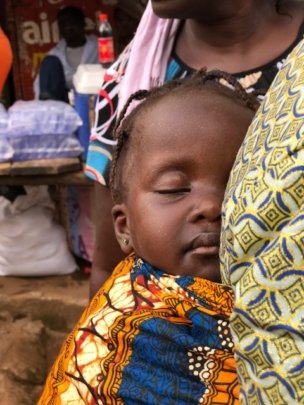 As you know, BTA works in Sierra Leone, West Africa and for thirteen years, we have been dedicated to helping the beautiful people there, particularly children and women.
This country has experienced brutal war and the Ebola crisis and more tragedy struck just two weeks ago. Very heavy rains poured down for days resulting in horrible mudslides which left more than 400 people dead and an estimated 6,000 people severely impacted in Freetown, the capital.
When I heard this – I had to do something. So I began to raise funds and went to Sierra Leone to help the survivors of floods and mudslides. I just returned.
What I saw was devastating. People lost entire families in minutes. I interviewed a lot of people to get their stories and what I heard was frightening. A young mother, for example left her home early in the morning to go to market. She took her infant child. Her other five children and her husband were at home. When she returned from the market – her entire village was under mud. All of her family (who were asleep I the village) died instantly. This was a story I heard over and over again.
Children described hearing a very loud bang noise. It sounded like thunder. But it was followed by heavy, heavy mud coming down at a rapid pace from the mountain. It looked like a piece of the mountain just fell off.
The mud and the water engulfed homes very quickly so hundreds were unable to get out. Those that did are in Displacement Persons Centers where I spent my time.
I took the funds we raised to purchase rice, onions, seasoning with meat protein (maggi), oil, blankets, sleeping mats (people in the camps were sleeping on a dirt floor) and critical medical supplies to treat malaria, typhoid and diarrhea.
The aid we provided was totally direct to the people.
First, I changed dollars to Leones.
Second, I went to stores and bought what we needed.
Third, we loaded it into a big truck and took everything directly to the camps.
When we delivered these items, I saw smiles all around.
We can certainly use more funding for this effort but so too, as always, for our school feeding programs. Thank you in advance for your generous, ongoing support to A Brighter Tomorrow for Africa and our life saving work.