Dear Friends of the Haiti Goat Project,
First and foremost, thank you for all of your support of the Haiti Goat Project. Your donations make our project possible and we want you to know how very much your support is appreciated.
As you may have heard in the news, the situation in Haiti right now is difficult. Political protests over the past 4 weeks that have made it more and more challenging for all who live and work in Haiti. Road blocks have slowed the movement of goods out of the capital and also between cities within the country. Because of the unrest, schools closed on October 1st and remain closed until the protests are resolved or at least until the situation quiets down.
Despite the unrest, our goat herd in Gressier is still doing well and we are moving forward with the breeding season as planned. We began preparing the goat herd for the breeding season this past August with the help of students from the Christianville Agriculture & Technical School and our onsite herd manager has continued the process. This year, because of the unrest, the doe herd will be bred by our resident herd bucks, rather than with US-sired genetics by artificial insemination (AI) as we typically do. However, our herd bucks are, themselves, AI-sired from US genetics so we are still able to make progress with improving our herd. Certainly our goat 'boys' seem quite happy about the change in breeding plans. :)
Because of the US travel ban from February to July and the current political unrest, many rural Haitian communities are hurting. In fact, our partner, Christianville Foundation Haiti, had to discontinue their school lunch programs, leaving our Farm-to-Fork program (Chili Kabrit) meals as the only source of school lunches for the rural school children in Jean-Jean, Ti-Cousin and Ti-Boukan. Our program team felt that the children in these 3 communities were clearly the most nutritionally at-risk in their area. Therefore, the team voted to provide Chili Kabrit meals to schools in these 3 communities every Wednesday as they had been doing, and then, on a rotating basis, provide each school with a second meal on Friday. Thus, they were able to provide a total of 835 meals per week or 3,400 meals during the month of September.
Once schools re-open, we will resume providing nutritious meals each week (every Wednesday and on alternating Fridays) to these malnourished rural school children. Thank you so much for helping make this happen! The need is great because it is always the poorest communities that have the most difficult time when political unrest cuts off goods and services to the population. Please keep all those in Haiti in your heart during these trying times.
Finally, keep an eye out for our upcoming fall fundraising campaign during the week of December 2nd-6th. You'll hear more about it in the coming weeks but we do want you to know that you'll have an opportunity to get a cool Haiti Goat Project t-shirt as part of our campaign.
Thank you very much for your willingness to support this project. Please know that you are truly making a difference in the lives of many Haitian children and their communities.

With warmest regards,

Char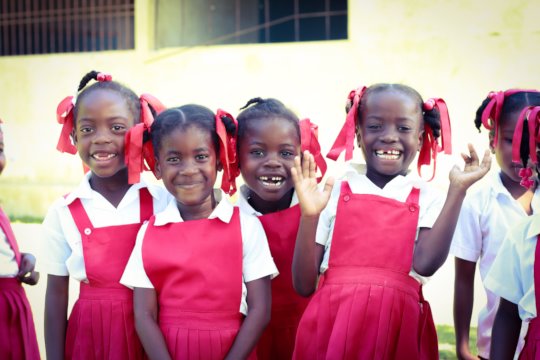 Links: