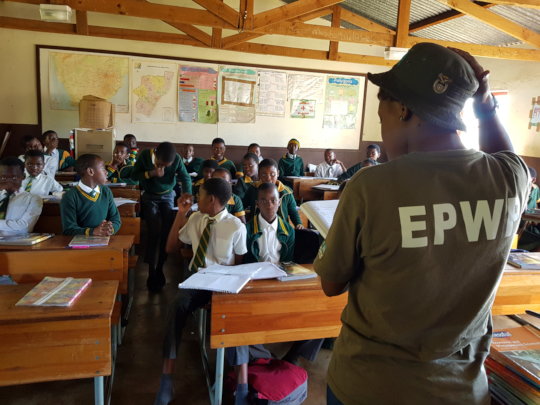 No report at this time can start without some reference to COVID and the international lockdown that it brought into all our lives. As with many other programs we had to stop all our interation with schools and groups. Naively we initially thought that we would only be confronted with this situation for a short time, this was not to be.
Although COVID has delayed our plans somewhat we have not stopped our work in the community. It was clear that many communities struggled with food shortages and we collected and distributed approximately 5 tons of food to our local community.
We have been able to start our work again with recent reopening of the schools. Our wonderful environmental monitors have been able to start engaging with schools to prepare for our environmental education campaigns. We are also delighted that the school camp has reopened and we will once again be able to take our learners on camp. Although things are starting to open we will be sure to follow the strictest protocols in all our work to adhere to regulations and to protect our learners and environmental monitors.
We still have to raise quite a bit of funding to make it possible to roll out our program in full so do not hesitate to pass on our campaign. Your support is really appreciated and we would like to thank you for your kind donation.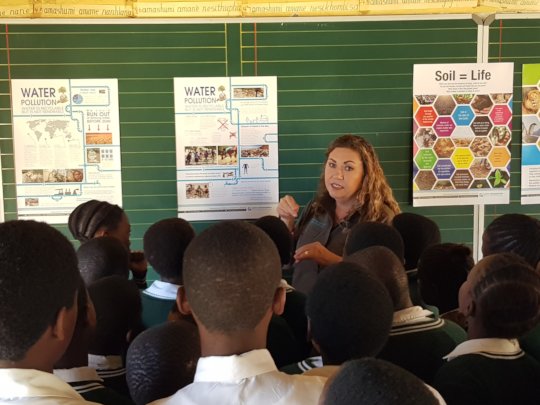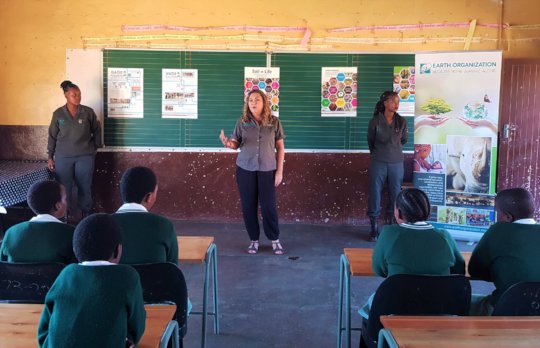 I would like to thank everyone who has donated to the lion relocation so far but unfortunately we are still way off our target of $28000. If we do not raise these funds then the lions will have to stay here for winter while we continue to try and raise the necessary funds.
Keeping them here justs adds to the overall costs becasue we need t feed and we will then also need to build warm heat winter shelters for them which will then decimate the funds already raised. Its critical we try ot move them by end of September/ 1st week of October.
Apart from the funding we are just waiting on CITES export premits which have been delayed becasue Luke was part of the court confiscation but all is cleared now and we can proceed with the process of getting all the documentation together.
Attached is a photo of DIYA looking out her night shelter and the other pic is them both inside their night shelter.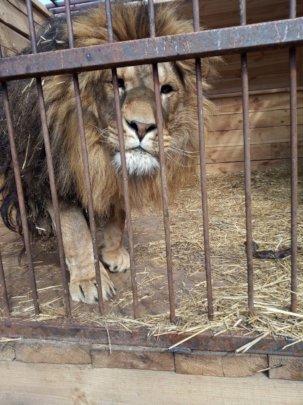 Firstly I want to THANK all our donors to date. We really appreciate your support and a special THANKS to Carol Mitchell who has pushed this project very hard and mard a substantial donation from her group.
WE are however still very far from meeting out target and getting them to their forever homes at LLA in South Africa.
Update re the lions, Diya is being treated for something related to Gallstones. The vet is not very concerned and she is getting daily medication in the form of tablets.
AS you may be aware, we moved Diya and Frieda to our holding facility in Sambir, West Ukraine where they will be joined by Luke and Demira as soon as possible. Diya and Frieda are loving their new enclosure and they are able to play outside on the grassand the even have a small fir tree both of which they are ripping up.
Other than the news above nothing has changed much and its just a waiting game as to when they can leave. When we have the necessary funds or sponsors we will be on our way.
GLOBAL GIVING Bonus Day is coming up on Thursday, June 20. GlobalGiving will release $20,000 in proportional matching funds and two $1,000 bonus prizes so we need as many donations on that day as possible PLEASE.
I have seen how the lions are all enjoying their new spaces, enrichment and in Lukes case who nearly died of starvation, his food. LETS BRING THEM HOME......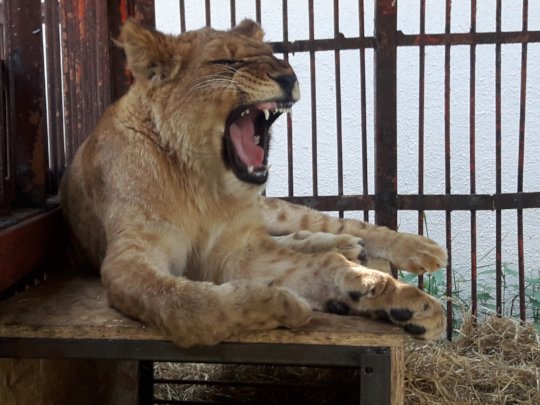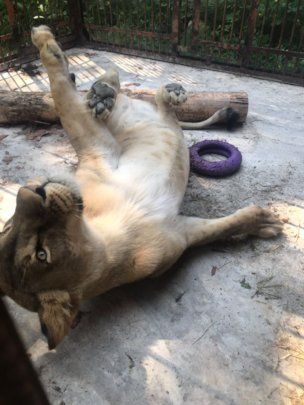 WARNING: Javascript is currently disabled or is not available in your browser. GlobalGiving makes extensive use of Javascript and will not function properly with Javascript disabled.
Please enable Javascript
and refresh this page.