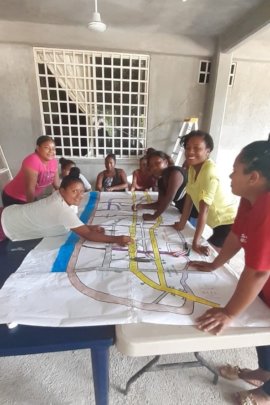 La reconstrucción conlleva muchas responsabilidades y el hacerlo de una manera eficaz es lo que se debe hacer. Desde que se inició con la reconstrucción se les explicaba a las familias lo que había pasado en cada caso y que era lo correcto para repararlo. Posteriormente con las beneficiarios y sus familias fuimos armando un PLAN DE SEGURIDAD ANTE DESASTRES (Básico a nivel casa y comunidad) en las etapas de ANTES, DURANTE Y DESPUES de un desastre natural ya fuera del sismo, inundación, incendio o tormentas, siempre guiados a distancia por protección civil del estado de oaxaca y bomberos.
Durante algunas sesiones nos reunimos para identificar puntos de reunón, albergues y las problemáticas a las que nos enfrentamos como comunidad ante desastres naturales, y como reaccionamos ante ellas, y ahora con lo aprendido como podiamos mejorar esas acciones y los resultados.
Nos alegro la respuesta de los beneficiarios, ya que pusieron mucho empeño para aprender y participar. Gracias a tu apoyo esto tipo de talleres son posibles.
De las mujeres que reconstruyen sus vidad y sus comunidades y Alianza Civica Pinotepa Nacional AC, te damos las infinitas gracias.
-
Reconstruction carries many responsibilities and doing so in an effective way is what must be done. Since the reconstruction began, families were told what had happened in each case and that it was the right thing to repair it. Subsequently with the beneficiaries and their families we were putting together a SAFETY PLAN BEFORE DISASTERS (Basic at home and community level) in the stages BEFORE, DURING AND AFTER a natural disaster already outside the earthquake, flood, fire or storm, always guided to distance for civil protection from the state of Oaxaca and firefighters.
During some sessions we met to identify meeting points, shelters and the problems we face as a community in the face of natural disasters, and how we react to them, and now with what we learned how we could improve those actions and results.
We are happy for the response of the beneficiaries, since they put a lot of effort to learn and participate. Thanks to your support this kind of workshops are possible.
Of the women who rebuild their lives and their communities and Alianza Civica Pinotepa Nacional AC, we thank you infinitely.