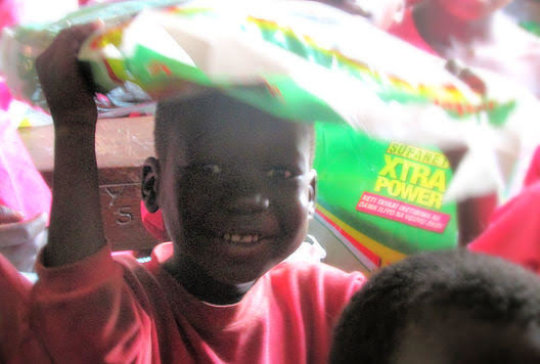 Previously we distributed nets to Mutunda Primary School where the Deputy Teacher, Mr. Okello Mark, extended his sincere gratitude to Our donors saying:
Thank you very much for remembering the girls at our school. Staying in school is very difficult for children in our village, particularly for the girls…I'm proud to say that we even have more girls enrolled than boys at Mutunda Primary School. We also have woman teachers to be examples…Malaria is the greatest problem [for health] in Mutunda. Thank you for protecting our students so that they may stay in school.
Also at Mutunda, the counselor extended his sincere gratitude: Everyone here suffers from malaria. It is a great problem. Thank you for supporting our children that they can go to school.
The majority of the students at Mutunda are resettled refugees and internally displaced persons. Most of our students are actually from Northern Uganda. These children came to an internally displaced persons camp in Katulikire during the war in Northern Uganda with the Lord's Resistance Army Rebels. Not a single family was left unaffected. The girls can tell stories of how their families' land was burned, their animals killed or eaten by the soldiers. Their mothers were captured and abused by the rebels and their fathers and uncles were abducted as soldiers. Those who resisted were killed. Many of them have family members who are still missing. Many of their parents are still tormented by this recent past (2007 the LRA was finally forced out of Uganda). Since 2007, the government has begun to sell land to the refugees and IDPs. The parents of our children are now peasant farmers having grown up in the middle of a war, they were unable to obtain an education. At the health center in Katulikire which also serves Mutunda, greater than 75% of women sign with a fingerprint meaning that they cannot read or write well enough to sign their own name.
Because they have not benefitted from an education themselves, it is very difficult to convince the parents to educate their children; even though primary and secondary school (grade school and high school) are FREE. The parents make a living off of farming, and a child at school is a child who could be helping in the field to increase yield. While the girls often enroll in equal numbers in the lower level primary grades, by the time they reach the upper levels, their numbers fall off quickly. By the time the girls reach the highest level of high school S6, there are even fewer. By the time girls would finish high school, it is not uncommon for them to be married with children of their own.
Malaria is the largest health problem in this area. Malaria is the number 1 cause of outpatient visits and hospitalizations. It stifles education by causing students to fall behind and drop out. On my last visit to Uganda 2 of the 4 nurses for the health center had malaria affecting our hours and work force. Finally, two of the teachers I stayed with had malaria. It really cripples health, education, and economic development in Uganda. Those who sleep under nets are spared. The children at Mutunda will now be spared.