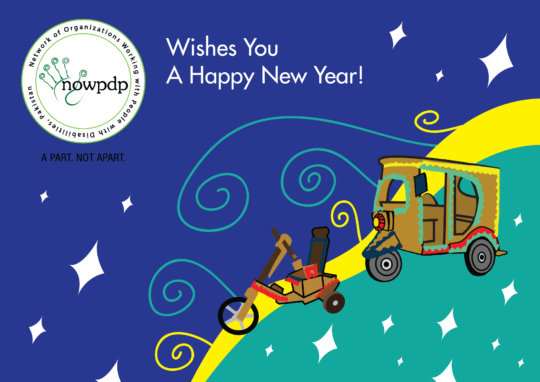 Dear Supporters,
Wishing you all a very Happy New Year 2017! We hope this year brings much goodness to the GlobalGiving family and we hope to strengthen our relationship with you even more.
As we approached this new year, we made certain resolutions to work towards a more skillful population of persons with disabilities; to enable them to learn and also be directed on the road to economic empowerment. The highlights of this period were as follows:
Block printing and computerized textile design training enjoyed by all
More than 100 children with disabilities from 4 special schools (JS Academy for Deaf, Bahria Special School, ABSA School for the Deaf and Islamic School for the Deaf) were trained in the skills of block printing and computer based textile design. Our team of 4 trainers with hearing and physical impairment conducted these trainings with patience and vigor.
Training of trainers was also done in some of the schools where teachers of the children participated actively in learning the skills. Our trainers provided them with the list of recommended material and other essentials which would enable them to conduct the trainings on their own in the school in the future.
Exhibitions being held to commemorate completion of trainings
Exhibitions are being held at all 4 of the aforementioned schools to display the artistic work done by the children with disabilities and also give them certificates as proof of completion of trainings. Our team as well as the schools' management gives a short speech after which the great work is displayed and certificate distribution ceremony takes place.
Advanced trainings
To further polish the skills of children with disabilities so that they are eligible for better educational and/or employment opportunities, we will be moving into advanced trainings of the same skills this semester. The students will be having these sessions at their schools or at our accessible and open-spaced office. We will also be ensuring these students are invited to or attend sessions on soft skills and motivation to complement the technical skills they have acquired. On the International Day of Persons with Disabilities (3rd December 2016), some of these children attended a motivational session we arranged at our premises, taking away learnings on how to best develop their careers.
New schools for the new semester
We were fortunate to partner with 3 more special schools for trainings in the Spring 2017 semester. We are excited to begin the block printing and computer based textile design trainings with our new batches and cannot wait to share the updates from the field with all of you! Feedback from our Fall 2017 trainings will be used to improve trainings that take place from now on.
Beneficiary & partner stories/testimonials:
"I enjoyed the block printing training more because it is something I have never seen or thought of earlier in terms of a career option. I can also initiate my own business if I don't enjoy doing the job. A passion I have is for the Armed Forces of Pakistan because it makes me feel powerful and proud to represent my nation!"
-Hamza, student at ABSA School for the Deaf
"I love the textile design training especially because it is on a computer. I wish to work in an office."
-Zeenat, student at Islamic School for the Deaf
"My favourite subject is English, but I liked making cushions in my block printing class."
-Obaid, student at Bahria Special School
"We had always thought of conducting a similar training at our school but never got the chance to. With NOWPDP on board for vocational training in the skills of block printing and textile design, it is very nice to see the students learning as well as enjoying. Social work is not possible without collaboration."
-Ms. Zohra, Principal - Islamic School for the Deaf
"Persons with Disabilities are just different but equally capable of doing everything as long as they realise their strength. Thank you for inviting me to this session. I love being here!"
-Mr. Sohail, Founder & CEO – Learning Minds Group and renowned motivational speaker
We look forward to opening the minds of these young artists in this new and refreshing year, so keep advocating for our cause with your love and support!