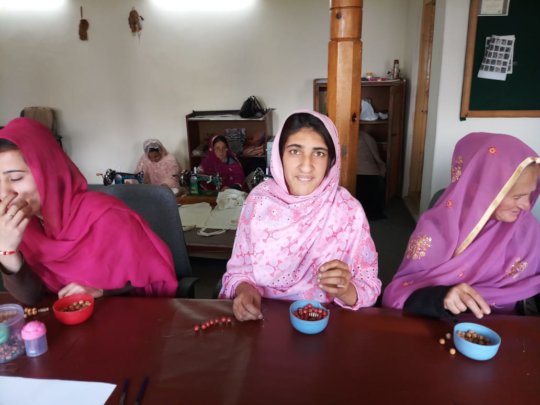 NOWPDP starts work in Hunza
With our mission to empower persons with disabilities going steady, training for exciting new trades has been the highlight of 2018 and our beneficiaries are thrilled at the opportunities coming their way. Some of the trainings at mainstream vocational training centers have finished and our team is connecting our trainees to relevant jobs.
Artificial Jewelry Making
In order to empower women with disabilities, we started the training of artificial jewelry in Hunza. The training is still ongoing with these women being facilitated to become more independent by acquiring techniques of artificial jewelry making, which have a major scope owing to Hunza being a tourist destination.
Plumbing
The new batch started with a greater number of students owing to its predecessor batch getting decent job opportunities. The trainees are now doing their on job training with their freshly acquired plumbing skill-set. We wish them good luck. Decent jobs are now anticipated with the successful trajectory of this trade and the determination of our employment team, Yaqeeen, in searching for the right avenues.
ConsulNet Training
With technology gripping every facet of our life, it has become one of the most integral tool to innovate and progress. We are thrilled at the prospect of our candidates learning IT Skills being taught in this course.
Housekeeping and Laundry
Housekeeping and Laundry which comes under Hospitality Management has continually proved to be an intriguing trade that our candidates with hearing and speech impairment opt for. This trade requires less communication and more backend work which has proved to be easier for the candidates. This trade is being taught at the very famous Pearl Continental Hotel in Karachi.
While the candidates just had their graduation ceremony and are brimming with potential and enthusiasm to secure jobs in this trade, we are thrilled to announce that another batch started in June in Lahore.
Auto Body and Paint
The former batch's success paved way to the training of this new batch and the trainers are impressed and satisfied with these new trainees. This is a trade relevant to the job market and its growth brings with it more opportunities for our candidates as individuals specializing in such skills are always sought for.
Call Center Training:
This training has not only made the candidates adept at the skills of this particular trade but also enhanced their confidence as well as their computer skills which makes this a very well rounded training. With the training now completed, the batch of eager trainees have received their certificates and our employment team Yaqeeen are in the process of searching possible avenues for them to grow in.
MS Office
This training is for persons with hearing-speech, physical and mild intellectual impairment and thus caters to a more representative pool of persons with disabilities. The training also covers Ms Word, Ms PowerPoint and Ms Excel which will certainly help the trainees in both facets of education and employment. Two batches have completed their three months training and will soon receive their certification. We wish them the very best of luck and appreciate their enthusiasm and vigor in learning!
Basic Computer Gauging
This training was in dire need for persons with visual impairment to know how to maneuver a computer when required with the help of JAWS – speech reading software. This has been especially useful for trainees who are also students and are completing their studies. The trainees have now completed their training and will receive certification soon.
Karigari (Couture Embroidery) Training:
This is a training catering to persons with physical and hearing-speech impairment which was introduced owing to the growing demand in the market. Ranging from simple embroidered clothes to embellished couture work, this can help the trainees kick-start their own businesses, get employed somewhere or work freelance, as well. This training has also completed and we are certain that the skills learned here will go a long way for these candidates.
We are thankful to you for the endless support pouring in and want you know that you have played a large role in the success of this mission. NOWPDP intends to branch out even more in other trades –both soft skill and hard skill. We request you all to continue supporting our mission to make Pakistan a more inclusive country for persons with disabilities