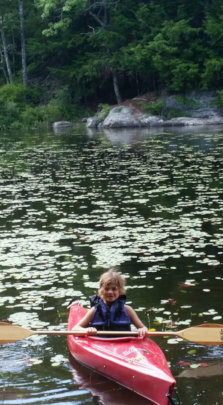 Camp Forest is waking up!! The first day of Camp is July 9th. We kick off the summer with an EXPEDITION!!! Explore the local watersheds while canoeing, hiking and camping for 5 days in the forest. This is a wonderful expedition. Splash directly into the wilderness, learn how to make fire, collect wild edibles learn emergency wilderness first aid!! Hey
There are many children who would benefit from this expedition but will be unable due to the low income level of their parents. Your donation goes directly to assist children to attend camp. Full and partial camperships are available to low income families or children in crisis.
Research has proved that immersion in the nature has great emotional healing benefits. Help a child with your gift today.
GlobalGiving is having a Mother's Day campaign beginning May 1st and ending May 13th. T will match your donation and we will also be eligible for cash prizes!!! They will gift you a lovely gift card to present to y our Mother on Mother's Day.
Please consider a donation to Camperships for Ecological Wilderness Camping (6571) on May 1st.
Links: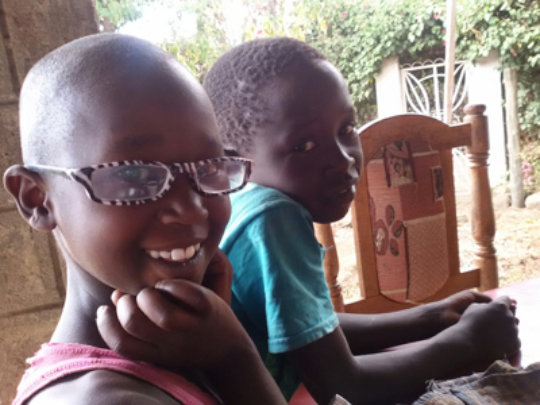 JWHS, our children's home in Mangu Menengai West, Kenya, is growing again. In November the Chidlren's Department brought us two additional boys who were housed in the Jail for lack of space elsewhere. They were to stay with us until December 31st, but they are still with us. We placed them in school and assume they will be staying with us.
Two days ago the police brought an additional two children! Kiptoo and his sister, Daisy. Kiptoo is 7 years old and Daisy is 6. Or at least that is what they think. Neither one has ever been to school. The father has been absent most of their lives. Mother and children recently moved to this county. Mom left the two children in the care of a neighbor and has not returned. Kiptoo was tending the neighbor's cows and Daisy was babysitting a 2-year-old.
When the mother didn't return the neighbor contacted the police. After a short investigation, the police collected the children and brought them to us. Kiptoo is a bit shy but we are sure he will warm up. He loves climbing trees. Daisy is sweet and quiet but not shy. She is very helpful. When I get my coffee, she wipes up the spill before I am even aware it is there. She clears my dishes and wipes the table. She smiles all the time and wants to go to school.
Today they were taken to school for their entrance interview. They will be placed in Nursery as they cannot write their name which is required for class one. The school will allow them to come without a uniform while we seek sponsors.
JWHS was happy we had space to accept these children and hope to give them a loving environment while the officials seek their mother.
Thanks to donors that provide general funds donations we are able to feed and house the children. Thanks to sponsors we can be assured that their needs will be met for the longer term.
Thank you.
P.S. The glasses are my reading glasses. Always the source of fun and giggles with the kids.
Links: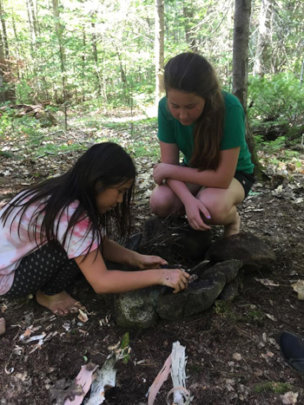 Camp Forest is sleeping for the remainder of the winter but we are not sleeping. The website is ready and plans for opening camp are beginning. We look forward to a full summer. One of the expeditions is open to ANYONE from ANYWHERE. Consider coming along on the HILLS TO SEA TRAIL Expedition. Starting Sunday afternoon and ending the following Sunday, this will be the first expedition on this new trail. The trail opened last year but no camping was allowed. This expedition will be the FIRST. Come join us. The hiking will be easy as we expect young children. Com on along and bring the family!
In addition to working on Camp Forest's own badges, campers can work on the Maine Woodsman and Junior Maine Guide.
The active campership program allows low income families to send their children to camp for free or reduced program fees. Your donations make it possible for a child to immerse in nature, feel the healing peace of the forest and learn survival and social skills.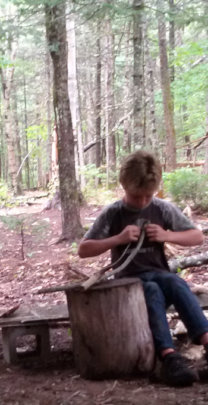 Links:
WARNING: Javascript is currently disabled or is not available in your browser. GlobalGiving makes extensive use of Javascript and will not function properly with Javascript disabled.
Please enable Javascript
and refresh this page.