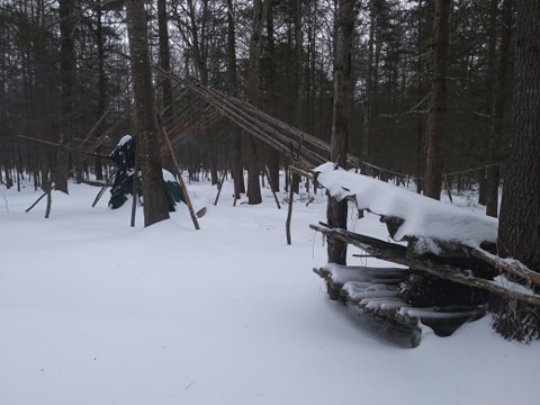 Dear supporters,
Camp Forest is bedded down for the winter, but we are excited about our 2019 camp season! Your support provides low-income and underserved children incredible, woodsy experiences. If you know of campers age 7-18 who would love a chance to learn about cross-cultural wilderness living skills, please share with them our 2019 schedule (below). Also, if you are an adult and want to join us for Training Week, you'll get a primer on primitive skills yourself, and a taste for what Camp Forest has to offer!
Camp Forest sessions are weekly. Campers may attend as many weeks as desired. Our program is a mix of individual and group work so campers can attend any week to advance their knowledge, skills, and experience towards their next badge level.
June 24 - 28 | TRAINING WEEK
Join with Camp Forest Staff and learn about teaching and mentoring children in and about the Natural World. Learn about the deeper levels of Nature Therapy used at Camp Forest. Learn about Coyote Teaching, direct experience, safe space, mentoring, free form scheduling and finding one's inner passion for learning. Adam Stone, with over 10 years of experience working in this field, will help you develop the skills needed to work in a wilderness camp.
July 1 - 5 | WATERSHED EXPEDITION and DAY CAMP
Join with Camp Forest in this unique combination of Day Camp and Expedition for youths and adults. A camper, youth, adult, or family can spend the week on the river or choose some days in which you only attend Day Camp on the river. Learn about the local watershed by hiking, canoeing, navigating, tracking, studying ecology, learning survival skills, and working on the badges of Camp Forest and Maine Woodsman. Open to Families, adults, and youth ages 7-17.
July 8 - 12 | FOREST BASICS WEEK | JUNIOR MAINE WOODSMAN
Introduce yourself to nature and the forest. Learn basic plant identification, build a shelter, identify animal tracks, learn to navigate in the woods, make fire and gather around it to play nature games and sing songs. Gain understanding of nature and respect for all life while working on the first badge level, the Osprey Badge. Campers who have already received the Osprey Badge or who want to work on their Junior Maine Woodsman badge can further develop their skills to advance to the next level. Open to youth ages 7-17.
July 15 - 19 | MAINE WOODSMAN WEEK
Camp Forest participates with the State of Maine's Junior Maine Guide Program. Start by learning skills for the Maine Woodsman Badge and advance to Junior Maine Guide level. Campers experience a week in the woods learning the basics of outdoor living: building their own shelters, cooking outdoors to sustain themselves, developing mapping skills, treating advanced first aid issues (fainting, stomach aches, sprains), developing an awareness and appreciation of the outdoors, and perfecting their water-based skills: canoe paddling, fishing, fish identification, and more. Once Campers have developed sufficient skills, those ages 14 – 18 can take test for their Junior Maine Guide from the State of Maine during Maine Guide Testing Week. For information on the Junior Maine Guide program, visit https://juniormaineguides.org/. There is a required sleepover for this week. Open to youth ages 7-17.
July 22 - 26 | JUNIOR MAINE GUIDE TESTING WEEK (Alt - Animal Week)
This week is a special week for testing to obtain the Junior Maine Guide title given by the State of Maine. It is a state-wide week-long test where campers from across the sate gather at Stephen Phillips Preserve in Rangely, Maine for a week of rigorous testing. Campers will be accompanied to the testing site by Maine Guide, Adam Stone. Campers must be ages 14 – 18 to test. Not a DAY CAMP WEEK.
Please Note: *Minimum of 6 registrations required for testing week. If minimum is not met, Camp Forest will run a regular week of Animal Week Day Camp.
July 29 - August 2 | ANIMAL WEEK
So many animals live all around us here in Maine, but we hardly ever see them! Spend a week getting close to our animal neighbors in every way. Learn to walk like a fox, see like an owl, hear like a deer. Starting out with painting our faces like our favorite local animals, we'll go on to track and find sign of all the animals in our woods, make crafts from animal bones and furs, learn bird calls and frog sounds, and even get to see all kinds of animal skulls, pelts, track casts, and photos. Every day, we'll play sneaking games so that we can get closer to the animals, walk like the animals walk, and learn where to sit and hide to watch them. By the end of the week, you'll know what kind of animals live around you, where to go look for them, and what kinds of tracks and signs they leave behind. You may feel like you're a fox or a rabbit yourself by Friday! Join us for an animal adventure and go home ready for the next level – biology, hunting, photography, or just seeing lots of animals! Open to youth ages 7-17.
August 4 - 11 | HILLS TO SEA EXPEDITION AND DAY CAMP
For adults and youths, this is a special overnight expedition and day camp combination. The Trail is 47 miles long and passes through private property. Camp Forest has been given permission to conduct this expedition under the guidance of Maine Guide Adam Stone. We will traverse 10 or fewer miles per day to make it possible for young children to participate. Any member of the public is invited to participate provided they are able to navigate the trail. Camp Forest will provide drop off and pick up spots if you want to participate on a daily basis rather than sleepover each night. The expedition begins Sunday afternoon in Unity, Maine and ends the following Sunday afternoon in Belfast, Maine. Families are welcome! Open to youth ages 7-17.
August 12 - 16 | EAGLE AND BEAVER SKILLS WEEK
Camp Forest's unique badge system challenges campers to a high level of skill and accomplishment. Eagle and Beaver Week is a week for digging deep into the part of your badge journey that inspires you! During this self-directed week, you'll have lots of access to one-on-one and peer mentoring to make progress towards your next badge level. Learn survival, shelter, navigation, carving, basket-making, natural arts, tracking, plant identification, cooking fires, ecology and community skills. Make baskets, ropes, tools, leather bags, and gear off the landscape. Mixed in with the usual games, swimming, songs, and skills, you'll help each other finish those primitive projects that take more skill and focus. Navigation, map and compass, and emergency medical skills required for the Maine Woodsman Badge will also be included. Osprey Badge skills or equivalent is required. Skills for the Eagle, Beaver and Maine Woodsman Badges will be learned. Required two night sleepover Wednesday and Thursday night. Open to youth ages 7-17.
August 19 - 23 | HARVEST WEEK and DINNER
Nearing Fall and the time of harvest, we will be in natural abundance. Harvest blueberries, apples, hazelnuts, and fish. Learn forest harvest skills, play games and prepare for the community harvest meal. Families welcome. Open to youth ages 7-17.
August 23 | HARVEST DINNER
A Harvest Dinner will be enjoyed at Camp Forest from 4:30pm to 7 pm. All community members are welcome to attend. A Free Will donation jar will be available with proceeds applied to the campership fund of Camp Forest. Please bring a fresh harvest dish. REGISTER NOW!
Register yourself or your child below today!
Links: