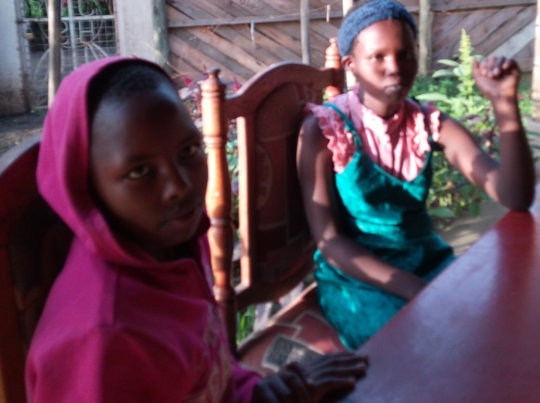 Busy days at JWHS: We are at our desired capacity of eight children in residence. Our capacity for children living with extended family is limited only by the number of sponsors.
We have had a few temporary children. They are placed with us for their protection until their day in court when the judge decides a permanent arrangement. It is amazing how quickly our hearts attach. It is hard not be able to follow up. But the court works to make the best decision for the child.
For several years we had only boys then added a few girls. Now we have 5 girls and three boys. Lot's more giggling.
Jacinta and Vivian are our newest girls. Jacinta in the headband and Vivian with the hoodie. Vivian had run to the police when she learned that the Aunt/Grandmother they were living with was planning to have them circumcised. FGM is outlawed in Kenya but is still a strong cultural practice. Both of the girls have difficult backgrounds and landed in the same relative's home.
Jacinta is in Class 6 and Vivian is in Class 8. They are both quiet girls. It is a pleasure to have them. They had been very withdrawn when they first arrived and kept their hearts guarded. It was a delight on Sunday. When ready to leave for church the 4 newest girls walked up to me and each in turn gave me a big hug. A huge barrier was removed, a trust given I pray to never break.
As reintegration to relatives is our goal, we have been working to fill in the blanks in these girls' stories so we can plan the best for their future. Until then they are helpful at home, studying hard at school and filling us all with a wonderful new dimension of a majority of girls. They give us such joy and purpose.
The Gordon Clem Study Center is nearing completion. Movies are shown each Sunday afternoon and the small library is accessed three times per week and now that school is out, children can come make use of the resources. Our goal to offer free organized tutoring to the community children is on hold as the law in Kenya forbids holiday tutoring. We trust that this mandate will be amended to allow FREE voluntary tutoring.
In addition to growing season and a large garden, we have been working to finish the perimeter fence. After tomorrow we will have completed 4 sides of this one acre and on to the last side!. I will no longer see the neighbor's maize from my window (sad) but soon it will be so hard for anyone to come in that side (glad). It was one of the two most porous sides.
The need for this expense and labor is justified often. Even while working on the fence, posts and slabs were stolen. There, so far, has been no physical assaults but certainly thefts and unwelcome visitors.
In praise of our manager, Chege, and the children I would like to mention that this is not an easy task. First the posts are lifted onto the roof of the G Wagon, then unloaded by Chege assisted by the children. The post holes are dug with a machete and a piece of metal by Chege and the children. The rails are hoisted to the roof of the wagon and unloaded by Chege and the children. Nailed to the posts by Chege and the children. Then the off cuts, (the sides of the trees when cut into timbers,called slabs in US), are loaded onto the roof and unloaded by Chege and the children near my mud house so I can listen for a thief in the night. Then the trusty chair is brought out to the driveway and each board is cut with an 18 inch crosscut hand saw. Then nailed to the rails by Chege and the children. In short... Lots of muscle work and time by Chege and the children. The only powered tool is the G wagon.

Thanks Donors and Thanks kids and Thanks Chege.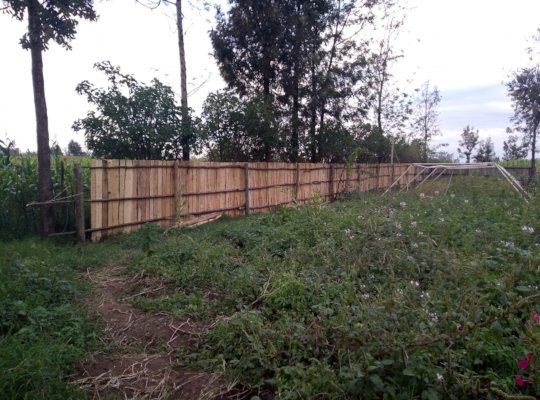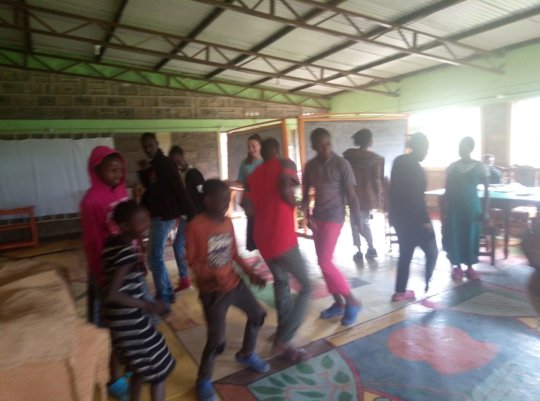 Links: