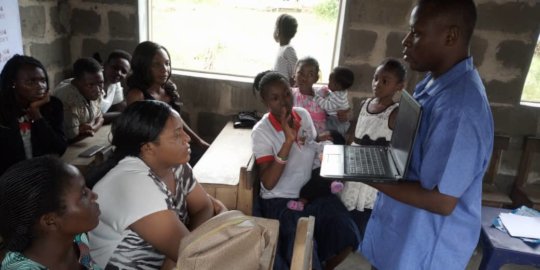 Hello Donors,
Hope this email meets you well and in good health.
For over two years, SI4DEV has been committed to our goals to provide leadership training to our volunteers and in the process teaching work ethics and values through role model engagement and mentoring. Under the SBS by SI4DEV project, we provided additional business training to some identified partners for step down coaching to low income women in their communities. One such assistant coach, Henry A, writes from Delta state on his experience being trained and becoming a trainer.
Henry writes:
STREET BUSINESS SCHOOL - MY PERSONAL EXPERIENCE
In June/July 2019, SI4DEV advertised a program and although feeling frustrated and fed up of life, I filled the form and I received a positive response as I was named among Assistant Coaches Bayelsa location. And in August Coach Trish who doubles as the SI4DEV Operations Manager Nigeria flew into Yenagoa and conducted and intensive training for three of us - Tonye, myself, and Monisola.
In August, our classes began in earnest. I was encouraged to facilitate the first class, with emphasis on LEAVING YOUR COMFORT ZONE. From teaching others, I started measuring my own advantages, things I could maximize to feed myself in order to be fit to help others. I thought of what I can do which I never acquired from a formal training... And that is it, I can wash, I mean that I really enjoy washing, cleaning.
But how do I put it to work. In Bayelsa, we buy water, and that alone kills me. It was bad that sometimes I couldn't afford a bucket to even bath not to talk of cooking. Hence, I planned and relieved after an intensive survey.
In the month of February 2020, I finally took the giant stride. I decided to move from Bayelsa State to a neighboring State, Delta. Where God blessed me with the presence of well-water, and there I launched an SME. I started Smiles Laundry and Cleaning Services. I started with #500 hundred naira. And my customer base daily growing. Although I am yet to rent an office because in the present I cannot afford such, I practice happily and successfully from home. I like for this program to continue, it is changing pattern, causing a paradigm shift among unskilled market persons in Nigeria. Thanks to SBS!
I therefore, recommend that any kind heart individual reading me via our website should robustly support SI4DEV to do more. We are here to socially impact our society. Let me say now, SI4DEV through the platform of SBS is giving life and adding meaning to the hopeless and forgotten ones. I am testifying to that.
______________
This story has been one of the highlights of this project even in these challenging times. I hope you are touched as much as I was reading it.
Your donations make it possible for us to keep supporting these participants and scale up to reach even more people. Please check out our website for more news, videos and blogs from the field.
Many thanks once again.
Nkem