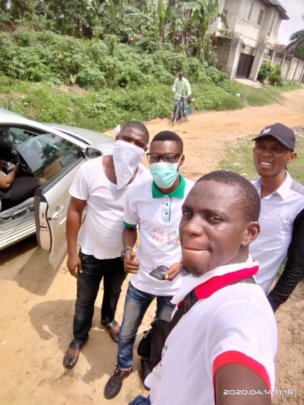 Status - Suspended
Objective - Awareness and sensitization workshop in fighting cancer among young women in Anambra state.
Activity dates - April to July 2020

Outputs Created: The main workshop was suspened due to the outbreak of the covid 19 pandemic. We hope to continue as soon as it's safe, and together we can kick out cancer and make the world a better place.

Key Milestone/ Deliverables: Sharing of IEC materials and continuously giving accurate information on cancer awareness. Healthy living is our biggest priority in the state and we need to give all we have because when you are misinformed you will end up causing more harm.
START-UP MEETING

The state Team was able to meet to discuss on the program on how to achieve a more positive result because here in Anambra state teamwork is of essence. The state lead Mr Chisom was able to share the budget and the expected outcome of the project and we all gave in our contributions in order to make this achievable and colorful one as well.
The planning meeting was an avenue to develop our state work-plan and some action points was raised with deadline attached to it which include: Advocacy, possible mitigation activities, community involvement in the project etc.
Output: Partnership outreach was a very successful one because team work means a lot to us and everyone's opinion is respected and it is something we value so much in the state. We also believe that nothing can be achieved without the proper planning on how to do it.
Production of IEC materials
The state team was able to produce some IEC materials which will be use for the event in order to send more messages to the participants on the benefits of the project that will be carried out as 1st of its kind in the state.
The IEC was reviewed by the doctors and the nurses to make their own contributions and their opinions before the final stage and they made some beautiful contributions and corrections to achieve greater heights in the project. Mr Chisom, the state Team Lead, made sure that team spirit is paramount in ensuring the success of the project in the state.
Output: We now have our Flyers, handbills, and our banner for the project
Challenge and Lessons learned / Solutions
We have tried as much to see a way to continue the awareness program, but the outbreak of COVID-19 has slowed this progress. Hopefully, we can move on with time, as all attention right now is on how to stop the spread of COVID-19 in the state.