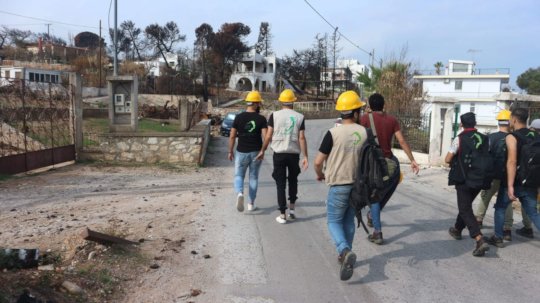 Team building and preparation:
During the last three months, Jafra team managed to bring and prepare all necessary materials and equipment's for the team, hence they can reach and work in most affected areas.
Thanks to the generous contribution by GlobalGiving and amazing individuals who have shown big interest in helping and supporting.
Jafra foundation in Greece has started the work by forming and training a special team consists of 15 volunteers. Most of them are young refugees who are eager and interested to work and help since the first day of the fire.
Moreover, the team was provided with all necessary materials and types of equipment for safety and productivity including masks, gloves, hamlets, safety shoes, cleaning materials, and fixing tools.
Achievements:
- Cleaned and fixed many houses: the team was able to travel to the fire areas and clean many houses, and fixing some basic damages.
- Visited two fire sites and offered help for families living in the area
- Conducted 5 training sessions and workshops: topics including (safety, how to use emergency materials, teamwork, first aid)
- Formed and equipped 15 volunteers with all required materials and equipment's
- Contacted and communicated with many local families and organizations
Cleaning some public areas around the area
Jafra emergency team has received a big welcome and thanks form local families and was very appreciated for its efforts and support.
Jafra volunteers will continue their mission to help and support all families in need and will try to reach more areas and homes. This is our mission and we will continue our humanitarian work as long as we can.