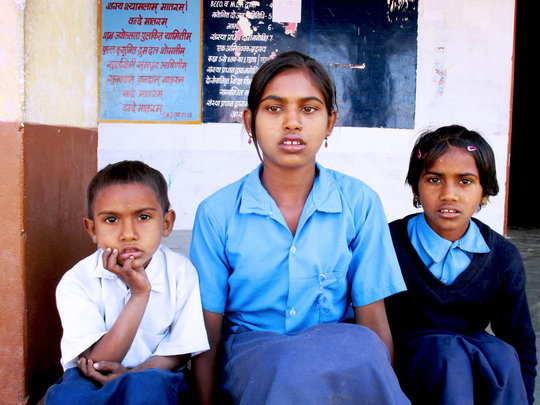 *Kavita is 12 and belongs to a small village located in the district of Ajmer in Rajasthan, India. Her family comprises her parents, an elder sister, two younger sisters and two younger brothers. Their life has never been a cakewalk! Kavita's parents are uneducated. Her father has been bedridden because of a prolonged ailment. With lack of work opportunities and so many mouths to feed, the family's economic condition has not been ideal. To add to Kavita's plight, she was married off and became a child-bride five years ago. In order to curb the expenses, Kavita's marriage was held during an event when the community had gathered for an altogether different occasion.
It is common in Kavita's community to get their daughters married at a young age. The young girls have no say in when and who they wish to marry. The parents of the girl are relieved by early marriages as they can save on having to pay for heftier dowries later on (the amount of dowry expected is significantly more for an older, educated and employed boy).
Three years ago when her father was rendered completely unfit for work, the burden of taking care of the family fell on Kavita and her elder sister. Her uncle helped take care of some expensive medical bills as and when he could, but every other expense had to be met. Her sister found work as a laborer in a factory and took up some other odd jobs that provided daily wages. Kavita's mother attended to her husband, took care of the younger children and did other chores like going to collect wood for the stove, getting water etc. Kavita was compelled to drop out of school because of the increased household responsibilities and taking care of her younger siblings. The local school was 3 km away which made it difficult for the younger sisters to go to school.
An Educate Girls Field Coordinator, Dharmendra, got to know about Kavita through a Child Tracking Survey list. As a part of Educate Girls' door-to-door survey, Dharmendra visited Kavita's house to be able to assess her situation and see how best to bring her back to school. Kavita's mother explained their domestic and economic conditions and expressed her concerns over the buying of books and uniforms and Kavita's involvement in household chores. Dharmendra told Kavita's mother that under the Government of India's Right to Education (RTE) Act, elementary education in India is free and compulsory for all children. There is no direct or indirect cost to be borne by the child or the parents to obtain elementary education. Dharmendra also spoke about the benefits of educating girls and why it was necessary to get them enrolled in school. Kavita was delighted at the prospect of being able to resume her studies and get the opportunity to learn with other students again.
However, her parents were apprehensive and it took Dharmendra's repeated visits and the involvement of school administration and village elders to finally motivate Kavita's parents to give their consent. Dharmendra spoke to the school principal about arranging for text books and uniforms. Kavita was re-enrolled into Class 4 while her sisters were put in Class 3 and Class 1.
Today, Kavita is in school and learning well. She still contributes to house work, but tries her best to not let it hinder her attendance at school. She is happy that her younger sisters get to study as well. She sets aside time at home to teach her elder sister all that she is learning at school. She wants her elder sister to be able to pursue distance education.
More importantly, with advice from Educate Girls' Team Balika (community volunteer) member in their village, Kavita's parents have agreed to send Kavita to her husband's home only after she has turned 18. Kavita's husband is also studying and has been supportive of her dream of pursuing higher education in the future. Kavita says, "My sisters and I owe this second chance to Educate Girls. The day Dharmendra knocked on our door, we did not just open our door to him. We opened the door to a better present and an even better future!"
Kavita is one of the 80,000 out-of-school girls who have been enrolled by Educate Girls and our Team Balika over the last 7 years. An educated girl will not only earn a higher income and benefit from better health; she will also get married later and have fewer, healthier and better educated children. Girls' education is therefore a crucial trigger for economic and social development.
Educate Girls constantly strives to increase enrollment and retention at schools for the most marginalized girls and improve learning outcomes of all children. We have reached over 1.1 million beneficiaries in rural Rajasthan in 2014 alone.
Help us make a difference and donate now on Global Giving as we strive to improve access and quality of education for around 4 million children living in underserved communities in India by 2018.
DONATE ON: http://www.globalgiving.org/donate/5054/educate-girls/
Thank you for your generous support!
*Name changed to protect the identity of the child
Set the Bonus Day on your agenda!
On March 18, 30% of every donation made on Global Giving by credit card, PayPal, or a Global Giving official gift card will be matched. For instance, if you decide to donate $100, Global Giving will match your donation with a $30 bonus and Educate girls will receive $130. Hurry and make a donation soon to significantly increase your impact, since the donations are matched ONLY until funds last.
Donations can be matched from 9.00 am to 11.59 pm EDT - http://www.timeanddate.com/worldclock/converter.html.
On behalf of all the girls supported by Educate Girls - Thank You!