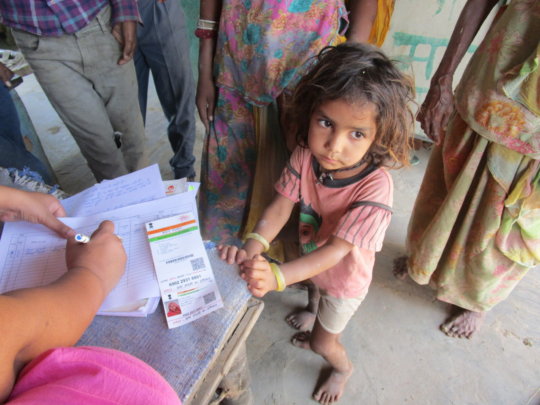 This project report is a submission to GlobalGiving's 2017 Fail Forward Contest, where organizations are asked to share a story of when they tried something new that didn't go as planned and how they learned from it. Enjoy!
ABOUT EDUCATE GIRLS
Established in 2007, Foundation to Educate Girls Globally (Also known as Educate Girls) was founded by Safeena Husain. Educate Girls is a non-governmental organization under Section 8 of the Indian Companies Act, 2013 and 501(c)3 under the IRS. Educate Girls aims to achieve behavioural, social and economic transformation for all girls in India's gender gap and educationally backward districts. By leveraging the government's existing investment in schools, Educate Girls (EG) delivers measurable results to a large number of beneficiaries at an extremely low cost and avoids duplication or parallel delivery of services.
Educate Girls has metamorphosed from a 500-school pilot in 2007 into a 21,000+ schools program spread across 12,500+ villages. Presently, Educate Girls is present across 15 districts of Rajasthan and Madhya Pradesh in India.
Educate Girls program is focused on improving the Enrolment – Retention – Learning cycle of every child in the educationally backward districts in which it operates. The program aims to usher in systemic reform, bridge gender gap and provide quality education to children.
OUR RELIANCE ON SECONDARY DATA WAS NOT THE BEST CHOICE
Previously, in order to form initial projections and to create a roadmap for intervention Educate Girls used a variety of secondary data sets that were readily available. These include the Government managed Census (a national decennial survey, last conducted in 2011), the Child Tracking Survey (CTS – a State level initiative undertaken by a number of States independent of other national surveys) and District Information System for Education (DISE – a State level data set created by the State education department). Based on these data sources, Educate Girls started its programmatic intervention in its initial few geographies.
It was later observed that Educate Girls should not have relied on the secondary data sources as they were outdated, unreliable and inaccurate. Thus, this proved to be not the best choice taken by the organization.
Major discrepancies existed between the various estimates of out of school children in India. The 2011 Census survey data showed an out-of-school figure of nearly 20% for children in the age group 6-13 years, while the Social and Rural Research Institute - India Market Research Bureau (SRI-IMRB) commissioned by the government to carry out an independent survey in 2005, 2009 and then 2014 arrived at a figure in 2014 of around 3%. Few other data sources, showed the rates for out-of-school children between 8-10%.
There are a number of surveys conducted in India but to date there is still no uniform criteria for out-of- school children (OOSC) with the information gathered differing from State to State.
Relying on these data sources, Educate Girls was not able to arrive at a concrete number of Out-of-school Girls (OOSG) in the project geographies.
EDUCATE GIRLS' WAY FORWARD
Given the unreliability of secondary sources it was clear that Educate Girls; need to conduct its own base line survey. Thus, in the year 2016, Educate Girls field staff and community volunteers conducted a massive census like activity called the 'Door-to-door survey' that covers all households in each village with programmatic intervention, in order to identify every out-of-school girl.
Field Staff visited each and every household in the educationally backward blocks where Educate Girls operates, to collect data about out-of-school children (OOSC) between the age group of 3-14 years. A data validation exercise is carried out by the organization's impact team across a randomly selected sample area of 500+ villages to ensure data integrity. In case of discrepancies, data is collected again.
Educate Girls is the only organization after the Government to conduct such a survey at this scale. Supported by the Community Volunteers from the same geographies, Educate Girls field staff conducted the survey during the months of March to August. Each working day the team had a target number of households to visit and conduct the survey. Challenges to this work plan include: the harsh weather (hot summer climate in Rajasthan and Madhya Pradesh which reached to a temperature of almost 50°C), hilly terrain, scattered settlements. The field staff had to work during the day and often visited a particular household multiple times as the members are often in the field or in the town working.
THE 2016 AND 2017 DOOR-TO-DOOR SURVEY'S
In the summer of the year 2016 and in 2017, the field staff & community volunteers surveyed over 3 million households in over 9,500 villages across Rajasthan and Madhya Pradesh. Educate Girls identified over 200,000 OOSGs in these project geographies.
These surveys are conducted by Educate Girls own trained field staff and by Community Volunteers who come from the same educationally backward communities where the program is being implemented. Given the independence from government, from the school and the fact that those gathering the data are not from a hired private sector company, Educate Girls enjoys a greater level of trust with the household members and one could suggest a greater level of access is therefore given which one could conclude would result in a greater level of accuracy, particularly related to questions about drop outs, never enrolled children and the barriers to their education.
Post identification of these OOSGs via the door-to-door survey, the field staff convinces the parents and community members of the girl child to enrol her back in school.
EDUCATE GIRLS' IMPACT SINCE INCEPTION
Overall since inception, Educate Girls have successfully enrolled over 200,000+ OOSGs back in school. This shows that the decision of the organization to conduct its very own baseline survey paid off and has been helpful in creating future roadmaps for the organization!!