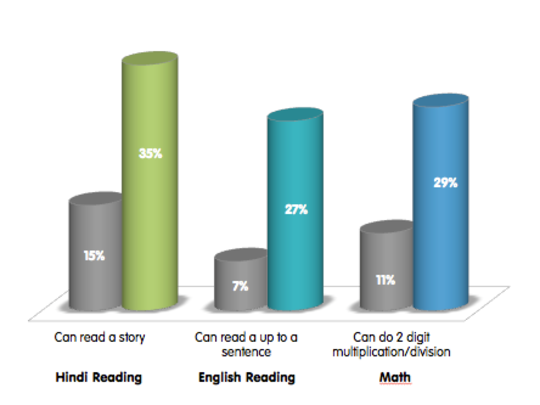 Educate Girls trains village volunteers as teaching resources to boost learning in rural schools. They help teachers and provide a link between children, parents and schools. They are known as the Team Balika.
Sukhi Kanwar, 18, is one such Team Balika volunteer in a village in Pali district in Rajasthan, one of India's largest states and also a region with very great gender disparity. Sukhi is a highly active and motivated Team Balika volunteer, working with Educate Girls to enhance girls' enrollment and school reform. Team Balika members work closely with the School Management Committees and Teachers. They use Creative Learning Techniques in the classrooms and improve learning outcomes among the children.
In just 3 months, 140 Team Balika were successfully in improving,
Hindi reading from 15% to 35%
English reading from 7% to 27%
Math skills from 11% to 29%
Sukhi lives with her father Mr Bhanwar Singh, a marginal farmer, in the village of Pratapgarh, in the Pali District of Rajasthan. Sukhi's mother died of illness when Sukhi was just 2 years old. Like most young girls in Rajasthan, Sukhi too is married but rarely lives with her husband. Even though she didn't go to school as a kid, Sukhi hasn't given up her dream of getting an education and she plans to clear her higher secondary exams this year.
When Sukhi first became a Team Balika volunteer, people in her village laughed at her because of her newfound interest in girls' education issues, and mocked her for trying to change things in her village. But her father was always very supportive of her work and helped motivate her to achieve her goals. A few days after joining Educate Girls she had already motivated five families to support girls' education and enrolled five girls in nearby schools. The same people who mocked her now respect her and now readily accept what she says.
There was an interesting incident recently that made Sukhi a role model of all the other members of the Team Balika. Sukhi had identified two girls in the village of Mohra who had never attended school. She convinced their parents to send them to school, but there was an unexpected obstacle in the way. The school headmaster refused admission to them on the grounds that the school was already in session and that the girls could come back in the next academic year.
But Sukhi is not a girl to take things lying down. She immediately contacted Educate Girls' regional office in Pali and spoke to staff member Miss Harshwardhane. She advised Sukhi to ask the headmaster to state his reasons for refusing the girls admission in writing. Sukhi marched up to the headmaster's office the next day and demanded a written statement. Shocked by her confidence and taken aback by her complete lack of fear, he admitted the girls in the school. We hope other young girls and boys are inspired by Sukhi's story to become village volunteers and help young girls get an education and look forward to a bright future!