QUARTERLY REPORT FOR JANUARY TO MARCH 2020 ON SUPPORT SAVE 750 PREGNANT MOTHERS FROM MALARIA IN UGANDA Summary This is April – June quarterly activity and status report on "support Save 750 Pregnant women from malaria in Uganda" project in Kibuku district. The goal of the project is to contribute to the reduction of maternal mortality rates. The project is implemented in the district of Kibuku," is reliant on financial support from donors under the GlobalGiving and Kagumu Community. KADO is grateful to all donors and the community for the support that contributed to the realization of these quarterly results. A total of 212 pregnant mothers received Health education, 87 mothers received a LLIN each and was found out that 90% had adopted best Health practices during pregnancy.
Services offered.
• Antenatal care
• Malaria Testing and treatment
• Distribution of Doom mosquito repellant.
. monitoring and evaluation.
ACHIEVEMENTS
>Health educated 212 pregnant mothers.
> Procured 187 medium long-lasting insecticide treated mosquito nets and 87 mothers received a LLIN each.
> Monitored and evaluated a total of 212 mothers.
>Received 125 testing Kits from the Ministry of Health Through Kibuku District DHO's office
>Offered ANC services to 212 Pregnant women.
CHALLENGES
Limited funding which makes the procurement of most items hard.
The outbreak of COVID-19 pandemic limited the access of health services to most pregnant women due to lockdown.
Most women come for care during late pregnancy and miss the first ANC visit.
RECOMMENDATIONS
KADO requests all partners to raise support to enhance provision of malaria prevention services to the pregnant mothers to reduce on the maternal mortality rates and infant mortality rate.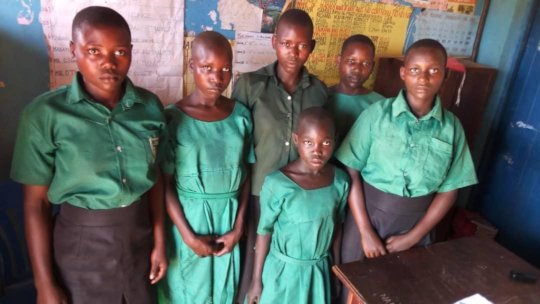 Summary: This is a progress report for the quarter ending 21ST/5/2020 with financial support from stakeholders and donors. The quarter ended when the organization had not yet received funding from our donors. However, the organization utilized the limited available resources to execute some project activities. The following were done in the quarter:- • We visited orphans at schools and provided guidance and counselling.. • Provided 10 orphan girl children with materials for making re-usable sanitary pads. Challenges 1. Country lockdown due to COVID -19 affected implementation. 2. Limited Funds to manage the overwhelming needs of the girl child. 3. High rate of Girl Children school dropout. 3. Poverty among care givers and guardians. Recommendations KADO submits a request to all development partners to extend their helping hand to the project to facilitate the implementation of this project in order to retain these Orphan Girls in School. Currently there is increased poverty due to CORONAVIRUS.
October 2019 to December 2019 Quarter Report By Mugoya Rogers - Project coordinator Summary of project activities Malaria is the leading cause of death in Uganda counting for over 27%. Maternal anemia and placental parasitaemia leads to low birth weight, which is an important contributor to infant mortality. Despite interventions of stakeholders, prevention services to mothers is low. Long lasting insecticide treated mosquito nets (LLINs) coverage is still low affecting pregnant mothers who have low immunity. The project will provide free LLINs and malaria tests and treatment to 750 during antenatal clinic. With financial support we receive from development partners, KADO is involved in the implementation of integrated community case management of Malaria and the VHTs are doing the Iccm program in the districts of Luwero, Pakwach, Nebbi, Arua, Madi-okollo, Yumbe, Koboko and Maracha with support from TASO and global fund. Current Status on prevention of Malaria in Uganda Malaria control systems is still very poor and weak in the community because there is limited male involvement during awareness campaigns, antenatal visits, community social mobilization, negative attitudes of the community towards government programs like spraying of mosquitoes and distribution of treated mosquito nets. In the last quarter, the organization managed to implement the following; 1. A total number of 306 pregnant mothers received health education. 2. Procured 321 doses of malaria drugs for 321 lactating and pregnant mothers. 3. Procured malaria test kits from the Ministry of Health and tested 150 pregnant mothers and treated 100 MDRT positive. 4. Procured 900 medium long-lasting insecticide treated mosquito nets and 290 pregnant mothers received long lasting insecticides nets. 5. Facilitated home to home visiting for 27 mothers. 6. Monitored and evaluated a total number of 306 pregnant mothers who received health education in the quarter and found out that 84% of them adopted best health practices during pregnancy. Challenges In Kibuku district in Uganda, 98% of the community members are subsistence farmers. Malaria is greatly affecting the general population in that women are the major contributor of agricultural production. Malaria exposes a lot of vulnerability to mothers particularly abortion, delivery of children with low weight, death and high expense on treatment that affects the economic base of families. The project will benefit mothers, fathers and the government of Uganda on malaria expenses. The following are some of the challenges met during project implementation; 1. Limited financial resources. KADO is a donor dependent organization and realizes limited profit from its income generating activities. Inadequate money to procure MAMA kits for mothers during their labor period. 1. Poor attitude of the community leaders. Local leaders are silent on dissemination of Malaria prevention messages in public places. They think it is a preserve for health workers. 2. Inadequate or shortage of testing kits. Recommendation we recommend that we lay a rapid action to curb the spread of malaria which is now a threat to most communities in Uganda
WARNING: Javascript is currently disabled or is not available in your browser. GlobalGiving makes extensive use of Javascript and will not function properly with Javascript disabled.
Please enable Javascript
and refresh this page.