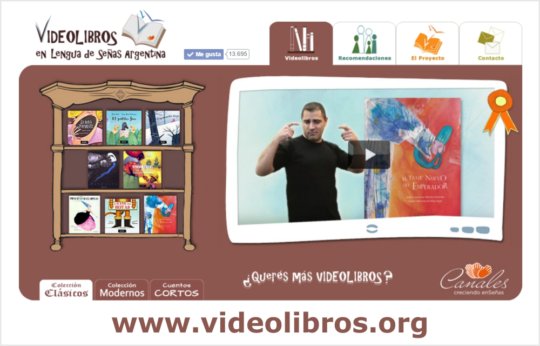 Good news for lovers of children's literature. We included four new titles to the library of classic stories and four more are in the process of editing.
The stories that are already being enjoyed by the children are: The Twelve Dancing Princesses, Bluebeard, The Emperor's new clothes and Epaminondas.
Today we are going to tell you how the selection of the readers was made of each one of the videobooks.
In the first place the selection is made taking into account the readers' fluency in sign language: the best readers in sign language are those who have deaf families: they were born to deaf parents or have deaf brothers and/or sisters. This population represents only 5% of the deaf community, and they are those who could communicate from their earliest childhood in their homes and those who their parents and / or grandparents could tell them stories.
Readers are also selected in order to maintain a balance between men and women and their different ages, but what they all have in common is a high level of sign language and their commitment to education and access to culture and reading for deaf children. The coordinators of this project are deaf themselves and are responsible for meeting these requirements.
We also take into account the content of each book and then, we choose readers who can better represent the characters. For Bluebeard and for The Emperor's new clothes we selected adult male readers. It was interesting to work on the reading of a song in one of the stories The deaf reader solved the situation by moving the body and by moving his hands: we invite you to see this part of the videobook at 8:25 min (Videobook: The Emperor's new clothes).
Epaminondas and his godmother tells about a child who is always mistaken. It's a funny story for small children and that is why we decided to call a young deaf girl who is in high school today but who started reading videobooks when she was 9 years old. In that first stage, Melany was the reader of Gastón Ratón and gastoncito and of Federico.
Melany already at 7 years of age had participated in one of our first educational sign language videos "The rights are in your hands". A sample of this video can be seen here. This young deaf lady was one of the actresses and represented a deaf student who did not understand what the teacher told her orally and so she could not participate in a walk with her classmates.
She also participated most recently in an environmental awareness project.
Lucia is another of our readers who has already participated in other projects and also in reading videobooks for teenagers.
The selection of voices in Spanish also represents another challenge, since the person that we select must have some kind of relation with the looks and the age of the reader and with the way he/she reads the book in sign language. That is why for Epaminondas we selected a young woman with a very delicate voice and for the other videobooks we selected young adults. We try to include a balanced kind of stories: comic stories, stories that makes us think, stories to teach in class, classic stories that allow us to share culture with the rest of the community. We are making new videobooks with younger readers, but…. that we will tell you in the next report!
Join Videobooks in Sign Language for more literature for deaf children!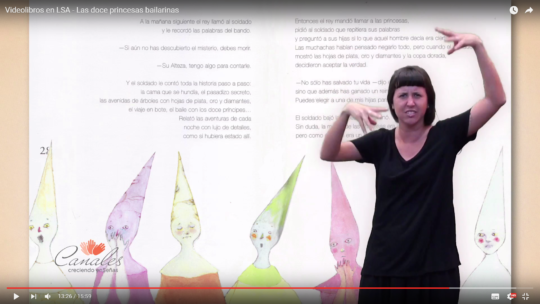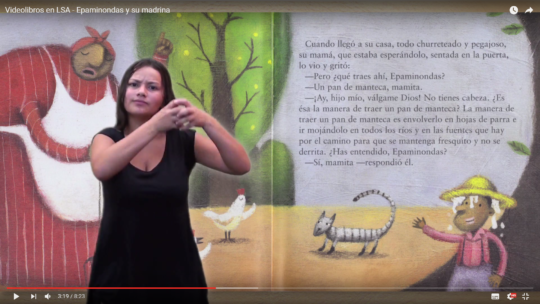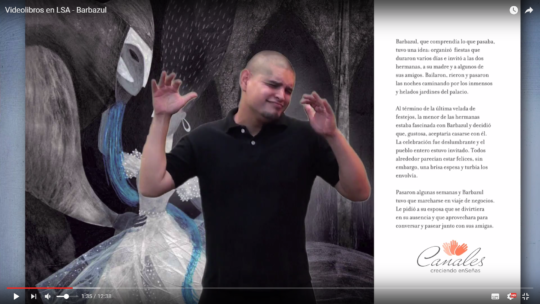 Links: