Due to a lack of funding the project has not been able to take off as we at ALERT had hoped. So no new developments have taken place and the project i at a standstill. We are hoping to secure funding for this project where we will be able to supply updates on how the Guardian program is functioning and what impact the guardians have on the communities.
We feel as though the guardians will have a positive impact on the communities as they will be granted the ability to protect the livestock of the families in the respective communities and will also have the ability to warn the families that predators are near.
A big thank you must go out to our donors, we have raised enough money for one set of LED lights. We will be purchasing these lights from South Africa.
Recently there have been no livestock depredation cases recorded in the Matetsi Ward. 4, in Victoria Falls. There were 4 livestock (cattle) losses to lions recorded in October in the area. All four of the attacks took place during the day in the rangeland. Which is showing the usefulness and need of the LED lights as no livestock have been attacked in their pens as these are protected with the LED flashing lights.
Thank you again to our donors we can now protect one more livestock holding pen.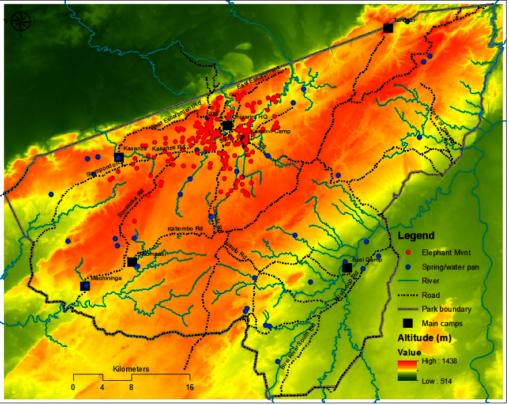 The elephant research initiated by ALERT with Zimbabwe Parks and Wildlife Management as a partner is the first elephant collared in the Sebungwe region this century. The elephant cow named "Nyasha" is part of a herd of 30 animals and the data being collected on her movements, core areas and feeding preferences are tied in with the objectives of the Zimbabwe Elephant Management Plan 2015-2021.

Nyasha has been actively tracked via VHF and GPS over the past two months. The research on this herd has already yielded interesting preliminary data such as home ranges, population dynamics and habitat use, but much more data is needed before the status and condition of the elephant population is known. As can be seen, by the map, Nyasha is utilizing the mid-northern part of the park. With more collars, we will be able to obtain meaningful data of the elephant populations within the whole Park and will be in a position to advise the Parks Authority on conservation measures.

This herd of elephants has not gone out of the Park into the surrounding communal lands to date. Part of the research is to establish the occurrence of any Human elephant conflict incidences outside of the Protected Area and to define traditional elephant migratory corridors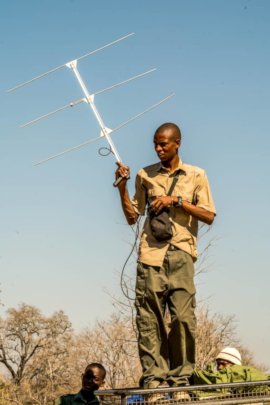 WARNING: Javascript is currently disabled or is not available in your browser. GlobalGiving makes extensive use of Javascript and will not function properly with Javascript disabled.
Please enable Javascript
and refresh this page.