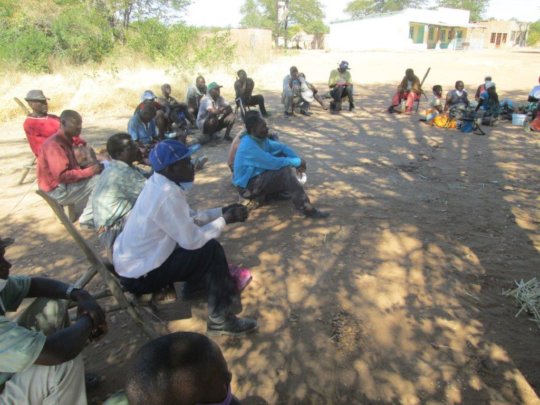 Communities surrounding the larger unfenced Zimbabwean National Parks are frequently affected by lions and spotted hyena that come from the park and kill livestock in the villages. Some villagers will take retaliatory action and poison or set snares to kill the predator killing livestock.
ALERT recently received reports of lions killing cattle in the Binga area in the north of Zimbabwe. Because ALERT is carrying out research on lions and elephants in Chizarira National Park (2,000km2) nearby the affected area, the Zimbabwe Parks and Wildlife Management Authority (ZPWMA) and the Binga Rural District Council (RDC) contacted us to help mitigate the situation. Despite the Covid-19 restrictions, a small meeting was called by ALERT, ZPWMA and RDC with the affected Community.
Our ALERT researcher and an attachment, spoke at the meeting and called upon villagers to take responsibility for their livestock. Good husbandry and the building of proper predator-proof holding pens and ensuring that livestock is safely inside at night, goes a long way to ensuring that predators do not kill the livestock. Most holding pens are constructed of flimsy poles that are low and with large spaces between uprights so that predator see the livestock and can easily enter. In some cases the cattle are not put in pens at night.
After the meeting ALERT donated a US$750 mobile enclosure that is made of opaque plastic sheeting. This enclosure is erected on an old field site near a homestead. The confined cattle cannot be seen by predators as they perceive the facility as a solid obstacle. We have had great success with this type of holding pen with no livestock losses when confined at night. Added to this protection is the fact that the confined cattle produce natural nutrients that are trampled into the soil and just before the next rainy season, the holding pen is taken down and crops planted in the nutrient rich soils. Crops grown in this site produce much higher yields than with artificial fertilizes - and it is all organic.
This is an excellent mitigation method where villagers see that their livestock are protected AND they do not have to purchase costly and often harmful fertilizers to get bumper, healthy organically-grown crops.
ALERT is still using the flashing light method on locally built pens and this has also been very successful in deterring predators at night. We are still raising funds for this mitigation method since it is far cheaper than the mobile pens. Research is being carried out on best mitigation methods, but our main purpose is to help the impoverished Communities that face wildlife threats daily. By so doing we also ensure that there is no reason to kill the predators that come from the parks for an easy meal.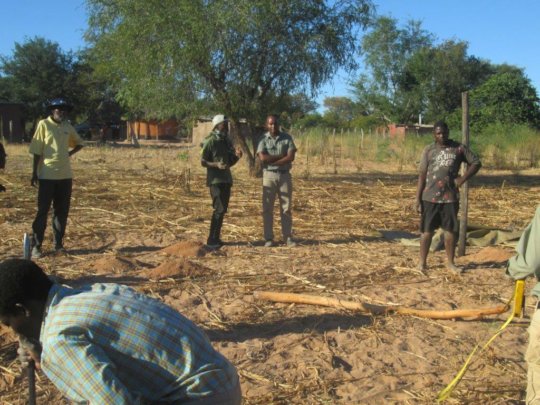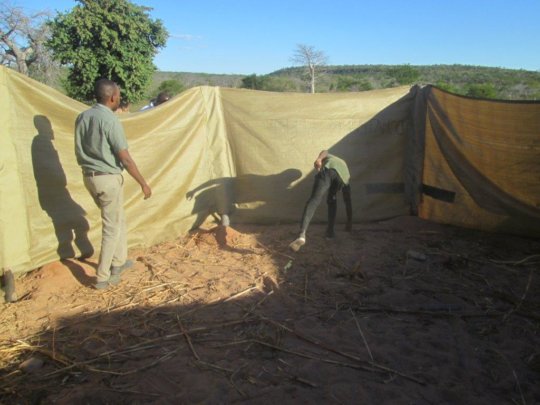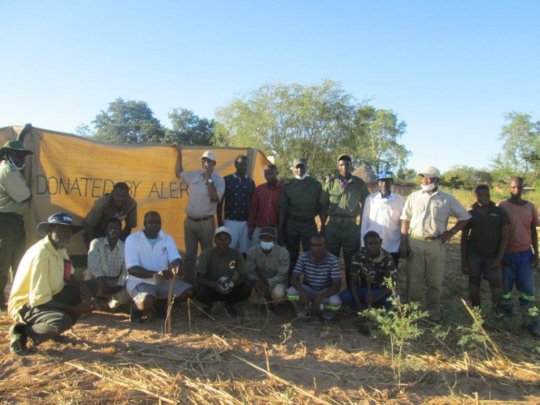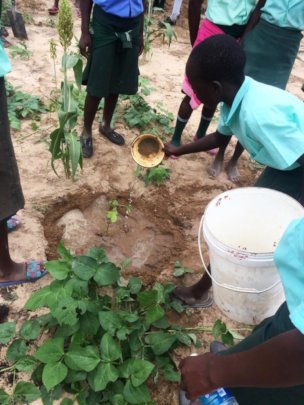 Whilst we consider this project important to the teachers and children at Maunga School in Livingstone Zambia, the support response has been very poor. This is through no fault of anyone - we understand that people are overextended in terms of finance to support projects.
It is therefore with reluctance that we will temporarily terminate fund-raising for this project via GlobalGiving. ALERT will continue to make donations where it can to keep up morale at the school and also to keep the flame burning. We know that better times will come.
What have we done to date? It does not sound like much but we gave out vegetable seed and fruit seedlings to the school (using the limited raised funds), with the intention of helping the school become more self-sufficient through the sale of produce. Despite the immediate fund-raising being terminated for now, the school will benefit from the sale of produce in time. We will keep supporting the school through visits and considering any urgent requests. As mentioned, it is important to keep up morale especially when an impoverished Community depends so much on the interest and help of others.
Thank you so much to those who were able to support this program. Here are a few photos of the schoolchildren and teachers planting seedlings. The school is near a stream so we are sure that the fruit trees will be well attended to. What is also important is that the children can identify with the importance of tree planting and how, by planting a seed or a seedling, they will help make a difference in their, and others' lives.
Conflict mitigation is essential to conservation in order to protect both people and wildlife. Therefore, in 2015 ALERT in collaboration with Coventry University established a human wildlife conflict mitigation project in Matetsi. This is a long-term project aimed at uplifting the Matetsi communities, protecting the wildlife in the area and promoting coexistence between humans and wildlife.
READY… INSIGHTS
Up until recently, the focus of the project has been to test the effectiveness of LED lights as a means to reduce night-time livestock losses to predators. However, preliminary results revealed a high frequency of daytime attacks in grazing lands as well as high crop losses to elephants. To address this ALERT decided to pursue a more holistic mitigation approach using Community Guardians, that is community members who are employed and trained to protect livestock and crops in their own communities.
STEADY… TRAIN TWO GUARDIANS
Together with community members and authorities, ALERT identified community volunteers and has already facilitated the training of 2 individuals through WildCru's Community Guardian program, a tried and tested program that has successfully reduced human wildlife conflict in southern Africa. These Community Guardians are taught various skills which include kraal construction, cattle herd assessment, tracking and scaring of predators and elephants using non-lethal methods as well as reporting and early warning.
GO… EQUIP AND MOBILISE
Having completed the training, the next step towards mobilising these 2 guardians is to equip each of them with uniforms, stationary, a bicycle, a GPS, a mobile phone, call time and monthly wage.
WARNING: Javascript is currently disabled or is not available in your browser. GlobalGiving makes extensive use of Javascript and will not function properly with Javascript disabled.
Please enable Javascript
and refresh this page.