Covid -19 has affected us all. We are grateful to those who have donated towards helping ALERT continue and recover from the pandemic, despite their own difficult circumstances. Whilst the response to our appeal was not great, the donation received nevertheless went a long way to helping us continue our work in two National Parks in Zimbabwe (Chizarira and Victoria Falls National Parks) and in the surrounding communities. We have been able to make regular trips to the Chizarira National Park which is very isolated and which does not carry any danger of COVID-19 contamination.
At Chizarira National Park (which is 1,910km2) in extent, our researchers and research assistants have been busy mapping out vulnerable tree plots and carrying out measurements so that we have base-line data before a plan is put in place by the Park Authorities to bring in more elephants. The existing elephant population in the park which is at an ecological balance with the vegetation, has not decimated a preferred tree species Brachystegia boehmii (common name "Prince of Wales Feathers), and there is a healthy regrowth of this species. This may change once the population is increased. Getting base-line data is important so that ALERT and the Park Authorities can measure the effects of the planned introduction. We have continued to monitor the movements of the elephants we collared in the Victoria Falls and Chizarira National Parks.
The researchers have also been carrying out wildlife spoor (footprint identification) counts to get some measure of the wildlife species and numbers occurring in the park. This is done by have an observer sitting securely on the front bumper of the research land cruiser who located the prints and a recorder who writes down the details. Photographs are taken of any print that is not immediately recognized for future positive identification. Interestingly prints of wild dog (painted dog), were identified. This identification places wild dogs in the park which is a rare occurrence.
Bird records are also being kept and the rare Ross's Turaco was seen and recorded during this exercise. An article has been sent to the Honeyguide magazine for inclusion in their National Reports.
Our school conservation classes in the surrounding local communities has been put on hold due to Covid-19 but we have a new syllabus and a team eager to start again once schools are fully operational.
Keep safe and thanks again for your support!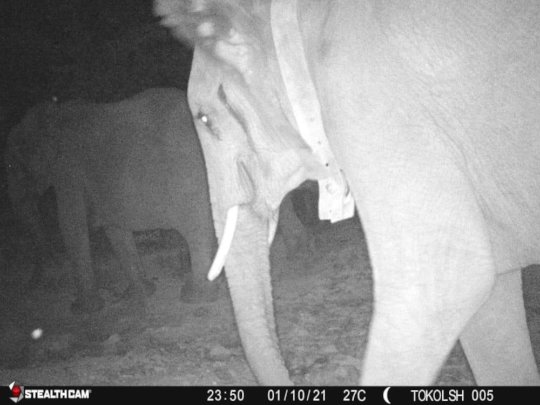 We are writing this report from our research headquarters in the 1 910 km2 Chizarira National Park. The wide-open unspoiled spaces around us give relief from the confines that the Covid epidemic is causing. We hope that by reading this report you will experience together with us, the privilege we have of carrying out this important field work. Frequent visitors at the research base are the spotted hyaenas, elephants, lions, impala, waterbuck, warthog, buffalo and a large variety of birds.
The ALERT team has been able to carry on its operations in Chizarira National Park and in the surrounding Communal Lands that surround this large unspoiled island ecosystem despite the epidemic. To date, three elephants have been collared with satellite collars. Through 6-hourly satellite downloads from the collars we are able to monitor and map movements of the herds. We are also able to track the herds on the ground where we can obtain demographic data that will give us a better idea of the population structure.
This information has been lacking since the last researcher working on elephants left in 1976. ALERT as a research NGO, works closely with the Park management and ecologist, who rely on us for transport and research equipment. In addition our work links in to the elephant work being carried out in the greater KAZA Transfrontier Conservation Area which encompasses the Kavanga/Zambezi River systems of five countries (Angola, Botswana, Namibia, Zambia and Zimbabwe).
This year we will be adding another four collars to selected elephants in the Park so that eventually seven herds will be marked and tracked. An important aspect of our work is to look at the connectivity between Protected Areas. Elephants and other animals use traditional wildlife corridors between the Protected Areas and by identifying these corridors we can work with the Authorities to ensure that they are kept open. Thank you for your continued support!
Attachments: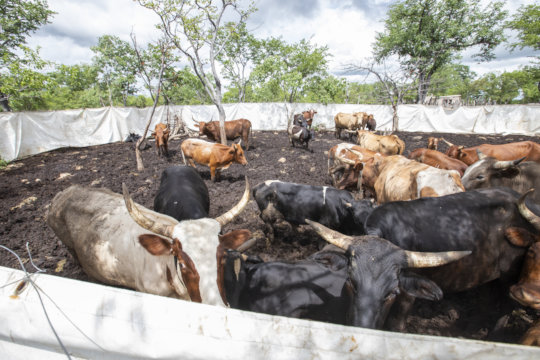 January is at the heart of the rainy season in Zimbabwe and whilst rain is always gratefully received, the change in season from hot and dry to warm and wet does often mean that wildlife will more readily leave the Protected Areas (PA's) and move into the surrounding Communal Lands.
Lions in the PA's are easily able to hunt their wildlife prey around dwindling water supplies in the dry season but when the rains come, the wildlife disperses making hunting difficult. At this time lions may move into the Communal Lands and prey on livestock.
At this time of the year villagers are planting their maize and other crops, taking advantage of the rain. This is the time that elephant (mainly bulls) may come into the crops to feed on succulent new maize, pumpkin, sorghum and other cops.
It is often difficult to deal with all of the problems caused by wildlife in the Communal Lands immediately but our staff reacts as quickly as possible and meets with villagers to agree on best non-lethal control measures. Our activities during the period covered by this report have been limited due to COVID but we have been able to maintain the project, assure the villagers that they have our support and that we are available to help. The pictures below will show you some of the activities that we have put in place. The purchase of materials has in some cases been supplemented by the donations received from you. We have not yet reached our financial target for this project but we are making steady progress.
Interestingly our other two projects (lion and elephant research) feed directly in to Human-Wildlife conflict as the GPS/satellite collared animals show us and the Community where we need to chase off potential threats.
Thank you for your support.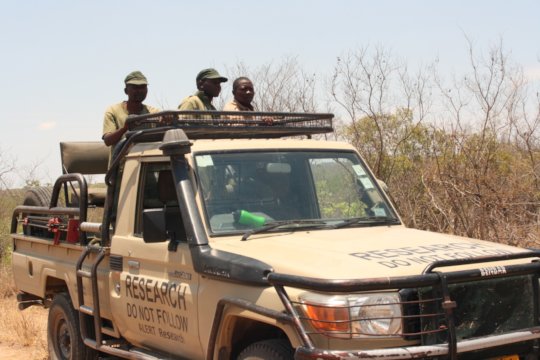 WARNING: Javascript is currently disabled or is not available in your browser. GlobalGiving makes extensive use of Javascript and will not function properly with Javascript disabled.
Please enable Javascript
and refresh this page.