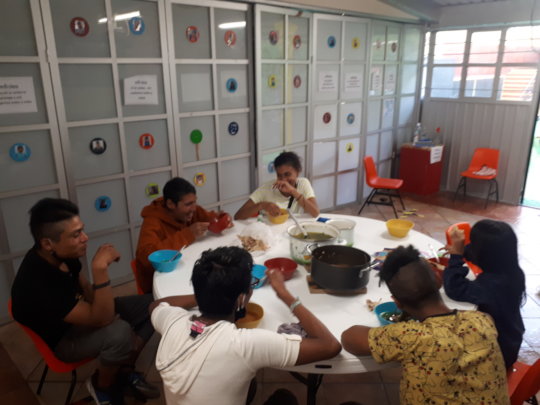 Without a doubt, the year 2020 was very complicated, they had to redouble their efforts so that girls, boys and young people who could not stay at home, because they do not have one or because the street is their work space, would have a safe space in ednica and that would take them away from COVID-19.
With the group of families, we will be providing support with a pantry to contribute to the feeding of the families, carrying out actions for the promotion of healthy eating, and when the main activities can be resumed, generating psycho-educational workshops for the promotion of healthy habits that contribute to the self-care of health.
Similarly, the goods and services we will be implementing are
1) Continuous educational processes.
2) Workshops.
3) Therapeutic processes.
4) Hygiene services.
5) Lunches and snacks with young people linked to street life, and delivery of monthly groceries to families working on the street.
6) Referral to specialized health services. In this way, the attention we provide, from a rights approach.
This was carried out in safe spaces and with the necessary disinfection measures, so that; and based on our "Theory of Change" and the intervention variables that we have designed, we can promote their physical, emotional and social development that will help in the exercise of their right to health and later, build a life project not determined by the street.
In this way, young people attending our two community centers were able to receive timely guidance on the pandemic, wash their clothes, bathe and prepare food. Given the circumstances in which we find ourselves in our country, the operating teams of both community centers designed protocols for coexistence at the time of providing these services; at the beginning of each session it was verified that the young people living on the street had an adequate temperature, washed their hands and wore mouthpieces and masks, and that during their activities an adequate distance was promoted and antibacterial gel was continuously distributed.
In addition to the daily assistance services, accompaniments were also provided to the medical service for those who presented some stomach illnesses or minor infections; and to legal procedures for those in conflict with the law; haircuts were performed, different donations were distributed such as antibacterial gel, mouth