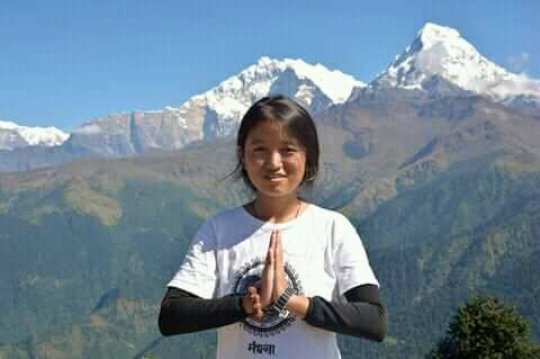 Bina is an 18 years old bright girl who comes from a remote village in the Bhojpur district of Nepal. At a young age, her mother left her husband, re-married and moved to Kathmandu. Bina was left in the village with her grandmother. Until grade 5 she attended a local village school and lived with her grandmother. When she was in grade 5 her mother invited her to live with her in Kathmandu.
After grade 10 Bina's parents told her that she was old enough and that she needed to support her studies by herself. One of her aunts worked as a trekking guide in Pokhara so she decided to move in with her so she could work part-time and support her education.
Bina joined EWN's Basic Trekking Guide Training in 2017. After training she worked as an assistant and continued high school. She has been on many treks and is enjoying her life in Pokhara studying hard and working part-time as an assistant guide.
Bina says "the training has brought a lot of changes in me. Before I used to be this shy, introvert girl who wouldn't talk much with others and had very low self-confidence, but now I am a different person. I have developed self-confidence; I am more social and feel comfortable engaging in conversations with everyone. I have become independent and able to make my own decisions.
From the money she makes trekking, she is able to pay her tuition fees, stationery supplies as well as contributing 50% to expenses like rent, groceries with her aunt. Currently she is continuing her study and her trekking guide profession as well.
She is a very aspiring young girl who likes to learn new things, visit different places, and know different culture and traditions. In the future she wants to become a successful business manager and a professional female trekking guide.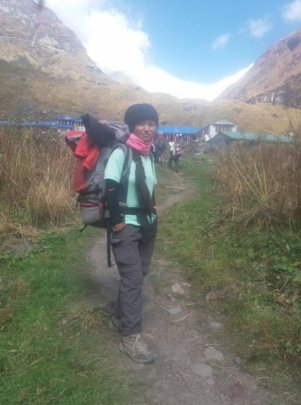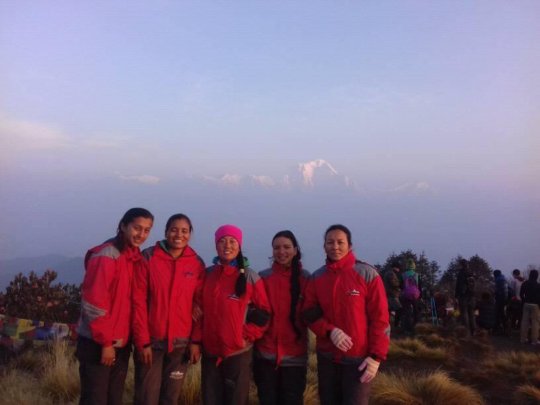 Female Trekking Guide Training 2017
The program began with an intensive 4-week training course from August 13th and ended on September 8th where 41 young girls from 13 districts of Nepal joined the 4 weeks Female Trekking Guide Training to learn practical mountain skills, including rock climbing, guiding, first aid, as well as women's health, leadership, English and flora and fauna of the Himalayas, in both a classroom and field setting, organized by sEWN.
The objectives of the training included the following:
Help trainees acquire the knowledge about empowerment, tourism, responsibilities of guides, different aspects of societies
Help trainees acquire the skills about trekking guides and mannerism towards clients
Help trainees explore the tourism sector of Nepal
Help trainees to build up their confidence level and be brave
The Founder of EWN, Lucky K. Chhetri emphasized the importance of the training, since it will go to impact on the growth of confidence level, knowledge about various aspects of society, and moreover the skills to be a perfect guide of the participants. The participants were encouraged to learn and explore about various topics related to become a skilled trekking guide.On the last week, 2 days and one night stay field trip was organized at Ghalel Organic Farming Village, Kaski.
Conclusion
The evaluation of the participants indicated that the training was successful. To a large extend the objectives of the training and expectations of participants were met. The experiences, skills, knowledge and interactive mode of presentation made facilitation friendly and lively.Most of the participants were of the view that the training was very useful to them and build up their confidence level to some extent. Most of the participants were very happy to get this free training program. They were very thankful to the entire EWN team for such a great opportunity.
Links:
WARNING: Javascript is currently disabled or is not available in your browser. GlobalGiving makes extensive use of Javascript and will not function properly with Javascript disabled.
Please enable Javascript
and refresh this page.