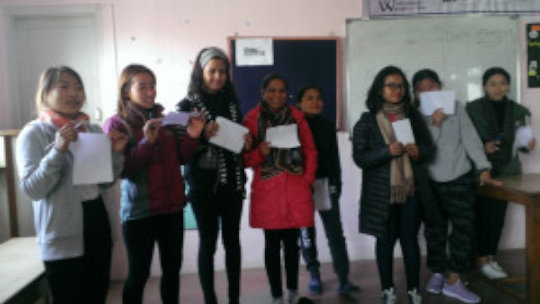 EWN has expended its training programs to include refreshing course for Assistant Guides to expand their skills to prepare for Guides. The training was started from Jan 13th to Jan 25th for two weeks. The objective of this training was to upgrade the skill of trekking assistant guide. As well as the English classes after the refreshment break. Together with this, we conducted three days workshops – "Alternative to Violence Training Workshop for Peace" to our guides from 26th -27th Jan, 2019.
The training starts at 10.30am and ends at 4:15pm.
On the first day of training there was opening ceremony by our director, Lucky Chhetri give formal speech about the purpose of training. Everyone who was part of that day gave their introduction. Then our first class start on topic Himalayan Society and culture by our permanent trekking guide Indra Bahadur Rai. English class was taken by our volunteers as daily schedule for 2 hours.
On the second day of training they learnt about culture and tradition which was highly demanded by assistant guides. During the trekking field they were mostly asked by trekkers about the cultures and traditions now they are able to give information to trekkers about culture and tradition of Nepal. Also they learn about effective way of communicating with trekkers.
On the third day of training class start at sharp 10.30 on topic culture and tradition. It was broader topic for the participants as they were unknown about cultures and tradition of mountains people. Like in daily schedule they learnt English class from the volunteers from different countries.
On the fourth day of training the class schedule was same as 3rd day, class continued with same topic. About English class participants were divided into 3 groups for English class by 4 volunteers.
On the fifth day assistant guides were on field to visit monastery and temple with their subject teacher to learn about religions. They explore new knowledge and information from the field and were feeling excited in practical field.
On the sixth day of training our guest teacher started at 10:30 am on topic History of Nepal. This was also one of the subjects demanded by assistant guides. They told us that some trekkers also ask about the history of Nepal and they have very less information but now they are capable of answering those questions. Might be they have got information to response trekkers.
Saturday was public holiday so office was closed.
On the eighth day of training class start with our guest lecturer and topic for that was flora and fauna. During the trekking field they used to observe many plants and animals which they were unknown even they don't even know their names. So it was the interesting topic for them. After that our class ends by learning English class.
The schedule for day nine was similar to day eighth as topic was same flora and fauna but they went for short trip to explore new things.
On the tenth day of training the topic was map reading. This topic was also demanded by the participants of the training. In this training topic are choosen by participants themselves. So this training enhances the knowledge skills during field.
On the eleventh day of training the topic was geography. On that day few guides were absent as they went for trekking. Otherwise class was running smoothly.
On the 12th day, topic was first aid. Our guest lecture taught about emergency first aid useful during traveling mountains. While trekking people suffer from low attitude, cold, injuries, sunstroke, sunburn and other sickness so this topic was equally important for guide in emergency case.
After twelfth day they have regular English classes for extra 2 weeks to improve the English language to communicate with the trekker guests.
At last, we are very thankful to all the volunteers, guides, guest teachers, staffs, donors and partner who were supportive during training period.