Manjari is from Gorkha district of Nepal. She joined EWN's trekking guide training in January 2020. At an early age her father passed away which made it very difficult for her family financially. Her sister gave up her dream of continuing school and began working with her mother at household and farm work. Later her mother got married to another man and had a son with the step father. Even though her mother married to another man, her mother was closed to her and her sister. Nepal severe earthquake 2015 killed her mother when her house collapsed. After that her step father did not care about them and the step brother even began to live with them.She had learnt to be strong, since she no longer had parents to protect her and her siblings
She joined grade 8 and her brother joined Kindergarten from the support of an organization. Her paternal uncle later died as well, and she became more hopeless and broken. She couldn't stop crying as she always thinks about her parents and that never really goes away though the sadness fades with time. Her sister and brother are all she had. She feels lucky and grateful to have them and relied on them for support. She and her brother depend on her sister who is looking the home. Now she wants to study hard and support her sister financially through trekking. On Female Trekking Guide Training, she thinks that she learnt so much. She is hopeful for her new life. She is happy and hopes to make decent income from trekking after the situation gets back to normal.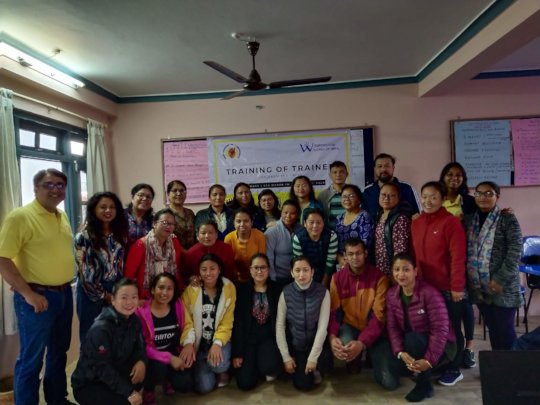 The five days Training of Trainers (ToT) was conducted from 6th – 10th March, 2020 was completed before the nationwide lockdown over coronavirus pandemic was imposed. The Training was organized by Empowering Women of Nepal (EWN) for learning group facilitators/trainers and empowers them to be able to conduct training with adolescent, youth, local community and to mobilize the necessary resources. The training focused on building the capacity of participant trainers. The training was conducted by trainer, Chirag Sikhre with his assistant Helena Thres from Yogita Foundation, India to 28 participant facilitators from Empowering Women of Nepal and 3 Sisters Company.
Experiential learning methodology was followed, comprising of brainstorming, interactive discussions, experience sharing, role playing, group work, and group and individual presentations by the participants. All the sessions were made interactive to ensure the interest and active participation of the participants. There were new activities every day and participants enjoyed learning and were happy to do so.
The training was started with Rapport Building for following reason to know the trainers and build rapport with trainers and with rest of the team to break the ice by creating friendly environment. Then, participant's expectation carried out to know the training needs. In this five days training, the participants got the training on Team Building, Elements of Successful Training, Handling the group, Designing and Developing of Training, Public Speaking, Theory of ADDIE, Communication and Style/Role of leader through activities and group work.
The last session of the TOT was closing ceremony of the event. The certificates of participation were awarded to the participants with thank you note to the trainers by CEO of EWN. After getting the training, the participants felt they have gained knowledge on leading the training with active participation of paticipants.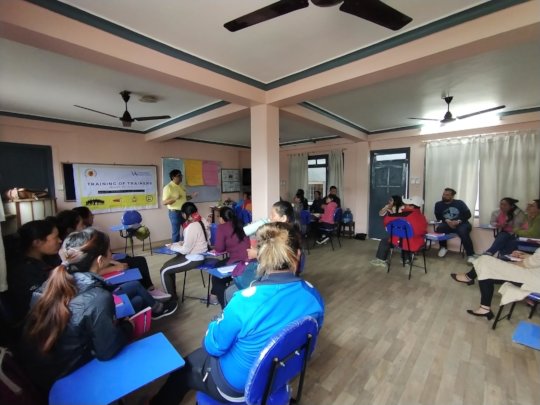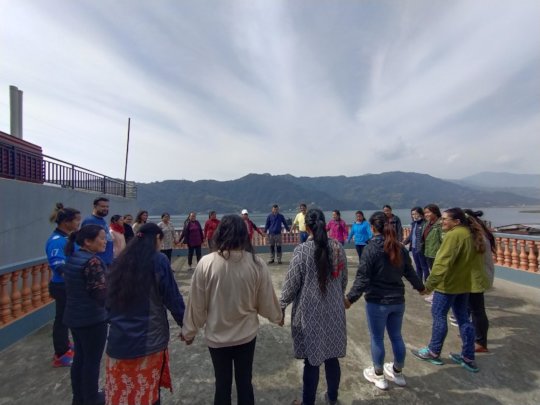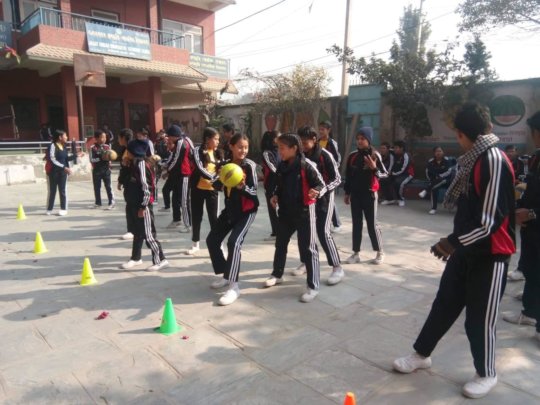 Empowering Women of Nepal conducted GOAL Leadership camp and STEM training on January 12th -17th, 2020 for young boys and girls aged below 18 years old of Jagat Sundar Secondary School, Kathmandu. The GOAL Training includes 4 modules: Be Yourself, Be healthy, Be Empowered and Be Money Savvy that includes sub-topics. STEM is a curriculum based idea of teaching Science, Technology, Engineering and Mathematics in an innovative and practical approach. The training program was 4 day GOAL camp and a day STEM introductory training for 46 participants: 27 girls and 19 boys of Jagat Sundar Secondary School's students.
The five day training was conducted based on the best time for school and participants at the time of school winter vacation so their classes are not disturbed. The training objective is to empower young girls and boys with valuable life skill and to help develop their math, science and computer skills. Participants were enthusiastic to learn through game and activities. They were actively participating and enjoying learning through activities. They learnt about leadership skills, communication skills, peer pressure, budgeting, women rights, contraception, managing money, saving plans, domestic violence in GOAL Event; and in STEM Event they learnt by doing in group activities like building earthquake resistant building, bridge, designing bubble and potato dome to learn scientific term and their application in our daily life. On the last day of training, distributed completion certificates to all participants.
WARNING: Javascript is currently disabled or is not available in your browser. GlobalGiving makes extensive use of Javascript and will not function properly with Javascript disabled.
Please enable Javascript
and refresh this page.