Everyone has their own life. Life is filled with happiness, sadness, tears, smiles, laughter and emotions and everyone has their own life story. So, I have my own separate story. In my family there are five members in my family. Now I am studying in government school -Mahendra school at grade 9. I am studying here from grade 3. Before this school, I was studying at Shree Saraswati Secondary Boarding School. I had to shift to this school at the middle session of grade 2 because my family economic condition was weak. At that time I left school and six months gone by just staying at home. At that time I was not capable to go to government school too. By seeing this condition, an NGO helped me to join grade 3 at Mahendra school. This organization provided me school dress, books, notebooks and pens. Again I started to go to school. After that, also my life was filled with sorrow. When I was 10 years old, there was a big fight in my home. At that time my father did not work. He lived at home drinking alcohol, not paying room rent and it was difficult to get one meal a day. House owner asked to shift the room by not paying rent at time. Due to this problem, my father fight with my uncle, who lived in same house. At that time my uncle told my father to do work and send the children to school.
After that my uncle took me with him and since then me and my mother lived with my uncle. That organization supported me for four five years. If I was not come with my uncle, I will be in same situation. After that organization, my uncle supports me in my all education expenses. About four five years had be gone by living with my uncle. But now also my home situation is worse than before. Not able to pay room rent on time and also my father unstable job- doing whatever job he get and also hanging without job for a month. As my father did not work properly, my mother worked in river bank mining site which is a source of a day's food for us. The amount earned from this labor is not even sufficient to eat a meal. The situation of my family becomes worse than precious as before I was only child and now there is addition in my family by 8 years old sister and 3 years old brother. My sister studies in the same my current school and my brother in nursery school. My brother school fees had not been paid for long time and don't know when he will be out from school. It is very difficult to send them in school and I can't do anything though I want to do.
Sometimes when I go with my friend, my mother or my uncle gives me money. When I roam and hang out with my friends, I forget all my worries. Sometimes there is also happy moment in the home. My uncle is very supportive in my education. I love my uncle more than my mother who gave me birth.
I like to go in new places and hang out with friends. I also like to study and STEM class provided by EWN. How hard and sorrow in life is also a part of life and enjoying a life is in its side. Sometimes happy and sometimes sadness is a part of my life.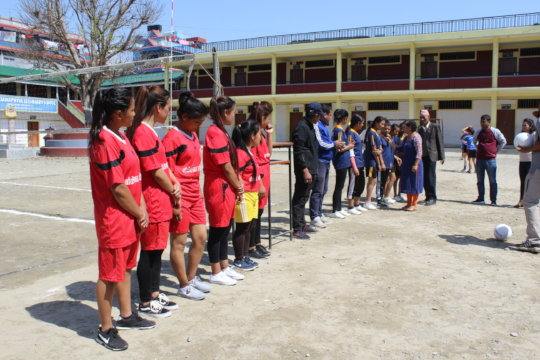 On March 23rd 2019 Saturday, the 3rd Inter school girls' volleyball competition was organized to give opportunity to the adolescent girls with leadership skills and to empower girls' self-esteem.
The competition was organized among the schools that Empowering Women of Nepal had ran nine months GOAL Leadership program. The participated schools were Shree Janapriya Secondary School, Rameshwory Secondary School, Shree Navaprabhat Secondary School, Shree Barahi Secondary School and Shree Krishna Secondary School; in total five schools participated in the competition.
The game was started by passing ball to players by Chief Guest and EWN President. Janapriya Secondary School won the competition this time defeating Barahi School was in the finals. Rameshwory Secondary School secured a third position defeating Navaprabhat secondary school.
The winners were awarded with trophies, medals and certificates.
Sunny weather, energetic players and enthusiastic audience contributed to the overall success of this fantastic event.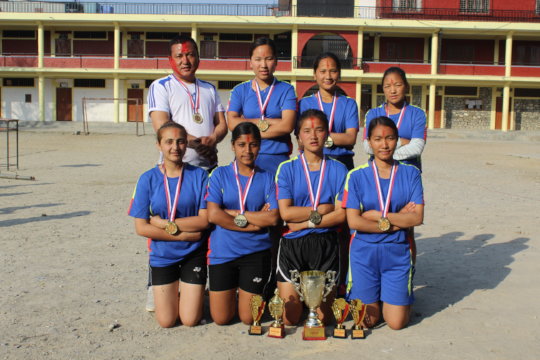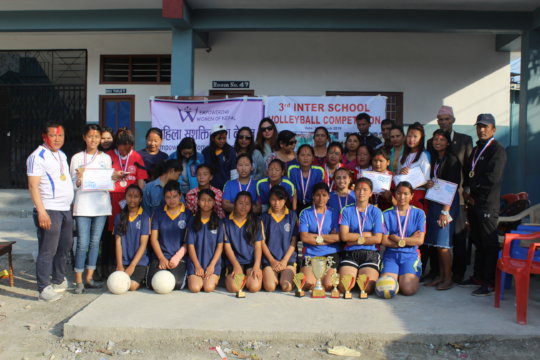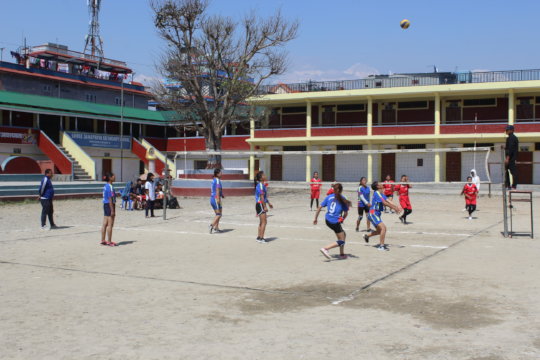 Barcha Bohora
"Everyone has their own life. Life is filled with happiness, sadness, tears, smiles, laughter and emotions and everyone has their own life story. So, I have my own story. In my family there are four members in my family. I am the eldest child and have a younger brother who stays with my parents. My father name is Danta Bohora and mother's name is Rupa Bohara. My parents have a very difficult life living in a Humla, remote district of Nepal. My father's one eye is visually impaired and my mother is deaf. They are therefore not able to work, which makes our living and financial condition precarious. One man of a local organization recommended me to Empowering Women of Nepal. I was 4 years old when I joined Empowering Women of Nepal where I got another family. Now I am studying in grade 8 at National Inventive Secondary Boarding School, Pokhara. I am studying here from kindergarten with the support from Empowering Women of Nepal. If I did not have joined Empowering Women of Nepal, I would not have got an opportunity of education. I struggled very hard not only for me but for my parents. I always want to continue my higher education. I thank God, my parents and Empowering Women of Nepal for making my life better and encouraging me to work hard."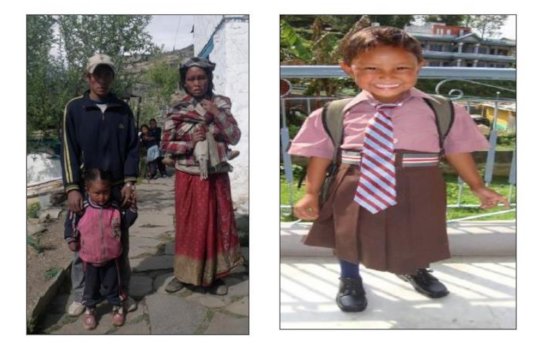 WARNING: Javascript is currently disabled or is not available in your browser. GlobalGiving makes extensive use of Javascript and will not function properly with Javascript disabled.
Please enable Javascript
and refresh this page.