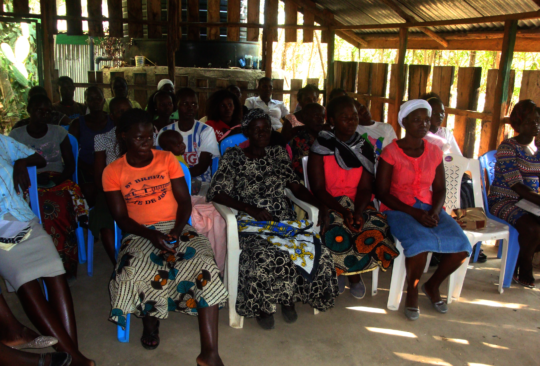 Empowerment Workshop Report for Group J (Bethel Women Group)
Dates of Training: 2nd to 5th July, 2019
Location and Group Name: Bethel Women Group
Number of attendees: 26
Total Expenses: USD
1.0 INTRODUCTION
This report is about the training that was done for disenfranchised women residing in Migori County on the 2nd to 5th July, 2019 for a period of four days. The members of this group got introduced to us by one of our beneficiary groups. We visited these women and realized that they needed the workshop to help them grow and be able to realize changes they always desired. They mobilized 28 participants and 26 turned up for the empowerment workshop consistently for the four days. The workshop became an eye opener for these women and they left the workshop very motivated to create their lives as they want by crafting their visions and work towards achieving them. They left with new conceived visions that they are working on. Their view of life has completely changed and they are focusing on possibilities as they ignore the barriers and navigate through them towards their individual and communal endeavours as well. "Sky is the limit" has become their slogan and they are very grateful for this intervention.
2.0 TARGET GROUP
This training focused on the disenfranchised women drawn from across Ombo and kadika Villages of Migori Town.
3.0 TRAINING OBJECTIVES
These were two-fold:
1. To examine the peculiar reasons for the women's disenfranchisement;
2. To take the said women through the empowerment training model with the aim of helping the overcome their growing edges by envisioning and creating what they most want in life.
4.0 THE PROCESS
This entailed taking the participants over the seven life areas as prescribed by the empowerment methodology. The entire model was packaged as follows:
Day 1: Personal Growth Foundation
Day 2: Personal power, Emotions and Relationships
Day 3: Sexuality and the Body
Day 4: Money, work and Spirituality
5.0 CHALLENGES
It was not possible to have the two women that did not attend because of commitments that they couldn't avoid attending to. This was the best time we could compromise at. Three of the women could not read and write and we provided drawing materials for them. They were also not able to express themselves clearly through paintings, diagrams. We advised them to use even symbols or whatever they can in order to help them capture the information they want to put down. Again, this required an extra effort and close monitoring which also strained our time.
6.0 ACHIEVEMENTS
1. Sustaining 26 disenfranchised women, who work for daily wages to put food on the table, to attend a workshop continuously for four days is worth celebrating. This level of commitment shows that the women really trusted the facilitators and the process as well
2. When the wellbeing survey form was administered, each of them had a chance to look at their lives and evaluate it on the scale that was provided. Most of the participants were doing this for the first time in their lives. They had never taken a break anytime to really look at where and how they were doing in their general lives. This activity served to awaken them to the reality of their lives and they were very happy to learn this in good time. They approached the workshop with enthusiasm wanting to learn how they can correct areas that needed correction and see themselves moving up the ladder.
3. Each of the women left the workshop able to envision what they want in different areas of life. They crafted visions in different areas of their lives and committed to work towards their visions. We expect to see a happier, healthier and energized group of women with time.
4. The women were introduced and helped to start table banking as an activity. This is to help them implement some of the learnings done concerning money and work. This is also to help improve their livelihoods.
5. Women were also trained on liquid soap making, art work with beads and crocheting. Some of them decided that they are taking up the liquid soap making as a business where they make it for sale. Others picked bead work while others picked crocheting. Such women now have something to celebrate because their business is doing well. These activities help provide extra income for them.
7.0 CONCLUSION
The training was successful because it met the objectives that had been set. We thank 100MHL for making this possible for us to achieve this.
8.0 RECOMMENDATIONS
1. The participants need to be followed up in order to assess their respective growths over time. The assessment tools include wellbeing survey forms, among others.
2. Peer support and consultation is highly encouraged in order to sustain the application of the knowledge imparted and the skills given. The table banking activity introduced in the group could provide the motivation for the support group to keep meeting as we aspire to achieve optimum personal growth.