Sarah's House is our original home for survivors in Indonesia. Over the years we have learned a lot, seen a lot and been honored to share this place with so many amazing young women on their journey to health and recovery. Our program has been known to the professionals that intersect with our work (social workers, teachers, law enforement, lawyers, etc.) for years as the premier safe place for survivors in the region. As we continue to grow and expand our influence to new regions and cities we continue to find favor with those looking for knowledgable, resourced, and faithful advocates for the young women and families coming out of sex trafficking. As such we have found ourselves consistently at capacity in Sarah's House as more rescues are happening and we are recieving young women from farther away.
Certainly this is excellent news. But it does mean we see a need for further expansion. In order to conserve the high level of care and safety that we hold ourselves to, we do not exceed the capacity of our homes. Thus, new and expanded facilites are needed. Our new shelter - Grace House - will be a great new home, especially for survivors from the Java region or those with safety concerns in regions where we currently operate. Your continued support is why we are able to continue to grow and provide rescue, shelter, and rehabilitation for more and more young survivors, until child trafficking has been reradicated in Indonesia. It's not an easy goal, but it's one that, with your help, we will continue to strive for. For that faithful partnership and support, we thank you. And we look forward to sharing more good news like this in the future!
Links:
Our newest shelter, Grace House, is strategically located in East Java. It is situated in the region that hosts Indonesia's two largest cities - Jakarta and Surabaya - and Bali. This location is strategic not only because the nearby metropolitan centers but also because Bali, being a popular tourist spot, is considered a worldwide destination for child trafficking. As such a pipeline of children are brought into Bali from the surrounding Indonesian islands.
As we have see from our similar efforts in northeastern Indonesian, our anti-trafficking operations can result in a significant reduction in trafficking. As we prepare to open Grace House we are very excited to see similar outcomes in East Java and putting a significant dent in one of the world's child trafficking hotspots.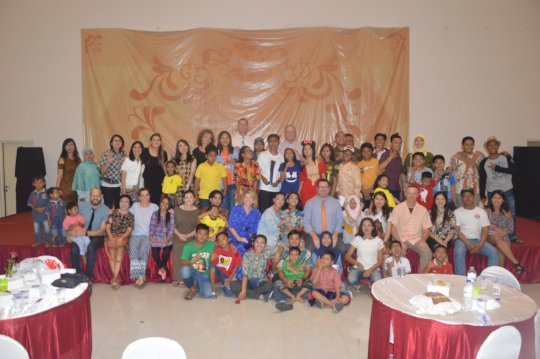 In East Java, our Community Development Program helps women and their families facing poverty and systematic prostitution. A major part of that program is encouraging the strength of the families in this community. To that goal we host several major events for families, including a recent Thanksgiving feast.
About 200 kids, moms, dad, grandmas, and grandpa's from the cemetery community joined us thi year. Women from the community provided desserts to top off the catered feast. Teens and kids provided full entertainment. They performed flawless magic routines, recited original poetry pieces, belted out duets and boy band specials both in english and Indonesian AND DANCED AND DANCED AND DANCED.
The community chose "Be thankful in all Circumstances" as the theme of the evening. The focus was on celebrating the gift of rich friendship we share with the community there.
WARNING: Javascript is currently disabled or is not available in your browser. GlobalGiving makes extensive use of Javascript and will not function properly with Javascript disabled.
Please enable Javascript
and refresh this page.