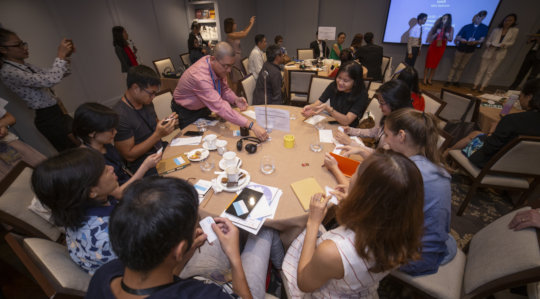 Dear valued donors, partners and friends,
In the last few months we have been asking our local nonprofit partners what impact they have experienced after attending LIN's Annual Cross Sector Conference: Partnerships - Impact - Sustainability in May 2019.
Let's hear from some of LIN's partners about their experience from attending LIN's Annual Cross Sector Conference in 2019. How have cross-sector connections had an impact for them?
Ms Huong is from Cau Han Project, which supports at risk children and their families to learn about health issues such as HIV and other community issues. She was a participant at this year's Conference and was willing to share her experience in making connections and meeting potential partners:
"At the conference, I participated in discussions and met many partners including NPOs, businesses and journalists. I am particularly interested in the field of education and the responsibility of businesses in the overall development of society. I think some of the results came from the conference: - We can listen to the views of businesses for NPOs - What is the best way for NPO to work with businesses? - In addition, I am inspired by the leadership style "A leader is a person who inspires others, helps individuals develop their capabilities. Each person can be a leader in our organization." After the conference: I become more confident when communicating. I also have more networks to work on education. Our organization is more confident working with businesses. In July 2019, for the first time, we signed a project to work with local businesses ("Improve the quality of education for disadvantaged children in District 7")." - Ms Huong, Cau Han Project.
Ceporer Hóc Môn is a local nonprofit and NPO partner of LIN, that works with vulnerable and homeless children in Hóc Môn district. At the 2019 Conference, Ms Lan, the Founder of Ceporer Hóc Môn met a speaker at the event who works for an MNC with growing operations in Vietnam. Ms Lan connected them with an environmental INGO which is already supporting Ceporer Hóc Môn with their fundraising. Now the MNC and the environmental INGO and Ceporer Hóc Môn are all looking into a collaborative project together to build 6 much-needed fresh water wells to provide safe water for the communities in Long An Province in the Mekong Delta.
CHANGE is a local environmental NPO and a partner of LIN. Last year at the 2018 Conference, Ms Hong, Founder & Executive Director of CHANGE Vietnam, shared how her perspective towards the private sector changed over time:
"Years ago, we used to think that business and corporations are the causes of the environment's problems. But then we realize that, in fact, they could be a big part of the solutions, so we've started to engage with them, we've been working with their CSR programs for many years" - Ms Hong, Founder & Executive Director of CHANGE Vietnam, at LIN's Annual Conference 2018 "How Doing Good is Good for Buisness"
This year, at LIN's Annual Cross-Sector Conference 2019: Partnerships – Impact – Sustainability, Ms Nhi, the Managing Director of CHANGE came as a participant and left with a big 'take away'. The contacts she met and the topics discussed lead CHANGE to develop their 4 year strategic plan to include exploring cross-sector partnerships. Ms Nhi Thoi shared that previously CHANGE had been thinking that NPOs must play solo and stay within their sector. But through opportunities like the Conference, CHANGE has become open to collaboration with corporates and local government, as they have seen evidence that these sectors are willing to be helpful and supportive of NPOs and their work.
"The conference helped us, along with other NPOs to have a broad look at the current CSR situation of other companies, corporations in Vietnam and was able to listen to the businesses about qualities and operations of individual units, open up many opportunities for new connections with other businesses in the future. Here, we also had a chance to learn and were inspired by the startup stories, missions, and visions of other NPOs that has the same starting point and background. We realized the importance and feel comfortable, and more open towards multilateral cooperation to bring positive changes, and sustainability to the community. Thank you LIN for bringing us the opportunity to connect and learn." - Ms Nhi, Managing Director, CHANGE, at LIN's Annual Conference 2019.
We have also been busy preparing for our next Cross-Sector event on 21 November 2019: "Transformation of Community Development in Vietnam"
At this event we will be exploring how local nonprofits have been implementing and transforming their community development approaches, and how SMEs build their CSR programs and promote these activities. It is a chance to learn, discuss and connect across sectors with leaders from nonprofits and businesses in Vietnam.
Cross-sector partnerships between nonprofits, businesses, communities, government, philanthropists, and volunteers are key to sustainable development in Vietnam. Everyone, including interested individuals and philanthropists like you, have something to share, whether it is time, money, expertise, resources, networks, and of course, passion and commitment to making a difference. Please click here to learn more about the event and register to join us!
Thank you for your kind donations throughout the year. It has helped us to continue the work we do to support local nonprofit organizations and partnerships in Vietnam. If you enjoyed these shared stories from our nonprofit partners and would like to see more positive change, please donate:
https://www.globalgiving.org/projects/journeyofaphilanthropist/
If you have any questions about LIN or our programs, please feel free to contact me directly at kelly.vo@linvn.org.
Sincerely,
Kelly Vo - Head of Corporate Partnerships & Fundraising.
Links: