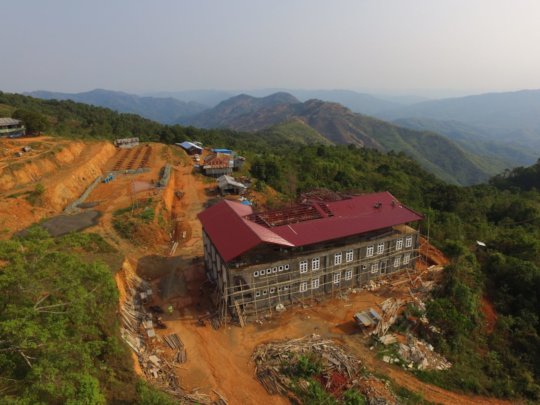 "On 30th May 2017, Cyclone Mora made landfall in Bangladesh before moving northwards through western Myanmar. Torrential rain and high winds destroyed homes and triggered landslides in rural villages with 37 families made homeless in the village of Lailenpi where Health and Hope Myanmar's work is based.
In addition, we were devastated to lose the majority of the training centre facilities; seven buildings were destroyed including the main training hall, kitchen and dining area and four dormitory buildings." Excerpt from the Health and Hope Newsletter June 2017.

Two years on, it's incredible to look back and see how much progress has been made on the building of the training centre post Cyclone Mora.
We are so grateful for each individual who has given so generously to help rebuild the training centre in Lailenpi. Work on the training centre has made great progress and the roof is finally on! With the monsoon season fast approaching, the team have been working hard to finish the building and ensure it is water tight before the heavy rains arrive. Over recent months, the roof trusses and structure have been completed, the walls white-washed inside and the windows and door frames installed.
More photos of the project can be seen in our Flickr album here.
Once complete, the building will not only provide facilities for ongoing training of Community Health Workers, Traditional Birth Attendants and farmers, but will also be a base for the new Education for All project which will launch in earnest in mid-June 2019. The training centre will provide classroom facilities, study areas and accommodation for up to 100 students taking part in this project.
There are a few weeks of work to fully complete the project, some of which may not be possible until after the monsoon season. We've also extended the roof to allow for the construction of staff accommodation on the top floor at minimal cost and we're now looking to raise the final $15,000 to complete the facility.
The building stands as a testimony of the hard work of local community members, combined with the generous support of individuals like yourself, who have stood alongside us in a time of need.

Thank you again for your support for this project!