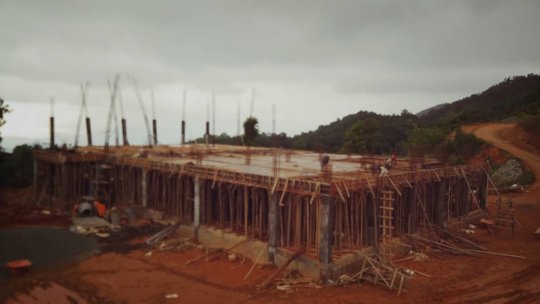 Since our last report in March 2018, significant progress has been made on the building of the new training centre in Lailenpi, western Myanmar.
The local team have been working hard to reach their building target before the monsoon season commences in June, continuing until October. During this period, heavy rains and strong winds will hamper construction so it is important for the first floor to be in place before this time, protecting workers and allowing work to continue inside the ground floor of the building.
Over the past two months, the first-floor concrete slab has been laid and cured and the team are hoping to complete the steel columns and reinforcement work by the end of May. This will allow the building and fitting of windows, door frames and brick walls to continue on the ground floor as these activities can be done inside, below the first-floor slab.
Sufficient building materials have also been ordered and delivered before the end of May as the coming rains will block the roads to the building site in Lailenpi. Due to the remote location of the training centre it takes 2 – 3 days by truck for cement to be delivered and 3 - 4 days for the steel beams to be transported to site. The roads are of poor quality and dangerous, even during fair weather, so this makes it impossible to transport materials to site between June and October.
The Lailenpi community and workers from ten different local villages have been involved in the training centre construction project and their level of determination and growing skills are incredible, given many had little to no experience of building with concrete and steel previously. In addition to the skills they are learning during, the daily wages they receive are also helping families support their childrens' schooling, and purchase food and farming materials.
The new building is vital for the on-going health and education work in western Myanmar, providing both a big meeting hall for the delivery of large-scale training, and smaller classrooms from which to launch new education and food security projects.
The training hall and classrooms also meet the need for a flexible accommodation space, enabling visiting health workers, traditional birth attendants, students and farmers to be hosted during training sessions.
We are so grateful for the commitment and dedication of the local community, and for your generosity in providing the funding for this essential project.
The funding needs for this project cover essential materials required to finish the building work and will also enable further visits from the field-engineer to help develop the skills of the local community and ensure due diligence takes place during construction.

Once the construction work is complete, funds will be required to kit out the training centre with furnishings and fixtures, ready for the classrooms and library to be used by visiting students, the local and wider community.
Thank you so much for your ongoing support,
Michelle