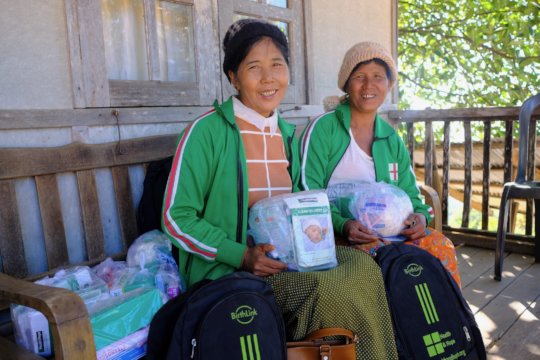 At the beginning of November, two volunter midwives made the four-day journey from the UK to Laillenpi in Chin state, Myanmar. This is the 8th visit to the township, where training and practical support has been provided to Traditional Birth Attendants (TBAs) and other community healthcare workers with the aim of improving maternal and child health outcomes in the rural communities.
Since the start of this project over 180 TBAs have been trained. In 2017 the project was expanded to provide Training of Trainers to local women, who then provide training to TBAs in more remote villages. An additional development of this trip, was the opportunity to provide support to three nurses who have recently graduated through the support of Health & Hope's Freedom to Education Project (FEP) as well as provide training and support to local government midwives.
Due to ongoing conflict in the region, it wasn't possible for the volunteers to travel to more remote villages as planned. Instead, two days of clinics were arranged in the town, where almost 150 mothers & babies were seen and treated! Following this, the UK midwives conducted a week-long workshop with 36 TBAs, 5 government midwives and 2 trained nutritionalists, who were keen to receive training so that they can deliver health advice for pregnant women and new mothers.
As always, it was wonderful to receive feedback from the TBAs who have been able to put the training they've had over the years into practice. One TBA revealed how she had delivered a breeched baby 12 years ago and the baby had died because she did not know what to do. Since coming to the training, she has been able to get over her fears and recently deliver a breech baby successfully. She said:"I knew what to do because of the training I had received, and the mother and baby are well. It was the best day of my life!"
As part of the project, the team distributed birth bags, which contain essential equipment and clean birth kits, as well as training and distribution of basic medicines. The result of this continued work has been a clear improvement in conditions, skills and expertise provided by the TBAs. The assessment at the end of the training week showed that the TBAs have grasped a good understanding in critical practices such as handwashing & hygiene, initial assessment of the mother, manoeuvres of breeched births, and immediate post-natal care of the newborn, including skin-to-skin contact and first breastfeed. As well as these basic concepts, the TBAs also now have a good understanding of how to deal with complications and emergencies in delivery such as bleeding.
This visit also created an opportunity for the three graduate nurses to gain further training and experience in maternal and neonatal health. The nurses, who are now part of the Health & Hope Myanmar team in Lailenpi, were translating during the clinics and training sessions, giving them the chance to deepen their knowledge and grow in confidence. As a result, Hope Clinic, based in Lailenpi, and our other health projects, will now benefit from the enhanced skills and experience of these trained staff.
All of this is thanks to your generosity and continued support. We are so grateful for your partnership and look forward to updating you on the progress of this project again soon.