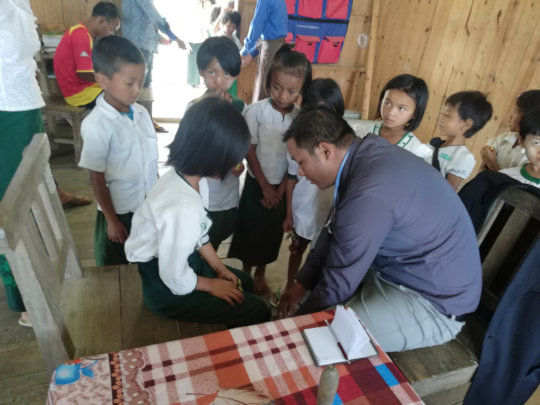 Thank you so much for your continued support of our Maternal & Child Health project.

In our last update, we shared with you about the workshops conducted with Area Coordinators earlier in the year. We also mentioned that due to the escalation of conflict in the region, we were unable to conduct the planned training for Traditional Birth Attendants (TBAs) that was due to take place in February.

We can't understate the seriousness of how the conflict has left some of our health workers isolated and vulnerable. One of them reported to us:

"Around the village there is active fighting. We're not allowed to travel and there are curfews in place. We've been unable to harvest the remaining crops due to the fear of landmines. I tried to visit other health workers near my home, but I was stopped three times and questioned by rebel groups, the army and the police. They asked me; 'are you a spy?', 'why are you carrying medicines?', 'are you treating the rebels?'.

After being questioned for six hours I had to return home. I was able to visit only four villages in June and July, since then I was sent back by the army. The internet connection was shutdown, so this is the first time that I am able to share what has happened."

Despite the ongoing challenging situation, our staff team have been able to conduct a number of outreach visits to remote villages, as well as running some mobile clinics in IDP camps where communities have had to flee their homes. Below is an extract from a trip report written by Dr Pahu, one of the project leaders:
"It took us 24 days to travel through four areas and 13 villages. In some areas, the travel was so difficult and in some areas we were unable to travel because of the curfews.
We saw more than 700 patients, met with village administrators and Village Health Committees. We were able to check on the activities of the Community Health Workers (CHWs) and TBAs. We were also able to undertake childhood screening for over 270 children in schools in some villages. The main medical conditions were gastritis, gynaecological problems for women, acute respiratory disorders, suspected anaemia and eye health.
We were also able to carry out the baseline survey of the communities we are supporting. Together we carried out 96 interviews and also distributed many health education leaflets, helping to explain to the villagers how they can better take care of their own health needs."
As a result of these outreach visits and surveys, we have also been able to assess the impact of previous years' work. For example, we found that almost 70% of the population assessed now know how to treat a child under 5 who is suffering with diarrhoea, which sadly is still a common cause of death for young children in the region. Simple post-natal practices such as breastfeeding within 1 hour of birth and exclusively breastfeeding up to 5 months, are also being adopted in order to improve the early chances of survival for newborns.
The quote below is from one CHW, who has seen the direct results from their training:
"My name is Khai and I am from Tlopi village in Chin State. I was chosen by my village to be trained as a health worker under Health and Hope and at the time I went to the India border to join six months training. Since I have returned home, many things have improved thanks to the health knowledge that was shared. We have reduced the mortality rate of children under 10, and not one has died from diarrhoea thanks to the way we have been instructed to care for them. Also, there have been a lot of snake bites in my village, and many people used to die. However, I learnt some knowledge about managing snake bites from the health training and I shared this with my village. I am so happy that I have been able to save two people's lives thanks to the knowledge I learnt from training at Health and Hope.
Sometimes it is very difficult for us in the villages. It is so remote we have not been able to participate in further training. So it was an unexpected joy when the doctors from Health and Hope came to visit my village and offer clinics for patients and training. I know that resources are so limited and there are so many villages, but I was amazed and so thankful to them that they came. I really appreciate Health and Hope's love for us and all that they have sacrificed to help us. I pray that they will be able to return regularly to help us."
Although there is still plenty of work to be done, it is encouraging to see the positive impact of our work to date through the training and support of TBAs and CHWs in the region.
As the monsoon rains clear, the team in Lailenpi are starting to plan the next phase of training workshops for local TBAs and Area Co-ordinators who will be involved in bringing maternal and child health care to remote communities across the region.
We are so grateful for your ongoing support. We currently have a real need to top-up funding for this project to enable two workshops to run over the course of the next six months. If you are able to support our work financially, please do click below to give via Global Giving.

Thank you again for you interest in our work. Our next update will follow the journey of two midwives from the UK visiting the jungles of Myanmar, conducting training for the local women and also government midwives in the region.