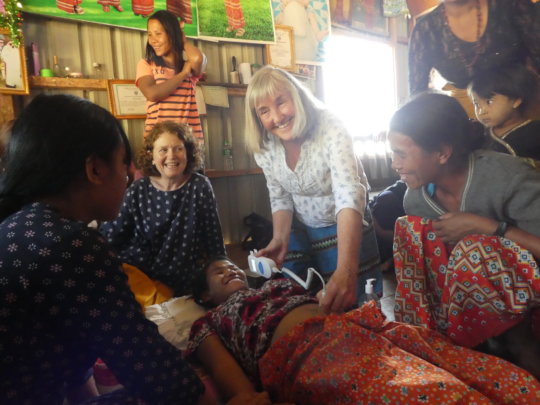 Thank you for your continued support of this project.
Despite the current global COVID-19 outbreak, the Health & Hope team in Myanmar are still supporting the most vulnerable communities in the region. Delivering services such as maternal and neonatal care remains essential. With government health service provision even more restricted during the present crisis, locally trained, specialist birth attendants play a critical role in remote rural communities.
Two midwives from the UK, Maaike and Frances, were in western Myanmar working in the villages prior to the restrictions put in place in March. In this report, Maaike reflects on the situation for women and health workers in the villages and the achievements in local care as a result of your support for this project.
Maaike:
"Since 2013 we have engaged with Health & Hope in Chin State, to deliver education to Traditional Birth Attendants (TBAs) working in the most rural and unsupported areas of the region. Around 200 TBAs have now participated in our 5-day education programs on pregnancy, birth and immediate post-natal care and also on managing emergency situations.
In order to extend the reach of this work, in April 2018 we introduced a 'Train the Trainer' program. Eight experienced TBAs were trained to deliver essential education to other TBAs in the most inaccessible villages. This meant the equipping of volunteers can continue year-round, rather than waiting for another visit from the UK. They also have capacity to travel further into remote areas than a time-restricted visitor from overseas would be able to manage.
We were glad to be able to return in March 2020, and evaluate how the local trainers are already getting on. It was clear that they have been active and successful in rolling out the program in remote villages as tasked. This voluntary role requires a lot of commitment. When we asked them what practical/domestic difficulties they experienced from being away from home for up to six days at a time, they said they are well supported by their husbands, and that other village women help out, too. They feel proud of what they do and believe passionately in its value. This gives them confidence to press on.
The numbers of TBAs who have received training in locations that had not been accessed before is hugely encouraging. During just four months, 47 TBAs had received training for the first time. In addition, many villagers have had the opportunity to learn basic health knowledge such as hand washing, personal hygiene, nutrition and sexual health by joining in with the training.
In all the villages, great interest was shown in the work of the local trainers by the Village Elders. This has raised respect for the importance of the work of TBAs, and strengthened the goodwill and trust placed in the services offered by Health & Hope. It is clear that the local trainers' work has generated proactive support to enhance the safety of childbearing women, and boosted the 'buy-in' of communities to the public health education that the team is rolling out alongside.
Of the training provided in villages, one Trainer of Trainers reported: "The town administrator came to our training and he was so impressed that he said all women should come, and the men should also learn. He then gave us a chicken to take home in appreciation of our work!"
During this visit, 18 Area Co-ordinators (16 men and 2 women) also joined the programme to receive training, specifically covering emergency situations and how to deal with complications during birth. These Area Co-ordinators (ACs) are an established group who have been trained together initially as Community Health Workers (CHWs) and are now responsible for overseeing up to 15 CHWs in their region. In many village situations, where there is no TBA present, they may be the only person available to support a woman in pregnancy. We also became aware that they are often the only trained healthworkers attending births.
Our programme of training is off to a great start, and we are so grateful for your support. There is still much more to be done to continue to deliver this vital, life-saving training, and to equip local volunteers with the skills they need to support women through child-birth and ongoing childcare. Thank you for your generous help which is enabling our work."
Looking forward to the coming year, the project will shift to focus more on the local trainers' work in remote villages, enabling them to conduct more training workshops with only one monitoring visit from the UK-based midwives.
During this time we are continuing to deliver critical services to vulnerable communities in addition to a COVID-19 Prevent, Detect, Respond strategy in 143 villages across Chin State. If you would like to find out more about this project, please click here.
Thank you once again for your committed support to these essential projects.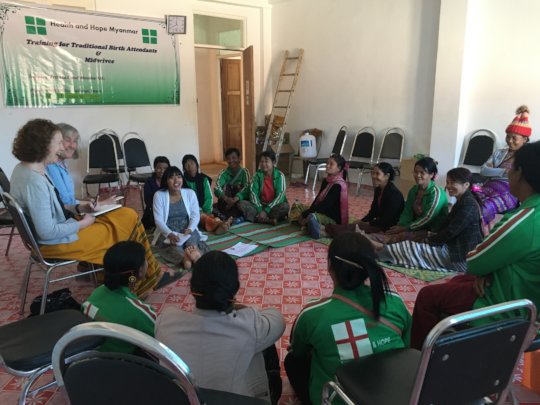 Links: