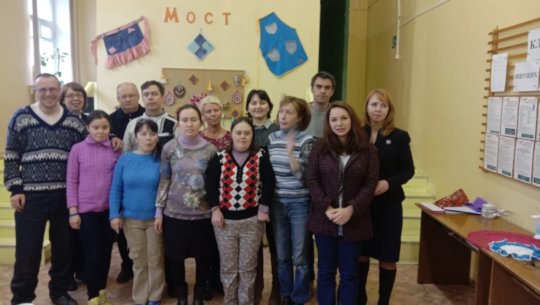 The last 2 months were rather active at Russia House and the central event was starting a new Clubhouse rehabilitation program in the European North of Russia: in a town of Arkhangelsk that is located near the coast of the White Sea. The local partner of Russia House is a small charity Most (Bridge) that has been running a rehabilitation center for adults with severe mental illness for about 19 years already. Both staff and participants of the rehabilitation program are open to innovations and committed to further development of their rehabilitation center for the benefits of people with mental disabilities in their town Arkhangelsk. That is why when they learned about the Clubhouse program and Russia House they contacted us and asked to help to start them the Clubhouse program at Most. In September a group of 5 people from Russia House (a Clubhouse participant Andrew, a social worker Lisa, 2 members of the Advisory Board Tatiana and Valentina, director of Russia House Tatiana) visited Arkhangelsk. It was a 4-day visit and what we managed to do. First, we held a 1-day conference on the Clubhouse rehabilitation model for local professionals working in the mental health field and presented this approach to them. Second, we had a meeting with families of people with mental health problems who are served at Most. They support the idea to start a Clubhouse and their respond was very touching. Third, we spent 3 days working side by side with Most participants and staff discussing the International Standards for the Clubhouse and showing how they are applied in everyday Clubhouse work. They were very busy days but really rewarding! In November a team of 5 people from Most, including 2 program participants, 2 staff and director, will come to Russia House for introduction training in the Clubhouse program. We hope that it will contribute to their better understanding the program and help Most move towards building a real Clubhouse working in accordance with all the Standards.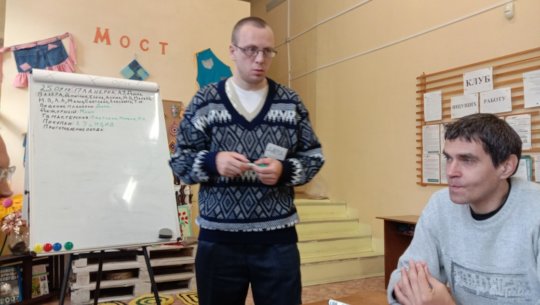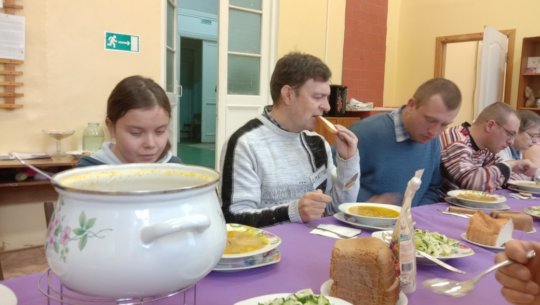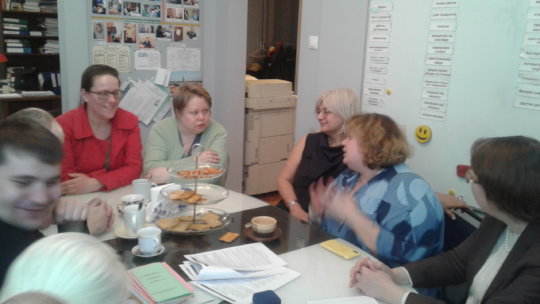 The last three months have been very promising in regard to getting employment and education opportunities the Clubhouse members. Two companies agreed to help Russia House with jobs for the participants of the rehabilitation program (Clubhouse members): Hilton hotels chain and Center for Active Movement, Ltd. Deputy Director and HR Director of these companies have visited Russia House recently and met Clubhouse members, staff and Board members. We told them about the Clubhouse rehabilitation model and its specific approach to employment of people with mental health problems. It was agreed upon that in September a group of Russia House members with staff would go through a short intership period at each company and try different job duties. After the internship a few people will get paid jobs at the companies with the support to be provided by Russia House social worker immeduately at job placements.
In addition to development of employment opportunities Russia House helped one Russia House member, Vlad, with enrollment in a college. We are happy to say that in September he will start his studies.
So, we keep our fingers crossed and wait for September!
Creative activities are very powerful tool of psychosocial rehabilitation of people with mental health problems. And Russia House pays special attention to this part of the rehabiltation program. In 2018 we held a 6-month course in oil painting with an excallent teacher - a professional fine artist Alexander Bobrov. Arts help people with mental health problems restore and gain a lot of useful skills, improve their ability to concentrate attention, decrease the level of anxiety, etc. However, no less important is recognition of their talants and respect for their achievements. So, we motivate and help our memebrs participate in art exhibitions and other public events. And in October and November 7 members of our Clubhouse participated with 18 paintings in 4 art exhibitions. 3 of them were held within an International Festival of Arts of people with mental health problems. It was a huge event in Moscow. Work of Russia House members was highly appreciated both by visitors and the Jury. Recently we have received the prizes and Certificates of Gratitude for each member who participated in the Festival. It was a warm celebration in Russia House. The prizes were statues the Greek Goodness Nike. The word for "victory" in Greek is "Nike". We send our warmest congratulations to all the winners and wish them a lot of success in the future!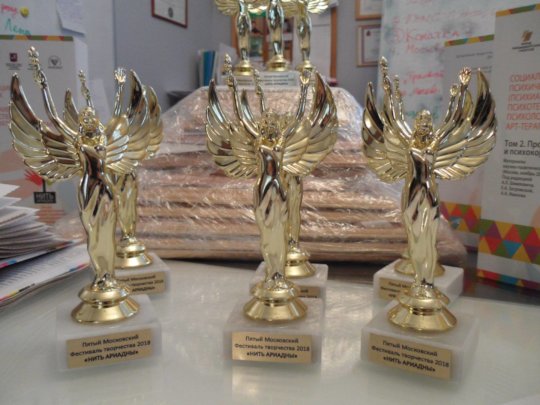 WARNING: Javascript is currently disabled or is not available in your browser. GlobalGiving makes extensive use of Javascript and will not function properly with Javascript disabled.
Please enable Javascript
and refresh this page.