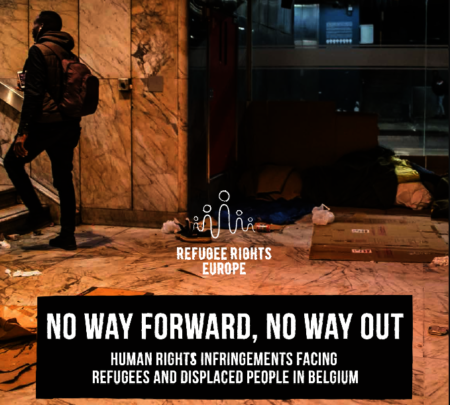 First of all, on behalf of the RRE, a very happy new year! Thank you for your continued support, making all of our work possible.
In this update, you'll find out about our latest activities over the past months, which were characterised by increased work at the European Union level, where we continued to call for human rights centered asylum and migration policies.
New report: Displaced people in Belgium
Our latest report sheds light on displaced people's lives in limbo in Belgium. Many hope to reach the UK to seek asylum while others struggle to navigate Belgium's asylum "labyrinth".
The report finds evidence of sweeping human rights violations of displaced people and refugees. It builds on RRE's previous field research, as well as desk research and evidence from frontline partners: La Plateforme Citoyenne de Soutien aux Réfugiés, Vluchtelingenwerk Vlaanderen, and Refugee Community Kitchen. Read the report here.
Spotlight on Calais women in the European Parliament
On 5th December, a high-level roundtable at the European Parliament discussed the situation of women and girls in displacement in northern France.
Hosted by Jackie Jones MEP, Claude Moraes MEP and Refugee Rights Europe, the meeting looked at collective action that could be taken in solidarity with women and girls. In the new year, RRE will launch a joint call for action, hoping that the backing of MEPs and experts will help bring about much-needed change.
Over 100 MEPs co-sign letter to end humanitarian crisis in Greece
Aimed at the EU Council of Ministers, the letter describes the human rights violations and complete lack of basic protection and services in the overcrowded EU hotspots on the Greek Islands. It calls on Europe's leaders to immediately improve the living conditions and relocate asylum seekers to other member states.
The letter was initiated by MEPs who had visited the Greek "Hotspots" of Samos and Lesvos with Refugee Rights Europe earlier this year. This is a major outcome of our series of field trips with MEPs to key migratory nodal points in Europe, showing them the lived realities of displaced people first-hand so they can take action. Read the letter here.
France falls short of implementing the European Asylum Acquis
We met the European Commission's Asylum Unit to draw their attention to the shortcomings in France's attainment of the asylum acquis in northern France and Paris.
As a result, our concerns will be shared with French officials, and the Asylum Unit is now considering a visit to northern France to witness the situation themselves.
In other news
Magid Magid wrote to the Italian and French Interior Ministers calling for urgent change, following our field visit with him this autumn.
Our partners on the ground in Lesvos shared an update on the situation for displaced people.
Our intern, Bana, blogged about what she's learned in her experience as Programme Officer at RRE.
Those were our key updates for the time being. We hope you enjoyed learning more about our work, and we're really grateful for your support, making it all possible.
Please do consider making a small donation again, or perhaps consider inviting your friends and family to do so.
Kindest regards,
Marta and the RRE team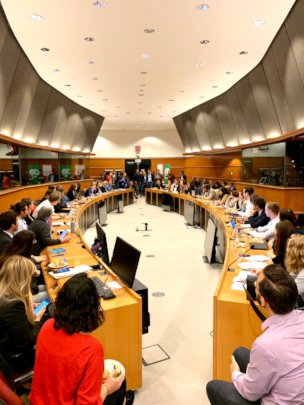 Links: