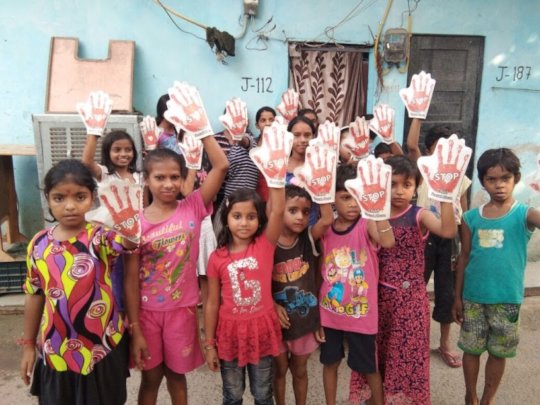 Prevention & Preparedness on Child Sexual Abuse
At a glance
'Sahyog' which means cooperation, aims at working in cooperation with its stakeholders to bring about a positive change in the lives of the marginalised sections of society. It is registered as a voluntary NGO, working for uplifting the conditions underprivileged sections since 2002. Sahyog was started with its ultimate aim of bringing smiles and happiness in the lives of the unfortunates.
Sahyog is proactively addressing the issue of Child Sexual Abuse and working towards its abolition. It considers child protection as the prevention of or responding to the incidence of abuse, exploitation, violence and neglect of children. Sahyog's main focus is to impart education on this issue, which aims at spreading awareness as its top priority. To achieve this, Sahyog conducts various training sessions for parents and teachers to enlighten them on the issue.
Child Sexual Abuse includes sexual activity with a minor. When a perpetrator engages with a child this way, they are committing a crime that can have lasting effects on the victim for years.
Intervention
Sahyog's journey in the past 6 year was filled with enlightenment, emancipation and heaps of learning opportunities. The CSA Awareness Program reaches out to children of the age group of 7-14 years. Sahyog is aiming to create a positive change in the lives of these children. The program focuses on educating students on how to prevent, recognize and respond responsibly to child sexual abuse. Sahyog follows an awareness based approach, wherein, its motive is to spread awareness and enlighten the various stakeholders involved, be it educating children, their parents, teachers and the like. This approach has been successful in empowering children and communities, helping them to stay active and aware leading to citizenship behaviour.
Vision
To inhibit our nation from Child Sexual Abuse
Mission
To prevent our nation's children from the sexual abuse and raise the awareness by empowering and educating individuals, families, societies and, to collaborate with organisations to develop and prove strategies that prevent child sexual abuse.
Approach
Sahyog's present intervention and services are based on the 4 independent strategies that goal towards providing a holistic intervention structure with regard to child sexual abuse.
THE FUTURE PLANS
Strategic Map for Sahyog
Strategy
S. No.
Sub Strategy
S.No.
Projects
Advocacy
Public & Policy Advocacy
Visibility at PAN India level
Ongoing public advocacy / education
Media programming
Community level discussion
Inclusion with the education system so that children are being sensitized.
Use designated periods e.g. Child Abuse Prevention Week; Child Rights week;
Identify a "Champion" - Prominent Public Figure to be a spokesperson against CSA.
Legislation that discourages abuse, protects children and penalizes perpetrators
Strong penalties and sanctions in legislation including tougher implementation.
Review of the current legislation related to children and families
Mandatory reporting, including parents
Protection Orders for the victim
Effective Administration of Justice
Specially trained and assigned officers in the Police Force
Expeditious handling of child sexual abuse cases
Family Court or child sensitive court proceedings
Video-taped evidence from child
Child friendly settings
Sex Offenders Register
Social Service Supports to victims and perpetrators
Clearly identified focal point for dealing with cases
Hot Line and other confidential sources for reporting
Protocol to guide interaction between all key players
Rehabilitative services for victims and perpetrators
Peer support networks
Foster Care services
Programs
1
Prevention & Intervention Services
Personal Safety Education in Schools, Institutions, and shelters homes, community workshops.
Awareness and basic skill building sessions with diverse stakeholders.
Counseling and Psychotherapeutic Services
Training & Capacity Building
1.
School staff and students should be encouraged to take trainings.
Counseling sessions for Parents to attend sessions on Child Sexual Abuse.
Public sensitization on the provisions of the Protocol and the implications for members of the public
Research and Development
1.
Conduct baseline research on the issue.
2.
Development of IECs to take sessions with different stakeholders.
We will train the social workers with basic counselling skills and hone their skill set to help sexually abused children in order to create strong network of counsellors.
For effective implementation of programs focusing on prevention as well as healing, it is eminent that the organization develops its capacities as a resource and training centre.
The advocacy efforts will be further consolidated to promote the integration of Personal Safety Education program with school curriculum and educational system.
Sexual abuse by young people is harmful and needs active intervention if it is to stop quickly. Child protection authorities are concerned with current risk of harm to children. Keeping children safe and free from harm is what we believe in and for that we want to work for the prevention and preparedness of child sexual abuse. Every child deserves a happy childhood and we try to provide it by educating our children to fight against sexual abuse.
CSA Report 2018-2019
Sahyog Care for You
Total number of students for the preparedness session .
Students 31738
Teachers 1029
Parents 1092
Community 1027
Principal Training Sessions
Nursery Teachers NDMC 140
North Zone Principals 105
SDMC Principals 121
TOTAL - 366
CSA Cases - 26