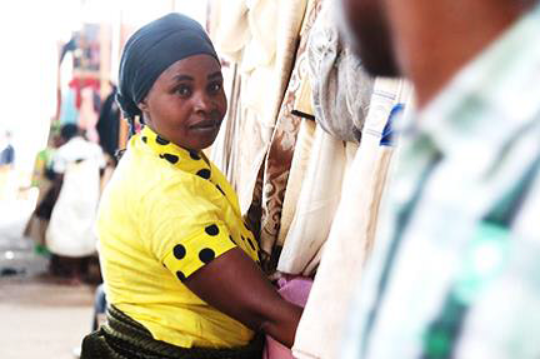 Despite economic challenges experienced in 2014, Opportunity Rwanda increased its number of clients with savings accounts by 150% over the prior year. 175,421 clients now have access to savings with a total value of $13,580,481 in savings deposits. This growth marks a significant milestone for most entrepreneurs who have previously not had access to financial services and for Opportunity Rwanda which was named a top-running bank by the National Bank of Rwanda. Because of you, families are operating income-generating businesses and saving for the first time. Farmers are increasing production to put food on the family table, and improve food security in their communities, and parents are sending their children to school, including Rorance, the sole provider for eight children.
Rorance is elated about the transformation she has achieved for herself and for her family. Not long ago, she found herself abandoned and frightened for her seven children and one orphan entrusted in her care. Before joining an Opportunity Rwanda Trust Group, Rorance struggled to bring her fabric business to profitability. Today, she is able to feed her children two nutritious meals each day and send them all to school. With your help, their future is bright.
Links: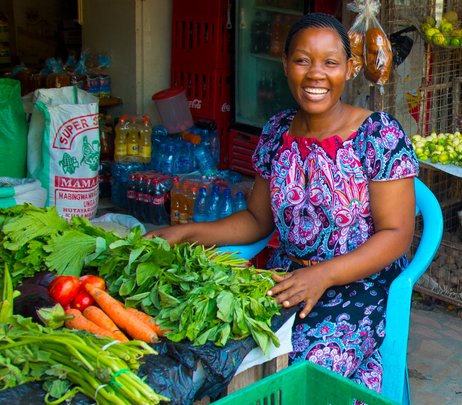 Opportunity International continues to have a high impact in Tanzania's rural communities. Opportunity Tanzania provided agriculture loans for inputs and labor to 120 irrigated rice farmers, all of whom received their loans entirely through mobile money banking. Tanzania bank branches have tripled the number of rice and sunflower farmers accessing branchless banking services in the past six months to 1,093. These smallholder farmers have their seeds insured through a local group, MGEN Tanzania, one of Tanzania's first forays into insuring farmers against crop loss. Services such as crop insurance provide farmers with a safety net should their crops fail, and it gives them peace of mind for their families' futures during the "hungry season." Opportunity Tanzania has also equipped agriculture loan officers with motorbikes so they can visit farmers efficiently, and tablets to geo-tag crops and gather financial information.
As Opportunity Tanzania continues to serve underbanked farmers in the most remote areas, they have also begun to focus on farmer families. In Q3 2014, Opportunity Tanzania launched the Education Finance initiative, investing in educational opportunities for children in marginalized communities. Opportunity International is now positively impacting 1.2 million children in 10 countries through this program. As we look back on the achievements of Opportunity Tanzania in 2014, we look forward to empowering more farmers and families in the future.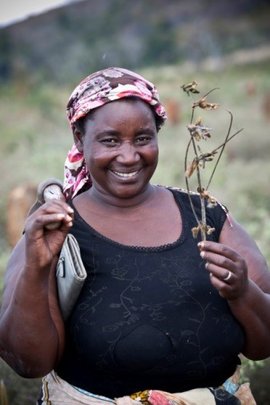 Opportunity is impacting the lives of 5.2 million clients throughout Africa, 354,557 of which are active loan clients. Our Agriculture Finance program helps empower farmers by providing them with loans and training in modern farming practices. Innovative cell phone and agent banking tools are increasing our rural outreach by bringing the bank directly to the farmer's field, and we are reaching even more smallholder farmers since launching the initiative in Kenya and Tanzania. Rural families now have accessible and secure banking options for the first time, and cell phone banking gives them 24-7 secure and efficient access to financial services without costly trips to the bank.
In 2014, Opportunity Uganda customized school fee loans for farmer families who earn seasonal income and struggle to keep their children in school between harvests. 41 schools also received school improvement loans to improve sanitation and build new classrooms at their facilities, positively impacting 35,250 students. Opportunity Kenya reached more rural families by launching a new branch in Kisumu, which has rapidly become one of the bank's most successful branches, providing rice and fish farmers with much-needed financial services. Other branches in Kenya also helped 525 families keep their children in school with school fee loans.
Opportunity Malawi continues to provide a safe way to save for nearly 670,000 families, offering them a safety net of savings through the country's economic turbulence. Opportunity Tanzania focuses on reaching out to the underbanked in rural regions by providing 120 irrigated rice farmers with loans for inputs and labor and 70 sunflower farmers with loans for their operations. Opportunity Ghana continues to increase awareness about their financial services in rural areas, and their newest bank branch in Tamale opened its doors to 66 loan clients and 177 savers, with the hope of helping many more clients to come.
Opportunity Mozambique has also worked to raise awareness in 25 communities by conducting financial literacy roadshows in rural towns. They expanded their reach to include sesame farmers who represent 26% of the bank's Agricultural Finance portfolio. Farmers like Isabelle have already benefited from the financial services that Opportunity Mozambique offers. As a mother of six children, she rises at dawn each day to work her farm and to provide for her family. "I used my loan to hire laborers and purchase high quality fertilizer. I learned modern farming practices and exceeded my husband's production, selling 84 bags of soya against 35 bags on the same size plot. My husband has been looking at me differently - with respect and pride," she said. By providing farmers like Isabelle with training and resources to improve their harvests, and by giving families the opportunity to save and invest in their futures, Opportunity is creating holistic change in rural communities throughout Africa.
WARNING: Javascript is currently disabled or is not available in your browser. GlobalGiving makes extensive use of Javascript and will not function properly with Javascript disabled.
Please enable Javascript
and refresh this page.