Jambo! I send Greetings to all of you who share in our vision of improved Palliative Care in 2020!
Where to start, so much is happening!
Dr. Elias has been working hard to move our training program forward. As this will be a unique training program, it has undergone careful review by many Stakeholders and their input has been invaluable in improving the program design. The program is awaiting final accreditation by the national education board in Nairobi. Once obtained, we can enroll students and begin to meet the great need for Palliative Care trained health workers in Kenya. Will keep you posted!
In addition to the educational, we continue our research study evaluating an innovative use of telecommunication as a means of delivering end-of-life care in rural areas without hospice services. Our hope is to complete this pilot study by the end of 2020.
We continue to build a team of North American Physicians to assist in our tripartite mission of clinical care, education and research. I will be returning this spring as will Drs. Colleen Brown and Lindsay Dow. Dr. Clarissa Johnston will be making her first trip to Eldoret to work with the team this Spring. She is an Associate Professor at the Dell Medical School at The University of Texas in Austin. To add to the mix, Dr. Eric Shepard, a Palliative Care Fellow from Indiana University, will also join us.
Everyone in the program greatly appreciates your support and we are humbled by your generosity. Without you as part of the team, we would not have accomplished all that we have done (and will do!). As always, I must give the vast majority of the credit to the wonderful health care providers in Eldoret who are truly the agents of change. We remain inspired by their skill and dedication.
We'll have even more to report in our Spring report, but for now I send a big Asante Sana (thank you very much) to you all!
Ken
The Rafiki Clinic opened in 2016 thanks to many partners and supporter like you. It continues to grow and thrive providing care for teens and young adults in a way that meets their needs, builds community and creates opportunities for new, creative programming. With space for clinical care, meeting rooms, group counseling and fun events like dance and more - the clinic is a special place for a population that so deeply needs it.
We are closing this campaign, but our work continues. We are grateful to everyone who has supported the clinic's launch and continued success.
On behalf of our Rafiki staff and adolescents, ASANTE SANA!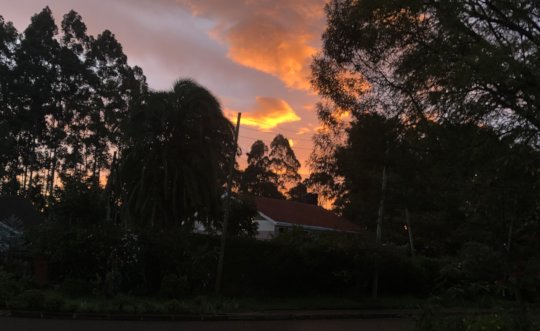 Hi everyone! I just spent most of October in Eldoret and have lots to report. Much of my time was spent on finalizing the Palliative Care Curriculum for nurses and clinical offices. The work led up to a Stakeholders meeting with representatives from the Nursing Council of Kenya and Clinical Officers Council Kenya. We are working to have graduates recognized as specialists in Palliative Care on their respective licenses. The representatives provided important insights and we are working to meet their recommended changes. The administrators and educators at the College at Moi Teaching and Referral Hospital were also very helpful.
The Palliative Care team continues to work hard in providing care to patients in the hospital. I also had an opportunity to visit the new Living Room International Hospital. They will collaboration with us by providing our trainees with exposure to hospice and palliative care services at their hospital.
As I mentioned in the last report, We are very excited to have Dr. Hussein Elias join the efforts in Palliative Care. He was instrumental in the Stakeholder's meeting and coordinating efforts with the training college. He will be spending 50% of his time with the Palliative Care program and will be the course director for the curriculum. Moreover, he is evaluating whether Community Health Workers, who are the major caregivers in rural Kenya, can be trained in identifying people who are in need of Palliative Care. He envisions them as being the eyes and ears of physicians providing symptom management in patients with severe chronic diseases. Your contributions are being applied to cover his salary and help him with these and other development projects.
It was also great to get to know Hussein better. While I was there he defended his research thesis to the faculty at Moi University. He did an outstanding job and I was very impressed in the design and results of his study of chronic back pain. He then took his final exam for the Family Medicine residency – and he just emailed that he passed! He is now a Family Medicine specialist and we are so lucky to have him helping us.
WARNING: Javascript is currently disabled or is not available in your browser. GlobalGiving makes extensive use of Javascript and will not function properly with Javascript disabled.
Please enable Javascript
and refresh this page.