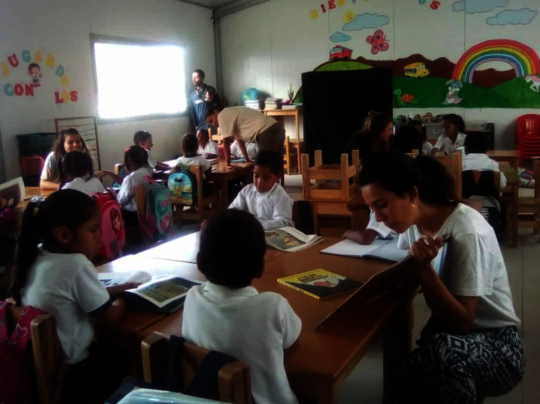 Cuentos en la Plaza- Bibliotecas Móviles continues to expand.
On June, our mobile libraries visited Ludoteca San Vicente, Tabuchila, Río Muchacho, Pío Montúfar Shelter in Bahía de Caráquez, the attentive children listened to the stories of the books, read non-stop, took the puppet play "El escondite de las ganas" (The hideout of desire) by Jonas Ribiero, an inspiring story about daring to discover our hidden dreams and fight for them. We read animal stories "Hipópotamo peleón" (Big Bully Hippo) by Stuart Trotter and "Hipo no nada" (Hippo does not swim) by Pablo Bernasconi. The craft activity did not wait, the children made their hippos with big mouths, white teeth and crazy eyes.
On July, we visited the communities de Tabuchila, la escuela del milenio en Canoa, Ludoteca Nueva Esperanza en San Vicente, y Coaque, the children read, listened attentively to the pair of "Monstruo Rosa" (Pink monster) and "Pájaro Amarillo" (Yellow bird) by Olga de Dios, two stories about diversity and the value of sharing, inviting us to take care of the planet and to liberate our idea for the common good. The children made their own yellow birds and returned to home happy.
On August, we had the honor to coordinate work with Libraries without borders, we inaugurated a new mobile library, the children of Coaque now have their own space to fill up with stories, we made the presentation with the triology by Oliver Jeffers with "Perdido y encontrado" (Lost and found), "De vuelta a casa" (The way back to home) and "Cómo alcanzar una estrella" (How to Catch a Star), in the craft activity, each child drew and painted his own penguin, in 10 steps, following the instructions of Oliver Jeffers himself.
We want to highlight the importance of volunteer work in the communities we visit, stung by the critter reader, we are happy that they remain motivated and spread the seeds, we have observed that some communities are germinating and giving the fruits of Love for reading..
It's so thrilling to be keep counting and adding!