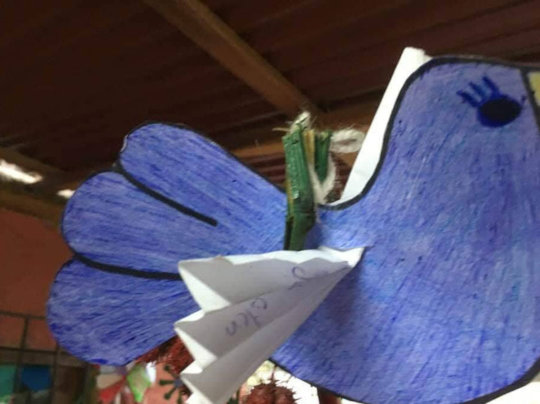 The month of December was filled with anticipation by the children of Clara Luna's Club de Niños. We read "The Giving Tree" by Shel Silverstein and did an activity where we made trees by twisting craft papers into trees and painting the resulting sculptures.
The weeks before Christmas were occupied by making a festive tree from the branches of a recently trimmed tree found in a lot nearby. The children made ornaments from recycled ropes discovered on the beach and God's Eye ornaments from popsicle sticks and yarn. Club de Niños also drew, colored and cut paper doves with three dimensional wings to decorate the tree. Club Discapacitados made triangular tree decorations from sticks and paper.
The parents participated in a "Minga" a traditional community activity where everyone works together in a general clean up, repair and decoration of our outdoor space in preparation for the Christmas Party.
The Christmas party was well attended by the children and parents. A visit from Papa Noel was enjoyed by the everyone. The children sang Jingle Bells, We Wish You a Merry Christmas and Feliz Navidad in English. They all received gifts of a book, a small toy, sweet treats and a hug from Papa Noel.
As the new year began, we were the host to a number of volunteers from an organization named Solidarité Sud from Quebec City in Canada. With their assistance we started on the first phase of renovation to our classrooms. The walls between four small rooms were removed making a two larger teaching spaces, electricial outlets were moved, the walls were painted a bright cheerful color and new tables, chairs and bookshelves were added. The Solidarité Sud volunteers also taught crafts, read to the children and taught English.
In February we focused on the book "Las Chicas son de Ciencias" (The Women of Science) by Irene Civico and Sergio Parra. Every session we read a short biography about a notable woman of science such as Henrietta Leavitt a 19th century American astronomer, Rosalind Franklin, a 20th century English pioneer in the study of DNA, and Maria Sibylla Merian a 17th century German Naturalist, Etymologist and Botanist who using her keen observational skills revolutionized both botany and zoology
As the month ended we prepared for Carnival in early March ...more on that next time.
eley