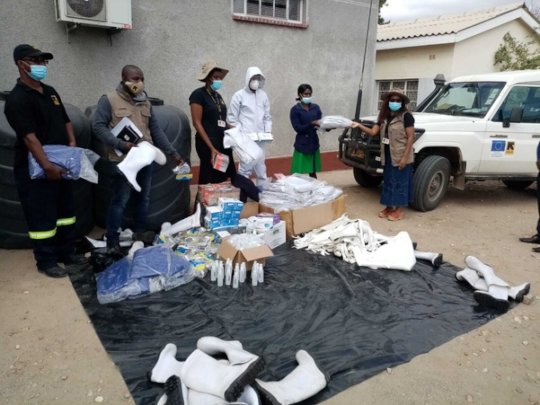 Crisis Overview
On March 11, 2020, the World Health Organization declared a rapidly spreading outbreak of the novel coronavirus (COVID-19) pandemic. In the six months since, more than 32 million people around the world have been infected, creating the worst global health and economic crisis in a century.
People living in humanitarian settings worldwide, especially in refugee camps and rural communities, are facing the harshest realities of this emergency, threatened by limited access to reliable information and essential services. Women and girls, and other vulnerable populations often marginalized in times of crisis, are further disadvantaged by unequal access to health facilities or information that can help protect them and their families.
Months of intermittent lockdowns and social isolation have led to the closure of millions of businesses and a sharp decline in global GDP. In many fragile places already struggling to survive violent conflict or environmental disaster – such as Yemen, South Sudan and Venezuela – the compounding health and economic crises cause by COVID-19 has also led to skyrocketing food prices and growing hunger.
A Leading Response
Thanks to the generosity of our supporters, the International Rescue Committee (IRC) was able to launch a robust emergency response in more than 34 countries to help staunch the spread of COVID-19, support the safety of IRC frontline staff, and adapt many of our existing lifesaving programs to continue providing health, clean water and sanitation, education, protection, and economic empowerment services for crisis-affected people worldwide.
Today, the IRC's 30,000-person team is uniquely positioned across some 200 field sites working to help communities destabilized by the pandemic. Together, our response is leveraging deep community ties, decades of experience responding to disease outbreaks in some of the world's most challenging contexts, as well as our commitment to innovative and evidence-based humanitarian interventions.
This crisis has also shown that a global pandemic cannot be beaten at home until it is beaten everywhere, including in fragile and conflict-affected countries. To this end, flexible funding from private partners is not only fueling the delivery of critical emergency services, it is also helping to allow innovative programming adaption that can drive better and sustainable outcomes across our work and the humanitarian sector: from social and emotional education models that help increase more equitable outcomes for women and girls, to the IRC's inventive platform Signpost that is providing trusted information for displaced people as never before, to our malnutrition research that is showing how to revolutionize a failing system for tackling acute malnutrition.
With crucial support from private partners, the IRC is working to continue to meet both the immediate needs of people affected by COVID-19 and help build back better for the future. The following provides a few brief highlights of our work to date.
The Impact of Our Work
Slowing the spread of COVID-19
Infection prevention and control: Using IRC's Infection Prevention and Control package for outbreaks, we are helping protect health workers, patients, and community members through best practices in hand-washing, triaging, isolating cases, and using and disinfecting personal protective equipment. In coordination with the World Health Organization (WHO) and local health officials, the IRC is supporting fever testing and contact-tracing at health facilities and, where the IRC has a pre-existing network of community health workers, community-based contact tracing to track the spread of the virus and inform community members who may have been exposed. We also continue to work to ensure equitable access to adequate water, sanitation, and hygiene, which are crucial to implement effective infection prevention measures. Activities include:

recruiting 28 additional health care professionals to support newly-created IRC isolation units, and training heath workers in Kenya;
delivering personal protective equipment (PPE) kits to health staff in six primary health care facilities, and procuring three isolation units and two waterproof tents to support the response in Libya;
installing 105 new handwashing stations, and distributing more than 2,200 personal protective masks to health workers in South Sudan; and distributing more than 17,350 surgical or disposable face masks and other personal protective equipment in Pakistan.



Community engagement and information sharing: Successful outbreak containment cannot be achieved without community engagement and ownership. IRC staff are working with local health providers, social services, civil society actors, and existing community-based networks to understand community concerns, and promote clear risk communication messages that reinforce local response plans and fight back against fake news. From Bangladesh to Berlin, we are also advocating to local and national authorities to ensure that response plans take into account the specific vulnerabilities of at-risk individuals. IRC's global information portal Signpost is allowing vulnerable migrant communities in Europe and Latin America to remotely access information about how to keep themselves safe and access critical services. Efforts include:
reaching 3,458 people with health education messaging in South Sudan;
reaching 12,900 people with risk communication and community engagement messages in the Cox's Bazar refugee camp and wider communities in Bangladesh; and
conducting 320 remote COVID-awareness sessions with 2,282 community members, and sending nearly 80,000 informational messages (SMS) to patients and clients in Jordan.
Addressing health needs of local communities
Last mile basic health services: Weak local health systems combined with shelter-in-place measures to combat the spread of the virus make it difficult for remote communities, particularly those in active conflict zones, to access health clinics and hospitals, which can often require a several hour walk to reach. The IRC's experience operating in complex environments, combined with our development of low-tech and low-literacy tools and treatments, are allowing community health workers to bring basic health services to the hardest to access populations, such as:

in Jordan where we are reaching more than 2,000 vulnerable families through mobile health teams and awareness campaigns, and
in Northwest Syria where we are helping ambulances identify and transfer suspected COVID patients to nearby hospitals.
Critical health issues unrelated to COVID-19: In the 2014-15 West Africa Ebola epidemic, excess malaria deaths claimed more lives than Ebola itself as a result of suspension or lack of access to healthcare. Maintaining basic health services during the pandemic is imperative to prevent even more loss of life. In addition to treating COVID-19 patients, IRC continues to support the treatment and prevention of other communicable diseases, including through the provision of immunization services, basic diagnostic services, management of health conditions that require urgent interventions, and continuity of critical inpatient care, including:
providing 5,289 direct and remote consultations and health outreach services for non-communicable diseases, along with secure home delivery of medications to high-risk patients in Jordan, and
providing primary health care consultations to more than 21,684 individuals in Bangladesh.
Reproductive health services: Outbreaks can hinder women's access to life-saving sexual and reproductive health services, potentially increasing maternal mortality. The IRC is responding both remotely and through COVID-adapted in-person services by prepositioning "dignity kits" with menstrual pads and ensuring access to sexual and reproductive health services, as well as clinical care for sexual assault survivors in conjunction with other gender-based violence (GBV) services in ways that minimizes client contact, such as:
offering reproductive health consultations for over 17,750 women, specialist referral services for more than 3,231 patients, and transfers to special health facilities for 1,740 obstetric patients in Bangladesh.
Caring for the most vulnerable
Meeting basic and food security needs: Our clients are losing income and their ability to meet basic needs due to outbreak containment measures put in place globally. The IRC is adapting our existing country program infrastructure, which is already able to deliver cash, vouchers and in-kind assistance at scale, to ensure these services are available remotely or safely in-person. We have already successfully shifted to remote cash delivery, including through digital mobile payments in countries like Colombia.
In countries with food security risks exacerbated by the outbreak, IRC is supporting local food production by distributing fast-germinating seeds, along with staple and highly-nutritious food crops. In the U.S. and Europe, the IRC is distributing food and medicines to the most vulnerable beneficiaries, providing emergency digital cash assistance, and helping clients access public relief benefits such as unemployment insurance. Related activities include:


partnering with local entities to rehabilitate 198 boreholes and distributing livestock feed to 1,500 farmers in Zimbabwe;
registering 3,568 households for emergency cash assistance and provide grants to more than 240 small businesses in Somalia.
working with community members in Bidi Bidi, Uganda, the second largest refugee settlement in the world, on agricultural activities, including distributing tools and planting materials, after securing 299 acres of land for 643 refugees and host community members; and
registering 3,568 households for emergency cash assistance and provide grants to more than 240 small businesses in Somalia.
Age and gender-based violence response: During this pandemic, girls and boys are facing increased violence and abuse within the home, while many women and girls experiencing intimate partner violence or sexual abuse are trapped with their abusers at home. As women and children lose key lifelines for addressing violence, the IRC is adapting emergency protection case management and psychosocial support services for high-risk cases to ensure women, children and other vulnerable individuals receive mobile or safe in-person support, such as:
providing 825 households cash assistance, and conducting 1:1 awareness-raising sessions with women and girls in Anbar refugee camp in Iraq;
distributing lifesaving cash assistance to 287 women, and delivering 200 basic-needs kits and 100 hygiene kits to individuals and families who are survivors of or at high-risk of violence in El Salvador; and
providing 16 shelters with "dignity" kits that include a month's worth of hygiene products for women and girls, alongside guidance on violence prevention in Mexico.
Mental health and psychosocial support services: Disease outbreaks are associated with increasing levels of stress, sadness, confusion, fear, anger, grief, and stigma. The IRC is building resilience and promoting recovery for COVID-19 patients, affected communities, and frontline responders by integrating mental health and psychosocial services into primary health care, remote education, mobile and emergency case management, and community outreach efforts. We are:

reaching more than 13,105 people with health and wellness guidance, providing 862 clients with legal counseling, and conducting 209 remote training sessions with child protection officers in Lebanon.
Continuing vital services
Education: 90% of children across the world are currently out of school due to the pandemic. The IRC is working with schools, ministries of education, and technology partners to curate, adapt, and distribute digital and radio educational content to support parents and enable children to continue their education while schools are closed. In additional to reading and math, IRC's educational content is also covering social-emotional learning and parenting under stress, all designed to be modular, accessible in multiple local languages, and easy for caregivers to use with children learning at home. Related activities include:

creating education kits to reach parents and children in their homes in Afghanistan; and
preparing refugees and asylees slated for resettlement through remote orientation sessions in 11 different languages in Malaysia.
Refugee resettlement and community services in 25 U.S. cities: IRC offices are following Center for Disease Control (CDC) and local guidelines on best practices in personal hygiene and health, with staff and clients practicing social distancing and switching to remote programming to serve clients whenever possible. For instance:

in Atlanta, we are partnering with community relief efforts and local government officials to bring mass mobile COVID-19 testing and contact tracing—with language interpretation—to Clarkston and DeKalb County, Georgia. More than 350 tests were done in May with at least one additional round of testing planned for fall. The sites are staffed by trained members of the refugee community—many of whom have previous medical experience—and interpretation is available in more than 15 languages;
in New York and New Jersey, we have expanded food distribution sites in partnership with World Central Kitchen. IRC volunteers and clients have distributed more than 6,000 meals at various sites, and are partnering with other nonprofits to provide meals to food insecure families.
The Way Forward
While the next 6-12 months are critical to containing the outbreak, saving lives, and keeping vulnerable families afloat economically, the IRC knows that COVID-19 will continue to have long-lasting effects worldwide. In addition to our emergency response to the virus, the IRC is leveraging our strengths in resilience-building, systems-strengthening, and innovative program design to plan for the COVID-19 reality of tomorrow.
IRC's mission to help people whose lives and livelihoods are shattered by conflict and disaster to survive, recover, and gain control of their future is truer than ever in this crisis. Allowing the communities we serve, from resettled Congolese refugees in Dallas to women entrepreneurs in Iraq, to gain control of their future will only be possible when they are able to work, go to school, and access the services and information they need in a safe and reliable way.
From training community health workers to delivering vaccines, to expanding our global digital information platform Signpost, to modeling, testing, and scaling remotely-delivered education, job-training, and protection programs, the IRC is already identifying and investing in the services that will be critical over the next five years to getting the hardest-hit communities back on their feet. We know that investments we make today will allow us to quickly scale up these programs when the world is ready to leave their homes again.
Thank you
With generous and timely support, the IRC has been able to train health workers, deploy mobile health teams, support health facilities with protective gear, provide clean water and sanitation services to fight COVID-19, and continue other essential programs in places where the virus continues to spread, including the United States and in dozens of fragile places around the world.
We welcome the opportunity to work with you to continue this vital work in the months to come, and thank you for all that you do to support the IRC in providing the value of Rescue.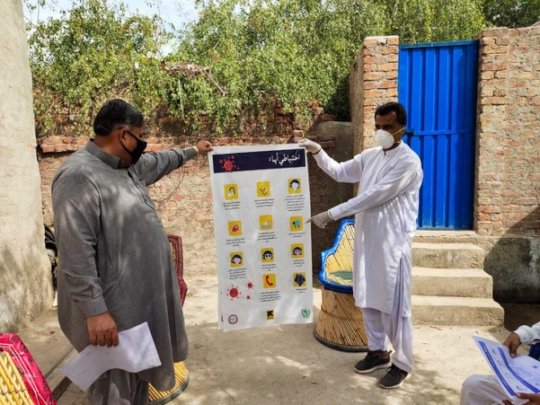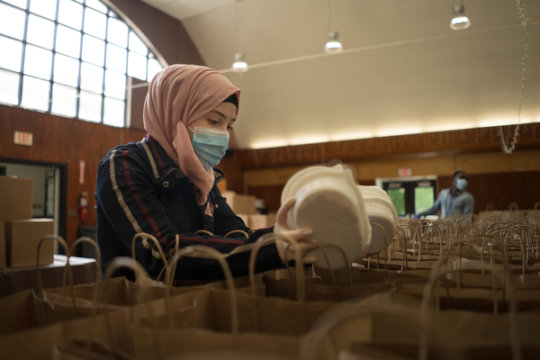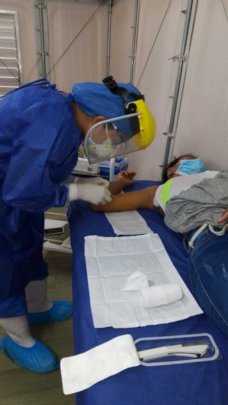 Links: