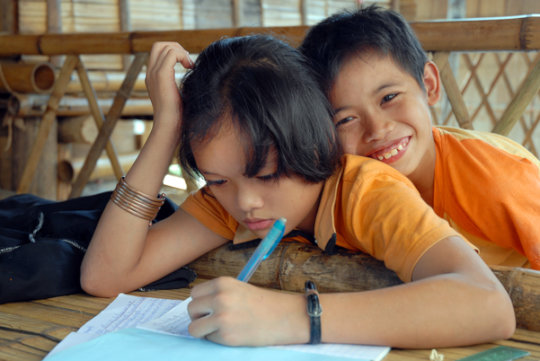 Education
Roughly 1 billion children have been affected by school closures related to COVID-19. Children in humanitarian settings face a double crisis as the health emergency disrupts their opportunities to learn, develop and thrive. Ensuring children can continue to learn during the pandemic, no matter their access to technology, must be central to the COVID-19 response in fragile contexts.
That's why the International Rescue Committee (IRC) launched a remote learning program for refugee children and youth during the COVID-19 shutdown. The program is meeting a need in the local community beyond the IRC's work with our clients, partnering with school districts to reach families who haven't previously worked with us.
IRC is employing innovative solutions to reach children in unique circumstances. In Tanzania, IRC has adapted materials for at-home learning, including play-based activities. In Colombia, a new audio platform will help teachers provide engaging audio content to students in their homes. In Bangladesh, IRC piloted tablet-based learning among Rohingya children without Internet access. In Jordan, Ahlan Simsim—context-specific early childhood programming—combines IRC direct services, via WhatsApp and phone calls, with Sesame Street mass media available on YouTube.
In Seattle alone, the IRC reaches over 140 students with virtual tutoring and online reading programs. We work with four school districts, where we already ran in-school and after-school programs, to connect with recently resettled families in need of these services. We have also delivered over 100 remote learning kits including essential school supplies, individualized reading and math learning materials, fun games, puzzles and coloring sheets. We plan to distribute over 200 summer learning kits at the end of this month to mitigate summer learning and reading loss and provide fun enrichment activities for children to engage in.
"It's really important for children to continue their education and have access to these resources during a crisis," says Rachel Stephens, IRC youth program coordinator in Seattle. "We know that school and a regular routine are key factors in helping students who have experienced trauma to recover and build resiliency. We also know that school closures disproportionately impact students with low English levels and low income levels, which is the majority of the families that we work with."
Remote learning programs are just one of the ways in which the IRC is adapting our existing programs so that we can continue providing vital services to children during this global crisis.
Malnutrition
Poor nutrition is often life-threatening—but almost always avoidable. Treating malnutrition is one of the most effective ways to improve children's growth and development. But for millions of families in crisis-affected areas, critical health services and resources remain out of reach:
Over 50 million children are suffering from acute malnutrition, which is linked to almost half of all deaths of children under the age of five. The vast majority of these children do not have access to treatment.
Many mothers and children living in crisis zones lack access to nutrient-dense foods. For children, such micronutrient deficiencies can lead to night blindness, poor immunity to severe infections, and a restricted ability to grow and learn.
Nearly 20 percent of all child deaths can be prevented by optimal breastfeeding and complementary feeding. Supporting mothers to feed their infants is especially critical in crisis zones, where families have limited access to food, clean water and protection from illness.
What is the IRC approach to treating malnutrition?
Of the more than 50 million children who suffer from acute malnutrition every year, 75 percent don't have access to treatment. Many have to walk for miles in search of health services with no guarantee of receiving help once they arrive. Even if treatment is available, few children are able to continue it until they successfully regain their health. These situations will only continue to worsen as conflict and crisis overtake countries in need.
The IRC has developed several new solutions for malnutrition that together offer the potential for transformative change:
1. Create a unified treatment program.
There are currently two different treatments for children with severe acute malnutrition and children with moderate acute malnutrition, supported by two different United Nations agencies. This duplication creates inefficiencies, wastes critical resources, and makes it difficult for children to access the care they need.
The IRC believes the way forward is to create a combined and simplified treatment process—one that allows all children with acute malnutrition to be treated using a single program. Our research, similar to other studies that have examined combined approaches to acute malnutrition treatment, found that it is effective to treat children with severe and moderate acute malnutrition together. This new, streamlined way of working offers the promise of stretching every dollar for treatment further.
2. Bring treatment to children
Sick children need treatment right when and where they need it. Traveling to a health facility is not only difficult when a child is ill, but also impossible in many conflict-ridden countries—especially during the COVID-19 pandemic.
Our solution is to bring treatment straight to children in their homes and communities, adapting our programs to safely provide continuing care during the coronavirus crisis. We've already seen success with this approach in training local health workers to treat diseases like pneumonia or malaria.
We've also created simple and intuitive tools that community health workers can use to diagnose acute malnutrition. One example is a color-coded armband that anyone can use to measure upper-arm circumference.
3. Scale up funding and the political will to save lives
For lives the world over to truly be transformed, greater political will and funding are needed to reach every child who is suffering. We are calling on governments, policymakers and humanitarians around the globe to help ensure that these approaches are actually taken up, fully funded, and put into practice.
We believe that by delivering care for acute malnutrition through this combined approach we can save the lives of nearly a million children over the next decade.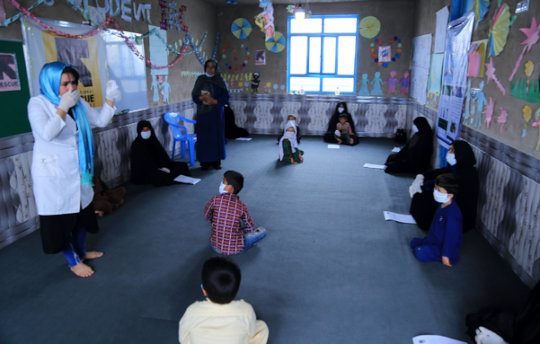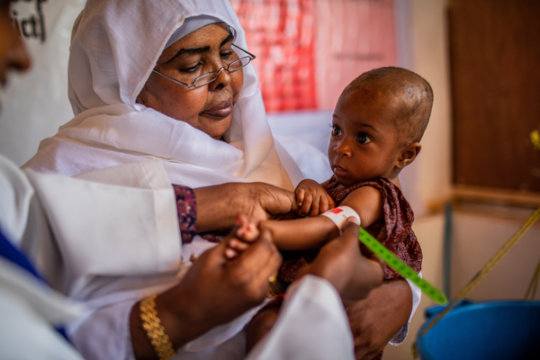 Links: