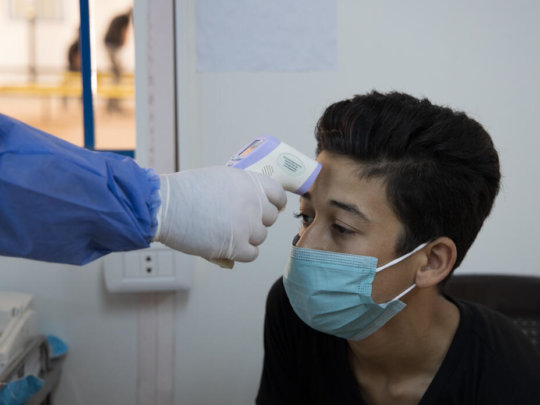 Dear Friend,
I'm pleased to send you an update on the IRC's response to COVID-19, which shows the impact your donations are making in the lives of refugees and displaced people during this global pandemic, especially this cold winter.
For many months the coronavirus has worsened an already difficult situation for families affected by humanitarian crises. In war-torn countries around the world, families have had to ask themselves how they can protect their loved ones from war and famine — on top of COVID-19.
The enclosed report is an overview of a few of our response efforts. It details how, with your support, we are adapting our programming and creating innovative solutions for the people we serve. You will see how your compassion and generosity have enabled, among other things, at-home education for Jordanian children, farmland development in Uganda and new medical facilities in Bangladesh.
As a member of our IRC community, thank you for supporting the world's most vulnerable people during this historic period in our lifetime.
Together, we won't let COVID-19 diminish our impact. Thank you for being part of the solution.
Sincerely,
David Miliband
President and CEO
The International Rescue Committee's COVID-19 Response — Winter Report
Overview: A Double Emergency
This year, the nearly 80 million refugees and displaced people around the world have faced an unimaginable double emergency: conflict and displacement, alongside COVID-19 and the global economic crisis it has generated. The pandemic has overwhelmed health systems, and it threatens greater devastation as it spreads to fragile and crisis-affected countries. Since March 2020, the International Rescue Committee (IRC) has been providing frontline support and aid designed locally to mitigate suffering globally. Lockdowns and travel restrictions have limited damage in wealthier nations and some developing countries. But in humanitarian contexts, living conditions make social distancing nearly impossible. Most people cannot work from home, and governments cannot provide sufficient relief packages or social safety nets. Thanks to donors like you, the IRC was able to launch a comprehensive COVID-19 response, while continuing our lifesaving programs in the world's worst crisis zones.
IRC Comprehensive Response
The IRC's comprehensive COVID-19 response is grounded in decades of responding to complex health emergencies and disease outbreaks, including Ebola in West Africa and Democratic Republic of Congo and cholera in Yemen. Our response plan has been threefold: containing the disease through education and contact tracing; meeting basic food and security needs by dispensing cash or vouchers; and providing essential services for health, emergency protection (from targeted violence, for example), and education for children. While the pandemic is a global problem, the most effective response plans are local. First responders like the IRC can be trusted to share vital data and implement measures sensitive to local contexts to mitigate impacts on health, protection, livelihoods, and food security.
Your Support in Action: Jordan
Emergency Health Care
With over 600 staff and volunteers working in northern and central Jordan, the IRC's health programming is one of the largest NGO programs of its kind, responding directly to COVID-19.
The IRC in Jordan has improved water and sanitation measures and distributed personal protective equipment (PPE) to clinics, donated intensive care unit ventilators to Jordan's Ministry of Health facilities, and offered more than 79,000 health consultations.
Childhood Development and Education
The IRC has worked with government and civil-society partners to develop early childhood models and content adapted to digital and social media platforms to deliver play-based activities for caregivers and at-home children.
Your Support in Action: Uganda
Fighting Health Misinformation
The IRC fights rampant COVID-19 misinformation through radio, household visits and health talks. One excellent low-tech method is attaching a loudspeaker system to a car battery and paying Boda Boda drivers to play messages in local languages.
Agricultural Innovation
In Bidi Bidi, the world's second largest refugee settlement, our team worked with community members to obtain 299 acres of land for 643 refugees and host community members to cultivate, as well as tools and planting materials.
Gender-Based Violence
We've seen a major increase in intimate-partner violence in Uganda. The nationwide lockdown makes it harder than ever for survivors to seek support. When a caseworker is on the phone with a survivor, pre-established "verbal passwords" will indicate that it is not a safe time to talk.
Your Support in Action: Bangladesh
COVID-19 and Primary Health Services
The IRC has been working with partners to minimize transmission in Cox's Bazar, the world's largest refugee camp. We also continue primary health services, sexual and reproductive health services and emergency services—as well as gender-based violence case management and support.
New Medical Facilities
In Cox's Bazar, the IRC was appointed one of seven World Health Organization partners to establish a COVID-19 isolation and treatment center. IRC's new Severe Acute Respiratory Infection Isolation and Treatment Center (SARI ITC) opened with the capacity to serve more patients. Additionally, 399 staff and 499 incentive workers received PPE on a monthly basis. In 2020, more than 268,000 people were offered heath services or received risk communication and community engagement from the IRC.
Thank You
To our supporters and partners, thank you for making the work we do around the world possible. It is because of you that we were able to help so many families survive, recover and rebuild their lives in the face of COVID-19. When we needed you, you stood up and helped us deliver lifesaving support in 40 countries around the world.