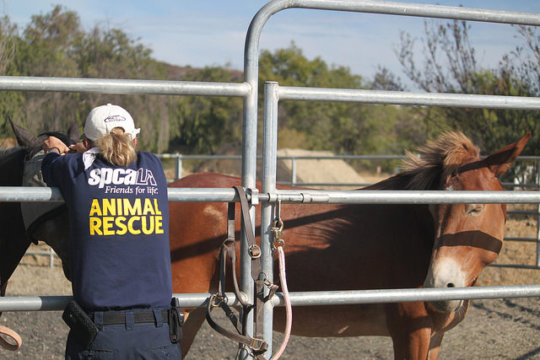 Your support of spcaLA allows us to not only investigate animal cruelty and work to prosecute offenders, but you also allow us to repsond to disasters, like we did recently at the Sand Fire in Santa Clarita. Here are a few words from our President, Madeline Bernstein, about our response efforts:
Dear Friends,
It has been organized chaos for the past few days. In the middle of a large-scale adoption event this Saturday, I got the call: Los Angeles County needed your spcaLA's help at the Sand Fire in Santa Clarita.
We quickly mobilized - gathering supplies, pulling in staff, organizing volunteers - and deployed to the Hansen Dam Equestrian Center. The women and men of the spcaLA Disaster Animal Response Team (DART)™ worked a 24-hour shift to keep area horses, livestock, and other animals safe from the encroaching fire. Through mutual aid efforts, over 700 horses, goats, chickens, and other animals evacuated from Sand Canyon and surrounding areas have been safely housed since Saturday.
Your spcaLA rolled out with all assets - our mobile command center, horse trailer, sleeper, and other vehicles - to provide 24/7 support. We worked to care for and relocate animals, and, as the fire became more contained and evacuation orders were lifted, we also reunited owners with their horses, sheep, cows, donkeys, chickens, and hundreds of other animals. After being deployed for four days, the team returned home, ready to return if conditions worsen and our help is needed.
This is where I need your help. spcaLA's disaster response efforts rely on the generous donations of people like you.
Your gifts allow us to provide front-line veterinary care, temporary shelter, food, and rescue to animals in disasters. Since 1877, your spcaLA has protected the lives of animals right here in our community - responding to fires, earthquakes, floods, and other disasters, both natural and man-made.
Please, give as generously as you are able to help keep our team and the animals we protect safe from harm.
And, after you give, consider asking a friend to pitch in too. Yesterday, we assisted the Sand Canyon, but tomorrow we could be called to help in your neighborhood.
Thank you,
Madeline Bernstein
President, spcaLA
P.S. Wondering about that large-scale adoption event I mentioned? Our staff and volunteer worked overtime and adopted out 160 spcaLA shelter pets this weekend!
Links: