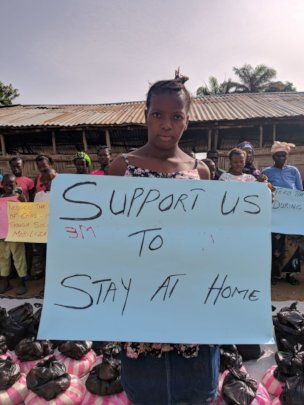 Dear GlobalGiving, Donors,
We are very much grateful for sparing your valuable time to go through this letter of acknowledgement, thanks and appreciation for your tremendous contributions which has brought a lot of change in the lives of our beneficiaries throughout 2020. With your contribution we have enjoyed a season of love, concern and care which has fostered a lot of change in the lives of these less fortunate children. We marvel with your support in helping us eradicate early and forceful marriages and also help us to return these girl-mothers back to school. We are so grateful for your continuous support in putting smiles in the faces of these girls.
Your roles have been really fascinating and your stances in joining GlobalGiving Foundation in helping meaningful projects like ours are well appreciated. Some of these viable causes like ours do not attract major funding, but they are more real than even the ones that do. GlobalGiving has made it possible to create a platform like this that will listen to the cries and pleas of these less fortunate girls. Your contributions mean the whole world to us, which has lifted the poor out of poverty, give voice to the voiceless, agitate for the oppress, and create and build bridges together for a better world. Your donations have made dropping out of school is no longer a reality within our areas of operations, continued campaign on ending early child marriages, FGM, Teenage pregnancy, Gender based violence, trained community volunteer to report on early child marriages, monitoring litigation on rape cases for minors in high courts etc.
Our quest for success was far fetched until you came around to support these causes by contributing your hard earned money and suggestions. From the depth of our hearts, we sincerely appreciate all your major contributions both recurring and one off donations. Even those who didn't contribute financially but help create awareness about these causes; you are well appreciated from the bottom of our hearts.
You are truly a special partner to us, because putting smiles into the faces of these beneficiaries means a lot. Also, you have decided to support our mission and vision which is well appreciated, because of this we shall forever remain grateful to you and rest of your families for your unending love you continue to manifest. You are really one in a million, despite all the important things you have to address like family issues, cars, fuel, food, housing, etc you still squeeze and make a meaningful donation. In spite of this tight economy we live, you still create a way to be a voice and blessing to these less fortunate. Your support has been really great, especially creating more awareness by letting others know about our causes.
We called you friends and partners because we share common goals and ambition in helping these beneficiaries. Because of your contributions a lot has been blessed and we will continue to appreciate you endlessly for your countless support.
I was pondering if you weren't here with us to achieve this huge success what really should have happened to these girls. God will reward you abundantly for such sacrifices in helping these children regain their lost glory. Because of this and all that you intend doing God in heaven will bless you and all that concerns you.
At the moment, there is a huge rise in the area of abuse of girls sexually, which has raised a lot of concerns out here. Both parents and caregivers are calling for our intervention towards this direction. But we can't do it in isolation except we work together with your support this is sure to happen.
We will continue to update you about our achievement and how your money is spent. On behalf of 'The Needy Today', we want to say a big thank you for your support, donations and unending love you continue to manifest. We cannot sit down silently by failing to wish you Merry Christmas and happy New Year in advance.
Furthermore, our campaigns are online and they need more support to meet the needs of poverty stricken children left behind, to access their basic rights and achieve great success. Based on this, we are still counting on you to continue your support and help us tell others about our work and what we have achieved so far.
Thanks and God will surely reward you bountifully.
Respectfully yours,
Hannah Bangura