THE AMHARA PROJECT IN ETHIOPIA
In the Amhara region, like in many areas of Africa, farmers mostly see forests as a resource for timber and fuel wood, resulting in high levels of deforestation and severe soil erosion. We work together with them, to improve their livelihoods with alternatives that do not destroy the forest. They then become our best local ambassadors to protect the forest in the long term.
The project currently employs 44 permanent staff members, working as forest experts, site facilitators and nursery workers. Furthermore, 550 casual workers are in charge of the nursery support, planting and site maintenance.
THANK YOU FOR YOUR SUPPORT
Thanks to some funding, we are able to ensure the longevity of the project. Therefore, we wil emove this porject from GlobalGiving.
We however wanted to take a moment to sincerely thank you for your support!
Please be aware that your support made it possible to restore degraded lands and allowed us to imporve people's lives. Locals re-value standing forests who help put an end to global warming.

CONTINUE SUPPORTING OUR CAUSE
If you would like to continue supporting WeForest's cause, please be aware that we have several other projects on GlobalGiving, including reforestation projects in Brazil, the Khasi Hills in India, Zambia and the Seret Exclosure in Ethiopia.
Are you interested in staying in touch with us? Sign up for our newsletter Climate News, or follow us on Facebook, Twitter, LinkedIn or Instagram. We are hoping to stay in touch with you too!
Links: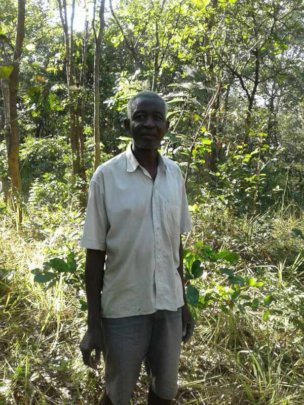 Did you know that in a world without bees we would lose about 70% of all fruits, vegetables, seeds and nuts. Bees are not only great for our food production, they are also great helpers when it comes to promoting forest restoration, as the bee pollination itself helps the forest regenerate. With currently 16% of bee species having disappeared, WeForest has started to install beehives and train families, in cooperation with local enterprises, to become bee stewards.
In Zambia, there are now 2.540 beehives installed across all WeForest farmers. In July alone, the 151 hives that were harvested have produced 21.5 kg per hive on average. This means that each farmer could increase their annual income with more or less $150, considering that the average annual income is around $300 per year, this means a 50% increase.
An example of a new bee steward is Alfred. At his forest restoration plot, he has five beehives. He used to have beehives before the project already, though they all burnt in a wildfire. Therefore the top bar beehives of WeForest are now hanging in the canopy of mature trees and therefore are protected from those fires. Last July, when harvesting honey from three out of the five beehives, they produced an average of 40 kg per hive and an incredible total of 122 kg. Needless to say, Alfred is thrilled to be given this opportunity and only more motivated to keep caring for his forest...
So, time to express our thanks to our little winged friends and of course to you, for your support in restoring the forests and helping to give local communities income alternatives.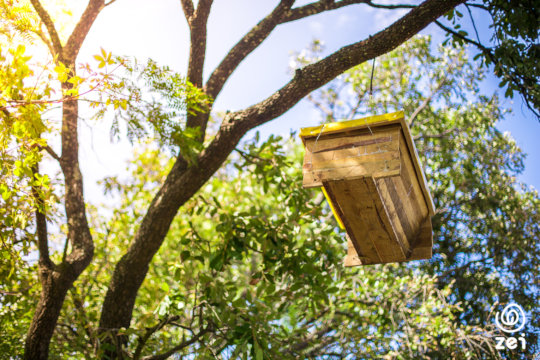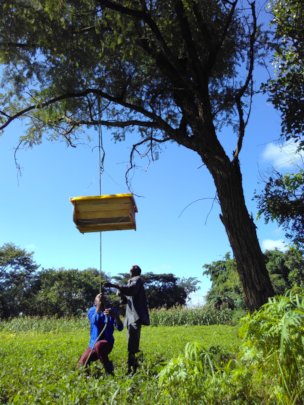 Links: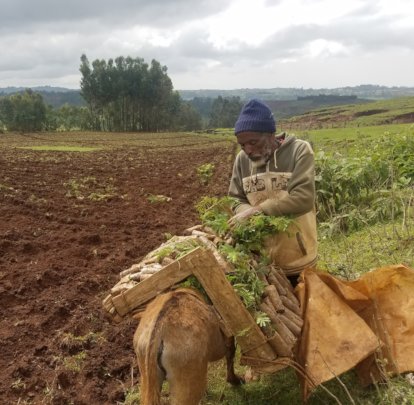 In this year's planting season WeForest was able to reach 1052 households with a total of 105.3 hectares of land. This was a lot more than we had expected!
The main goal of the project is to work on using agroforestry systems around homesteads and households, and to use crops as for the farmland boundaries. This will help the household to diversify income and provide food for the family and fodder for the livestock. And we have been planting a lot!!
For example, the community members have planted 34.000 coffee seedlings, 20.000 improved avocado seedlings and almost 236.000 Rahamnes prinoids seedlings. This tree is also called the "shiny-leaf buckthorn tree" and is a real money-maker as all parts of the plant are harvested and used for nutrition, medicine or religious purposes.
Furthermore, almost 100.000 tree seedlings were planted to give shade to the coffee trees and to mark the boundaries between different houses and fields.
Sileshi L. (age 42) is one of the farmers who has participated in this planting. He has three children, of which two of them are old enough to attend school and the youngest one is five years old. Sileshi is one of the farmers that is engaged in the agroforestry project of WeForest in Ethiopia and in his home garden (with 0.25 ha size land) he has planted 160 Rahamnes prinoids "Gesho" and improved avocado trees. In his village Abebe Yenurie, there are another 57 households interested to enroll in the 2018 agroforestry program of the project!
Another farmer is Mengist Seneshaw M., who is 45 years old. His family exists of seven, including himself. In the land next to his home he grows improved avocado trees and different vegetables for household consumption. He also started planting castor oil trees, of which he now has six. The money that he earns with selling the castor oil, is used to buy chool books for his children. Mengist is not only a ´model agroforestry farmer´ for the project, he is also the village facilitator. This means that he is contributing a lot to mobilize the community and participates and facilitates the community training programs of the projects.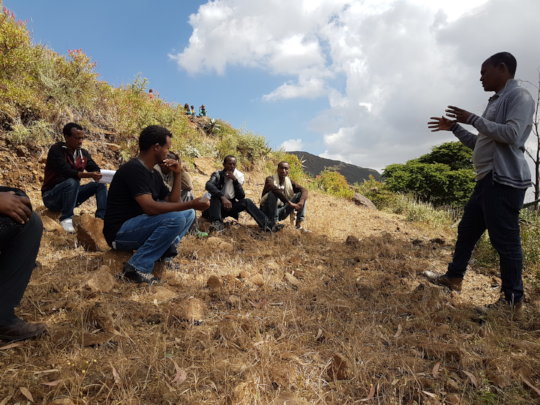 WARNING: Javascript is currently disabled or is not available in your browser. GlobalGiving makes extensive use of Javascript and will not function properly with Javascript disabled.
Please enable Javascript
and refresh this page.