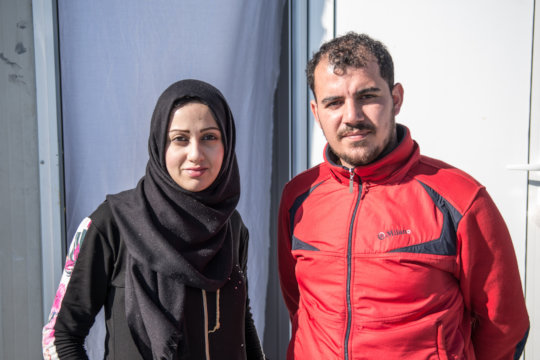 Since the brutal civil war in Syria began in 2011, hundreds of thousands people have been killed. Many families have been torn apart and the standard of living has been set back by decades. There are almost no safe spaces left for the many innocent civilians. Therefore, the people flee to neighboring countries and especially Europe. Understandably, they often take high risks to save their lives.
The couple Marwa and Odey are two of many others that successfully escaped from the war torn country. After the situation got worse they flew from their home in Damascus towards the Turkish border. Marwa was already pregnant when they decided to leave their home. After smugglers helped them to cross the border, the couple realized that they couldn't find the safe refuge in Turkey they had hoped for. Thus, they decided to risk the dangerous boat ride to Greece to finally find a peaceful place to stay.
Fortunately, Marwa and Odey found a temporary home in a refugee camp in Kato Milia. Since then our member organization ADRA helps and supports them. A few weeks after the arrival, Marwa gave birth to a healthy young girl. The young family now wants nothing more than to go back to normal and establish a self-determined life.
But there are almost no jobs for refugees in Kato Milia and finding an own flat is very difficult. Even though they are safe now, the situation for the more than 45,000 refugees in Greece is far from normal. Our member organizations are giving their best every day to help the many children, women and men on the different stages of their escape from war and suffering.
We are very grateful for your donation for our project "Help for refugees". Your support helps us to set up safe spaces for refugees all over the world and support them in their wish for a more peaceful life. Thank you very much!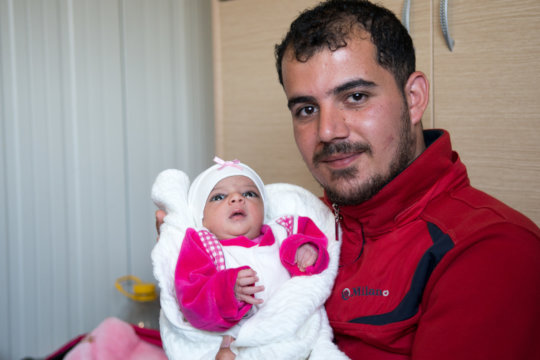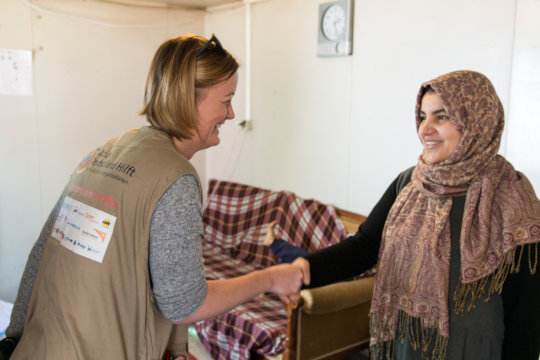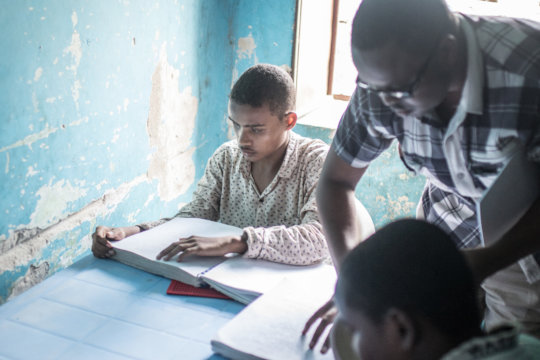 Somalia is one of the poorest and least developed countries in Africa. 60 percent of the population are nomads and don't have a permanent home. As a result, many of their children don't have regular access to education. Moreover, many schools have been destroyed or seriously damaged during the long-lasting civil war. The former government was not able to establish a proper educational system. Many children, teenagers and adults are suffering from the lack of education, which leads them even deeper into poverty.
Since the election in 2012 Somalia has a new government, which strives to build up and reorganize a new educational system. For this purpose, a new ministry of education has been founded. Our member organization ADRA supports the ministry in rebuilding schools, developing new curriculums, courses, and school lessons for children, teenagers and adults. The program focuses especially on girls and women. The aim is to strengthen their access to educational programs and school lessons.
22 year old Hamdo is one of the participants of the ADRA educational program. She was just in 5th grade at school when her family fled from the capital to save their lives. She has never attended a school again. Instead, she cared for her family, particularly her sick mother and her six siblings. She thought her dream to become a doctor had been destroyed forever. But since she is participating in the ADRA program, she has new hope and says: "I very much appreciate what ADRA is doing for me. I have a chance to learn and to become independent. After all my dream could come true."
Nevertheless, many families need their children to help them with their daily work on the field or in the house. Therefore, they only have the evening hours to do their homework or to learn for school. Somalia's power supply is very poor and many households remain dark after the early sunset. Dangerous open fires and harmful paraffin lamps are often the only option to have some light. ADRA helps to establish solar systems and lamps. In the past more than 10.000 houses have been supplied with energy-efficient cooking areas and solar lamps and 15 schools can offer school lessons and courses in the evening due to new electricity!
With your donation, you help our organizations to offer educational programs in several parts of the world. Thank you for making this possible!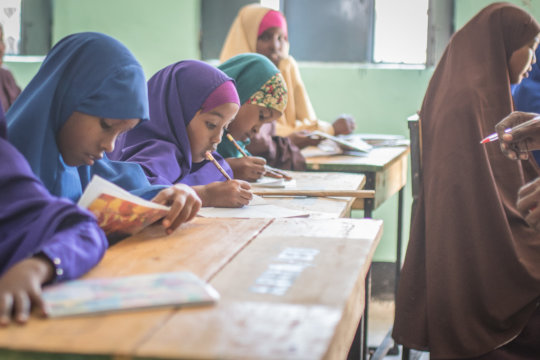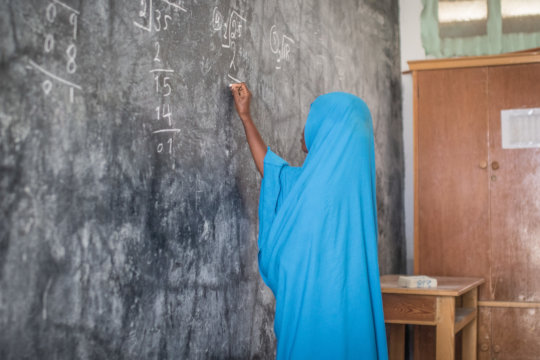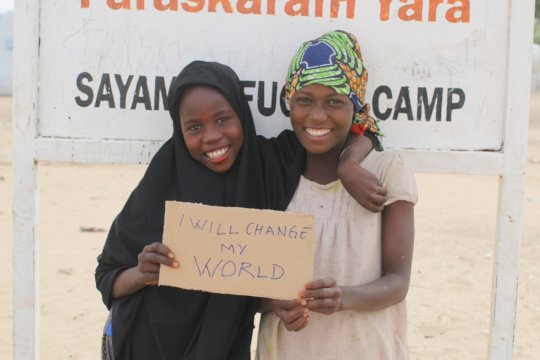 Over 100.000 Nigerian refugees currently live in the Diffa Region of Niger. They come from the Nigerian states of Borno, Yobe and Adamawa, where violent attacks frequently take place. The refugees themselves were affected by violence: Their hometowns or villages were raided, neighbours or family members were attacked and killed and women and children were often taken captives and detained by members of these violent groups.
Our member organisations are working in Niger and Chad to help the refugees who are often traumatised or wounded. The refugee camp of Sayam Forage is located 40 km from Diffa town in Niger. It currently hosts more than 10.500 refugees with new arrivals every month.
World Vision and Aktion Deutschland Hilft set up a child-friendly space in Sayam Forage refugee camp in 2015. Here the children receive psychosocial support, and counselling and they learn about children rights and hygiene. Fidele Nindagiye, World Vision's child protection in emergencies specialist for this emergency, says: "A child-friendly space is a place for children to release traumatic experience and emotions they may have gone through. Children like to play a lot in normal situations. During stressful circumstances, playing becomes vital. World Vision uses recreational activities to keep children busy and help them release some psychological blockage."
Twelve year old Hindatou made great progress visiting the child-friendly space. Together with her mother and her siblings she was a captive of violent groups and was detained for several months. Hindatou was nine years old by this time. They were able to escape and arrived in Sayam Forage one year later. Hindatou was deeply traumatised: "I remember our arrival. Every night, Hindatou had nightmares. She was seeing the tragic events during the attack over and over again", her mother Rahana said. Frequently, Hindatou visited the child-friendly space and stabilized. Nowadays, she is a happy girl with lots of friends. Rahana says: "My children are now very likely to have a better life. That makes me a fulfilled mother".
We are very grateful for your donation for our project "Help for refugees". Your support helps us to set up child-friendly spaces in refugee camps all over the world to help children overcome trauma. Thank you very much.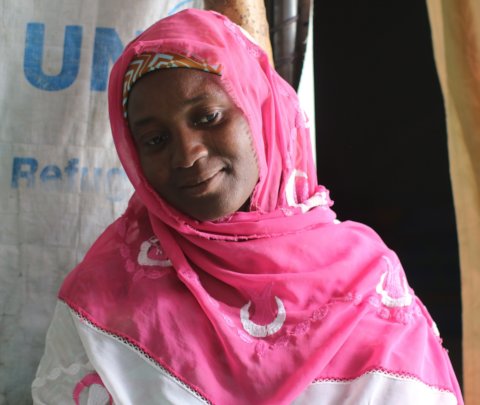 WARNING: Javascript is currently disabled or is not available in your browser. GlobalGiving makes extensive use of Javascript and will not function properly with Javascript disabled.
Please enable Javascript
and refresh this page.